It's that time of year again. The summer holidays have flown by (or dragged for those trying to keep little ones entertained!) and the kids will soon be back at school. Cue busier roads and a more hectic commute.
That's why it's important to take care while commuting over the coming months. Here are some top tips to help make your daily commute that little bit safer and stress-free this autumn.
Is your car ready?
Over the summer, our cars clock more miles than at any other time of the year as we head away for staycation adventures and day trips. That's why your first step in preparation should be getting your car back into tip-top shape.
Of course, most of us don't have the time or expertise to give our cars the TLC they need. But don't worry because Halfords is here to help!
For a start, you can book our Free Car Health Check. Giving you peace of mind that your car is in working order, one of our trained technicians will check the headlights and brake lights, wiper blades, battery, and make sure your windscreen isn't chipped. And if any issues are found, your car is in the best place to get them fixed!
If you only want a certain part of your car checked, we can take care of that too. We offer a range of free smaller checks for tyres, brakes, batteries, steering and suspensions.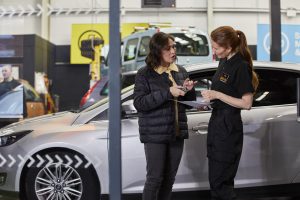 Or why not join the Halfords Motoring Club? You'll get access to a range of amazing benefits and discounts that will help to keep you moving, keep you safe and keep you saving.
Join today to access a range of amazing benefits and discounts that are designed to keep you moving, keep you safe and keep you saving.
It's free to join and you'll receive money off your MOT, a free car health check and a welcome voucher that can be spent on any Halfords product or service.
Or choose our Premium membership for a small monthly fee (or a one-off payment) to unlock exclusive member pricing on all motoring products and services online and across our stores, garages and Halfords Mobile Experts, as well as a variety of other benefits that will help you to keep moving for less.
Join the Halfords Motoring Club today at www.halfords.com/motoring-club.
Join the Halfords Motoring Club
Keep your car clean
Ever arrived back from a staycation and emptied your car only to realise how dirty it's become? Us too! While cleaning your car won't necessarily help on busier roads, it's always good to feel organised. So, give it a thorough clean.
Start by cleaning the exterior – you want your car to be shining inside and out! Give it a thorough wash to remove any grime and dirt before polishing the paintwork. Once done, it should look brand new and will get a few envious glances during the school run. We've also pulled together a guide to cleaning your car's exterior here to help.
Once done, it's time for the interior. Begin by brushing away any larger dirt – if you're lucky, you might even find the odd pound coin lurking down the back of one of the seats! Then, it's time to vacuum. While it's possible to wheel your house vacuum out into the street, it can be a bit of a faff. Not to mention frustrating as you wrestle with it in your car. So, why not invest in one designed for cars? The Karcher WD 3 Car Vac is a great choice as it comes with a range of accessories to make the job easier. When you're finished, use a specialised product to clean the seats – just make sure any cleaning product is safe to use with the material in your car.
Prepare for the school run
That's your car taken care of, so now it's time to think about your passengers, starting with any little ones.
If your daily commute includes a school run, you need to make sure your child travels safely and securely. For any children up to approximately 12 years of age or 135cm in height (150cm in the Republic of Ireland)/36kg in weight, that means travelling in a car seat.
Car seats come in different sizes, so you need to make sure you have one that's suitable for your child. If it's time to upgrade to a bigger seat, we have a wide range of car seats to choose from, all from the best brands.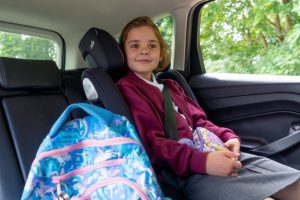 You can make life even easier by investing in one of our multi-stage seats. Designed to span multiple sizes, some of our multi-stage seats can be used from birth through to approximately 12 years of age – so you'll never need to upgrade it.
If you need more help finding the perfect car seat ready for the school run, head over to our Car Seat Buyer's Guide.
Enjoy a traffic-free commute
There's one thing everyone hates on their commute: traffic! And with travelling by car one of the safest means of transport right now, expect the roads to be packed come September.
That's where TomTom satnavs come in handy! Helping you stay one step ahead of any traffic or surprises, every satnav connects to TomTom's market-leading traffic index. Updated every two minutes, you'll get real-time updates out on the road so you know what's going on, and you can reschedule your route to avoid any traffic. With TomTom, a stressful, bumper-to-bumper commute will be a thing of the past!
Be prepared
Even with the best preparation, your commute can sometimes come to a juddering halt. There's never a good time to breakdown, but it's especially stressful when you need to get to work or take your child to school.
However, with the help of our breakdown cover, you won't be stranded for long. We offer five levels of cover for your car, van or motorcycle, and each comes with a host of benefits including a half-price MOT and 10% off our range of motoring services. We're the only UK breakdown service to operate its own garages and we can repair 80% of vehicles at the roadside.
Don't just take our word for it though. Check out what our customers think about our breakdown cover here.
---
Whether you're driving to work or picking your little one up from school, it's time to prepare for the busier roads ahead. And here at Halfords, we have all the technology and services you need, plus our market-leading breakdown cover. You can find it all over at Halfords.com.
You want to enjoy a stress-free commute, you want Halfords!