As the sun starts to shine, we all love to get out and experience the great outdoors. Getting out on your bike is a fantastic way to enjoy the sunshine, while also keeping active.
If you're searching for some new bike routes to make the most of the warmer weather, we've got you covered.  Here is our pick of the best bike rides around the UK to help keep you active this summer. Each bike route is well signposted and simple to follow, so you can whizz away with ease.
We've also included a mixture of difficulty levels, so whether you're a cycling enthusiast or a leisurely rider, we've got a cycling route to suit you.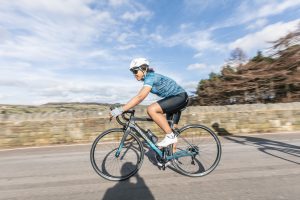 Strawberry Line – Cheddar Gorge
10.7 miles, 17.3 kilometres

54 minutes by bike or 3 hours 25 minutes on foot
Difficulty level: Medium
Best type of bike: Hybrid or Mountain Bike
Sustrans Route 26 is an 85-mile-long cycle route along a disused railway track. The 10-mile stretch between Yatton and Cheddar is known as the Strawberry Line, and it's a fairly easy ride that's suitable for everyone. The last train rolled along the route in 1965, and since then this flat, fun and traffic-free route has become a favourite for family bike rides.
When you arrive in Yatton by car, bike or train, you'll see signposts everywhere for Red 26. The 10-mile route is perfect for families and brings you to the bottom of the quaint village of Cheddar, where you can attempt to ride up the Gorge if you're brave enough. Cake and cheese are optional!
Rea Valley Route Birmingham
5.7 miles, 9.2 kilometres
29 minutes by bike or 1 hour 54 minutes on foot
Difficulty level: Easy
Best type of bike: Hybrid
The Rea Valley Route links the urban Birmingham City Centre with the beautiful Cannon Hill Park and King's Norton Park.
Following National Cycle Route 5, you'll avoid heavy traffic and escape the hustle and bustle of the big city. The cycle route continues up to the Lickey Hills, where you can enjoy the incredible views of the Midlands before heading back to the big city refreshed and revitalised.
Afan Valley Aberavon Wales

6.9 miles, 11.2 kilometres

35 minutes by bike or 2 hours 30 minutes on foot
Difficulty level: Medium
Best type of bike: Mountain Bike
The Afan Valley is home to some of the world's most incredible mountain bike trails, and they're easily accessible for everyone. This 6.9-mile route takes you from Port Talbot to the Afan Forest, through wide-open hills, exposed trails and exciting technical sections. Leisure riders can break up the route with a stop at Port Talbot shopping centre.
If you're a serious off-roader, check out Afan Bike Park for some of the best biking Wales has to offer.
Wye Downs (and ups)

16.4 miles, 27 kilometres
1 hour 45 minutes by bike
Difficulty level: Hard
Best type of bike: Mountain Bike
The Wye Downs boasts some of the most picturesque and far-reaching views in the UK. You'll find beautiful woodland tracks and quaint English villages plus a thrilling descent back off the downs on this challenging 16.4-mile route. Suitable for experienced cyclists, it's a testing trail that you'll love every time you ride it.
Camel Trail (Padstow to Wendfordbridge)

17.3 miles, 27.8 kilometres
1 hour 30 minutes by bike or 5 hours 45 minutes on foot
Difficulty level: Medium
Best type of bike: Hybrid
One of the most popular recreational cycle routes in the country, the Camel Trail runs from Padstow to Wenfordbridge, via Wadebridge and Bodmin. The largely traffic-free trail follows the route of an old railway line once used by the London and Southwest Railway.
The trail passes through the wooded countryside of the upper Camel Valley and alongside the picturesque Camel Estuary. It's a paradise for birdwatchers and bikers, with the beautiful scenery capturing Cornwall as you've never seen it before.
---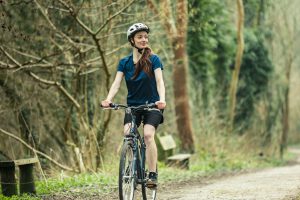 And that concludes our best summer cycle routes in the UK. At Halfords, we have a wide range of bike accessories and cycle tech gadgets to keep you going during the summer months.
If you want the best range of cycling products, you want Halfords.