The UK is home to some epic cycling trails, with riders travelling far and wide to discover the best mountain bike trail centres. Not only are trail centres great for leisurely rides, but they are also perfect places to test out brand new bikes.
We've been chatting to the team behind Voodoo bikes, who've just finished testing their latest range out in the wild. Discover which six MTB trail centres were top of their list as they got to grips with the new Voodoo Range.
What is bike testing?
Throughout the development of new bike ranges, it's vital to get out and try them in the real world to make sure that what looks great in design software and spec sheets, translates into an epic riding experience.
The initial Voodoo testing phase was on early samples of the new bikes. The new frames were taken to some of the UK's best cycling trails to learn exactly how well they worked as a package. Fortunately, the bikes rode fantastically, and only a few small tweaks were made to both componentry and frame design.
Following the revisions, Voodoo retested until they were confident that they had the best range of bikes for those looking to take a step up in their riding. Filming the product videos was a final test for the bikes, which all looked fantastic. The final seal of approval came from handing the bikes to the pros, who all loved riding the new Voodoo range.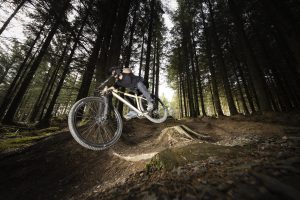 What is a trail centre?​
Mountain bike trails exist in almost every wooded area across the UK. Some are easy to find, others will require a local expert to get you there. Trail centres are specific areas designated for mountain bike trails and will often have facilities such as cafés, bike shops, and even maintenance areas. They are normally laid out in loops so that you can park up, pick your route, and eventually find your way back to your car.
There's a universal grading system to help you choose the trail you want to take; blue for steady trails, red for something a bit more gnarly, and black for the most experienced riders who don't mind a bit of airtime or seriously steep descents! There will also be signs letting you know what level of skill is required, so read them carefully and always scope out stuff that will take you to your limit first.​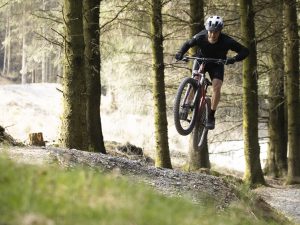 Safety first…
Remember to wear your bike helmet. Mountain bikers are one of the friendliest and most encouraging communities within the sporting world but heading out with your head out is widely frowned upon. In general, on the trail, it's usually just a case of being courteous and using common sense – so don't hold up faster riders unnecessarily and let them pass when it's safe to do so. If you are faster than others don't crowd them and give a friendly call out when you want to pass. Don't litter or forget to take appropriate repair tools and parts, and don't carve new routes. Lastly, it's obligatory to have loads of fun!
What are the best trail centres for bike testing?
1.     Cannop Cycle Centre at Forest of Dean, New Rd, Cannop, Coleford GL16 7EH
Just over the border from Wales, Gloucestershire's Forest of Dean is a popular place for cyclists. It's full of great trails and there's usually plenty going on. A good mix of forest tracks marked XC routes and plenty of downhill trails to test your skills. The downhill trails are easily accessed via the uplift service or a fire road push-up, and the forest is full of off-piste singletrack if you take the time to look.
The variety of trails was perfect for our purposes, the downhill runs gave the Bizango models the perfect playground whilst the Freeminer's Trail (a 7 mile red graded loop) allowed us to stretch the legs of the Braag and Soukri models. The miles of road and gravel track around the forest allowed for some epic riding on the gravel bikes and put the Marasa models through their paces.
If you're thinking of heading off to the Forest of Dean our top tips would be:
Warm up on the blue or red trails, there's a long and short version of the Freeminers Trail.
If you're pedalling up to the top of the downhill runs pace yourself and lock off your suspension.
Unless you've got an incredible sense of direction, plan your route for a gravel ride. You can easily get lost.
Bringing your Voodoo Jr rider along for the day? Get them on the Verderers Trail -they love and it and so will you.
2.     Cannock Chase Cycle Centre, Birches Valley, Lady Hill, Rugeley WS15 2UQ
Cannock Chase is home to two dedicated, well-marked, XC mountain bike trails – 'Follow the Dog' and 'The Monkey Trail'. Both trails are free to ride, open all year round and very popular especially at the weekends.
Follow the Dog is about 10.8km long and aimed at beginners to intermediates– total elevation is just over 500 feet and there's only one major hill, known locally as 'Cardiac Hill', to climb up which is near to the start. The Monkey Trail is a mix of fast and flowing machine-built trail and tight, twisty, and technical hand-built trails with the majority being single track. Not taxing but good fun. As of 2021, work has commenced on some additional options within the routes, we love the newly completed red section near the visitor centre.
The Monkey trail is accessed partway along Follow the Dog – you'll have to take the left option signposted 'The Monkey Trail' about 3 miles in. Adding both trails together make a ride of 22.8km (14 miles). This is more technical and physically demanding with some alternative 'Black' deviations if you are up for the challenge. There are some great descents and Lower Cliff is an absolute blast.
There are some easy 'green' family runs and some short but exhilarating downhill runs at Stile Cop. It's worth checking out Strava and seeing where other riders have gone 'off-piste' as there as some great sections to explore.
We've used Cannock Chase trails extensively during our testing. It's quite centrally located for all the team but crucially boasts a variety of different feeling trails. The recently resurfaced 'high-voltage' is smooth and flowing whilst some of the black options on the Monkey trail can really test both bike and rider.
If you're thinking of heading off to Cannock Chase our top tips would be:
Start at the visitor centre (parking can be paid for using contactless payment) and head past Go Ape to find the entrance to the trails.
If you're looking to do the full loop keep an eye out for the split just after High Voltage, cross over the railway bridge then take a right shortly after crossing the road to start on the Monkey trail at Lung Buster.
Pace yourself. It can take a few hours to get all the way around and although the first fire road climb is the hardest, it's certainly not the only test of your fitness!
3.     Coed Y Brenin, Dolgellau, LL40 2HZ
The UK's first dedicated trail centre located in North Wales nestled within the Snowdonia National Park is ever increasing in size and has been developed with the whole family in mind, it has miles of exceptional single-track riding and caters for everyone.
4.     Revolution Bike Park , Llangynog, Oswestry SY10 0EP
Revolution Bike Park, or 'Revs' as it's often called, was the location for much of the filming of the product videos for the Voodoo 2022 range. Featuring incredible views and trails which are exciting to look at, let alone ride, it was the perfect venue for our Pro riders to get to grips with the bikes.
From fast and flowy red trails, rocky and technical black trails to rooty and steep pro lines, you'll find trails to challenge even the most experienced rider and with one of the most efficient uplifts around, you'll get as much descent as you can handle in a day.
If you're new to bike parks, you may choose somewhere with blue options for your first time out, but riders with some trail centre miles under their belts will love Freeride. This fast and flowing line features incredible berms and progressive doubles which open up more and you advance down the lines. Optional gap jumps are there for the seasoned riders too. Red Downhill offers a bumpier route down, ideal for riders who love "techy" trails.
If you're thinking of heading off to Revolution Bike Park our top tips would be:
Check out some videos first, for those with the skill to tackle these trails it will tantalise and get you pumped to go.
Pay for the uplift. Unless you've got the legs of a TDF rider (or an e-bike) the fire road accent will be near impossible to ride up.
Take your time to get dialled in before progressing to Black Trails, and always warm back up with a red after lunch.
5.     Bike Park Wales, Abercanaid, Merthyr Tydfil CF48 1YZ
Bike Park Wales is the UK's first full-scale mountain bike park with over 40 unique trails. The park is designed to be inclusive for all riders, featuring a combination of bermed runs, rock sections, jump trails and flow sections and even a family specific loop. The runs vary from green to purple (pro lines) and have been built in sections down the hillside, so you can link them together in various combos and are split into flow routes and tech routes.
The park features an uplift facility, this means more time can be spent flying down stunning single track and less time pondering if you have the legs to see you back to the top! If you want to make use of the uplift then entry costs £45 (£48 on weekends) however if you are a good climber (or like to feel the burn) then you can pay £15 entry, it just means that you will be responsible for making your own way back to the top.
Their website features an incredibly useful interactive map of the whole park complete with videos as a park employee shows you the trail from start to finish.
The trails:
In our opinion, it's a bit easier than Cannock but with a few tricker sections that can catch you out (if you are over-confident.
All the routes at Bike Park Wales are short at no more than a few minutes in length (except root manoeuvre and Terry's Belly at 2.5km and 4.6km) but they are designed in such a way that you can link 2 or 3 together to really stretch out the ride.
Badgers Run (1km, Green)
Badgers run is by far the easiest trail at Bike Park Wales. A smooth flowing section is perfect for beginners or young children. And if you are new to mountain biking it's the ideal place to get a feel for what you like.
Terry's Belly (4.6km, Blue)
This is the longest blue trail at Bike Park Wales and the UK. With swooping turns, high rolling berms and some incredible views you won't want to miss this one – we're glad we didn't.
Root Manoeuvres (2.5km, Red)
The longest and most technical red trail that Bike Park Wales has to offer. An unsurfaced trail means you need to be prepared to get muddy and the gnarly rock sections will really test not only your nerve but your bike.
50 Shades of Black (1.8km, Black)
The longest black section here and is not for the faint of heart. Boulder fields, roots and jumps make this trail a true beast.
Pay the extra and make the use of the uplift facility and you can squeeze in roughly 10 trails in a day (3000 meters worth).
A workshop is available on site, ideal to dial your set up in before you head out or if you crash your bike they offer repair services completed by a master technician.
Muc Offbike wash station (one less job when you get home).
6.     Sherwood Pines, Edwinstowe, Mansfield NG21 9JL
Sherwood Pines Forest Park is full of fast woodland single-track with a couple of purpose-built XC loops. There's also over 45km of unmarked trails, a skills area and a bike park complete with a set of dirt jumps. Less challenging than Cannock what we do think is great about Sherwood is the ability to combine our riding – half a day on the MTB, quick spot of lunch and then there's miles and mile of trails that are perfect for a blast on the Limba or Nakisi adventure bikes.
The centre sits right on National Cycle Network Route 6 so it's easy to get to by bike although it does get a bit tough riding there on the Nakisi with the Bizango Pro strapped to your back!
The trails:
Family (4.8km, Green)
As the name says, this is an easy family trail. It can also be accessed from the nearby Center Parcs holiday park so if you are staying there for the weekend, you've a nice little warm up before some of the other trails.
Adventure (9.6km, Blue)
Twice the length of the family trail but not any more technical, this route uses the green trail and the nearby NCN route to take riders deeper into the forest.
Kitchener (12.8km, Red)
This flowing, twisty singletrack trail is great fun and a challenge to ride at speed. It's a good introduction for riders wanting to progress onto trickier trails and is practically single track for the whole 12.8km. Look out for some 'hidden' off-piste singletrack too.
Bike Park (0.8km, Orange)
The bike park has two very different sections – the dirt jump area and the downhill zone. The dirt jumps are a series of graded jumps with a warm-up section and it's really progressive with some low-risk starter options all the way up to double jumps.
The DH zone contains technical features and challenging terrain, with several interlinking descents that criss-cross their way down the hillside.
---
And there you have our list of some of the best MTB trail centres in the UK. Discover our full range of Voodoo bike mountain bikes on halfords.com.
Remember, if you want the best cycling gear, you want Halfords.