Whether you've got a new bike or an older steed that's racked up thousands of miles, you need to keep on top of maintenance and perform regular safety checks throughout winter.
Doing so won't just maintain a shiny and sleek look but will keep key components running smoothly and prevent unnecessary wear. This is especially important in winter when dirt and grime gets everywhere.
However, knowing where to start can be tricky, so we've pulled together a guide to inspecting and maintaining so it'll be ready to power through the spring months ahead.
Where will you inspect and maintain your bike?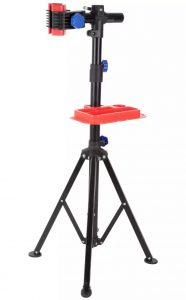 It may sound simple, but it's important to consider where you'll carry out any maintenance work. Even in the garden, oil and dirt can spray further than you'd think so try to avoid working on your bike near anything you don't want to get dirty.
Next, think about how you'll position your bike while inspecting or maintaining it. Ideally, it'll need to be held stationary and the best way to do this is with a bike stand. The Bikehut Repair Stand is perfect for the job as it features an easy-mount system that will securely hold your bike in place while you inspect it or complete any maintenance. Then, when you're finished, its foldable design allows for easy storage.
What do you need to inspect and maintain your bike?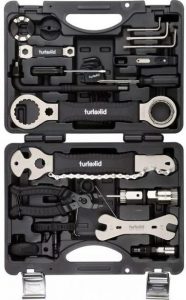 From bottom brackets and hubs to derailleurs, bikes have many parts, and you'll need the correct tools for the job.
Whether performing routine maintenance, repairs, or adding upgrades, the Bikehut 30-Piece Bike Tool Kit has all the tools you need in one neat set. Bikehut tools are built to be durable, and the set also comes with a lifetime guarantee.
Once you've got the correct tools, it's time to inspect your bike!
What needs checking?
Here are the key things you'll want to look out for:
Bike cleaning
Dirt is the main cause of wear and corrosion so clean your bike on a regular basis. Make sure you use a specialised bike cleaning product like the Muc-Off Clean, Protect, and Lube Kit. The included Biodegradable Nano Tech Bike Cleaner is perfect as it contains no harmful acids or solvents and is great for cleaning grime and dirt. Once your bike is gleaming, it'll also be easier to carry out a full bike inspection.
Lubricate your chain
Lubricating your chain won't only make it run more smoothly, it'll also protect it from excessive wear. So, always lubricate your chain with a high-quality lubricant such as the Halfords All-Weather Lube. It's a great choice as it is specially designed to reduce excessive wear and prevent rusting. Before applying it, do a visual inspection of your chain – if it's rusty, it needs replacing.
…and other bearings
Many cyclists fall into the trap of cleaning and maintaining what they can see but neglecting the inside of their bike – which often leads to issues further down the line. So, don't forget your bottom bracket, wheel bearings and headset bearings, all of which need lubricating on a semi-regular basis.
Saddle
A loose saddle will cause discomfort and can be dangerous. Make sure it is securely fastened and, if it isn't, use an allen key to tighten the bolts.
TOP TIP: Always follow the recommended torque limits when tightening any bolts on your bike. Overtightening can cause damage to the frame and components. These limits will usually be displayed on or around the bolt.
Brakes
You can easily test your brakes by spinning the wheels and pulling the brake lever. If the wheel doesn't stop instantly or makes scuffing noises, the brake will need adjusting. We have a detailed guide on adjusting mechanical disc brakes here.
Frame
Cracks and damage to frames can occur without you even realising, so it's worth carrying out a visual inspection every so often. Damage isn't always obvious so look out for small cracks too – it'll be easier if you're inspecting a clean bike!
Wheels
A puncture can leave you and your tyre deflated. However, they can sometimes be avoided by inspecting your tyres. Look out for any existing cuts, bulges or foreign objects that could lead to a puncture. Next, check the spokes. These should feel rigid and shouldn't move or wobble by hand.
Handlebars
Place the front wheel between your legs and try twisting the handlebar – if it moves, it needs tightening. You can do this using an allen key, making sure all the bolts on your stem and handlebar are tightened.
Halfords bike servicing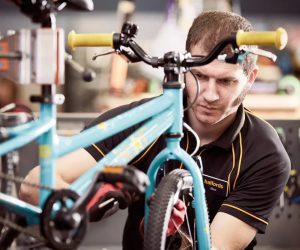 If you're not confident maintaining your bike or would like that added peace of mind that it's been maintained by an expert, we can service your bike for you.
With a choice of a bronze, silver or gold service, we have the perfect servicing option for your bike. Simply book a Free Bike Health Check and one of our expert technicians will advise you which service is best for your needs.
Maintenance out on the road
Unfortunately, maintenance issues don't tend to happen at convenient times, and if you're not prepared you could end up stranded on the side of the road.
But don't worry! There are a few small accessories you can carry with you on any ride that should get you out of any sticky situations. Firstly, always carry spare inner tubes. It's best to carry at least two just in case you're unlucky enough to suffer a double puncture.
Also, always carry a pump with you – you really will feel deflated if you realise you have nothing to pump your tyre up with. A puncture repair kit can also be a good idea as a back-up option.
Sometimes bikes can suffer other mechanical issues while out on a ride too, so it's always helpful to have a multi-tool to hand. A compact option like the Halfords Essential 8-Function Multi Tool is perfect as you can easily carry it in a saddle bag or a pocket.
---
That's everything you need to know about inspecting your bike at home this winter. If you're ready to get started, head over to Halfords.com where you'll find everything from bike stands to tools.
You want to prepare your bike for the warmer months ahead, you want Halfords!