From savvy commuters wanting an alternative to public transport to those heading out for exercise, hybrid bikes are the perfect option.
And with warmer weather fast approaching, now's the best time to consider investing in a hybrid bike and to start clocking those cycling miles. To help, we checked out Boardman's entry-level hybrid, the Boardman HYB 8.6 Hybrid Bike. Refreshed for 2021, here's the low-down on Boardman's versatile offering.
Refreshed for 2021
When the Boardman brand launched in 2007, it did so with the aim of inspiring a wide range of riders.
The Boardman HYB 8.6 fits into this philosophy, with its versatility making it a great option for everyone from commuters and fitness-orientated cyclists, to those wanting a convenient day-to-day option for getting around.
The 2021 model comes in two versions, a women's bike with slick purple paintwork, and a men's version available in either silver or green.
Updated for 2021 and packed with great features, there's a lot to like about the HYB 8.6.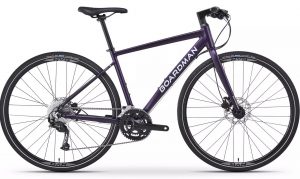 Sleek, considered design
Central to the HYB 8.6's versatility is its triple-butted aluminium frame. Incredibly lightweight, both the women's and men's bikes weigh in at approximately 11.2kg – slightly more than a lot of entry-level road bikes! This low weight makes a big difference when riding up hills. The frame also benefits from hidden welds that add to the sleek appearance, similar to what you'd expect from a carbon frame.
This isn't the only thing in common with road bikes, and the HYB also incorporates dropped seat stays. Doing so increases comfort – something any rider can appreciate!
Completing the sleek look, the HYB 8.6 has a 1-piece bar and stem which includes matching headset spacers.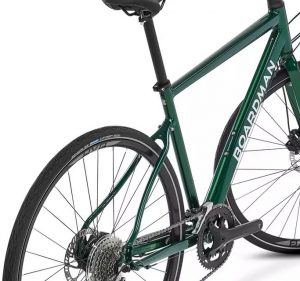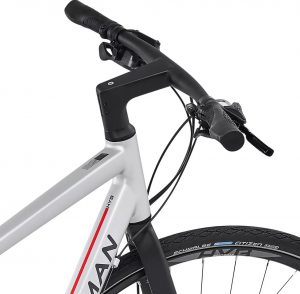 Year-round practicality
The HYB 8.6 may be sporting a sleek new look but this hasn't come at the cost of its versatility – far from it!
Ensuring it's the perfect hybrid bike whatever your needs, the bike features mounting points that allow you to attach a range of pannier racks and mudguards. For those wanting a day-to-day option or for commuters, having these makes the HYB a practical option.
Stopping power is provided by Tektro hydraulic disc brakes – whether powering along on a commute or riding with your panniers fully loaded, they'll always bring you to a safe stop.
And continuing the theme of being incredibly versatile, the Shimano Alivio drivetrain has 18 gears, so you'll always have an extra gear to fall back on during leg-sapping climbs.

Don't forget the finer details
Every Boardman bike is developed using lots of data and customer insight – so they can create bikes that match a rider's needs.
Doing so has helped Boardman equip the women's and men's HYB 8.6 with saddles that are specially designed using advanced pressure mapping and real-world testing. As a result, the saddles are comfier than ever – great news for those completing longer rides.
Dependable commuter
For those looking to commute by bike, reliability is important.
That's why the HYB 8.6 arrives with dependable Boardman wheels and 35mm Schwalbe puncture-resistant tyres. Not only will they provide better protection again punctures, but they also have low rolling resistance and help contribute towards a smooth ride.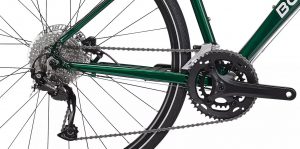 Accessories
The HYB 8.6 packs a lot into an affordable package. However, to take full advantage of its amazing ride, don't forget the must-have cycling accessories.
Whether commuting or riding for fitness, here's our pick of the best:
---
There's a lot to like about the updated Boardman HYB 8.6 and you can explore all of the options here. Don't forget to also add those must-have cycling accessories by visiting Halfords.com.
Or, why not explore our cycling help and advice guides where you'll find information and help on everything cycling!