In the UK, children must travel in a car seat from birth until 12 years old or 135cm tall, whichever comes first. We know that choosing the right car seat for your child can be a challenge when there are so many options available.
CYBEX have a great range of high-back booster car seats, suitable for children from the approx. 3 – 12 years old. They are forward facing only and use the car seat belt to secure the child. All CYBEX group 2/3 car seats are fitted with ISOFIX to ensure correct installation in the vehicle for added safety while travelling.
However, there are a few aspects to consider before making your final decision. In this blog, we'll cover some of the key features to consider when buying a child car seat.
Car compatibility
Before choosing your high-back booster car seat, always check it is compatible with your car to ensure it fits properly. You can usually find if a car seat is suitable for your vehicle on the brand's website or user guide. Always follow the recommendations of the vehicle manufacturer regarding the installation of child car seats.
ISOFIX
It's important to check if your car has ISOFIX points. ISOFIX makes car seats extremely easy to install and most car seats have visual indicators to show you when the seat is correctly installed in the vehicle. ISOFIX points usually show the ISOFIX logo and have small covers that need to be removed.
i-Size car seats are approved for use in i-Size compatible vehicle seating positions as indicated by vehicle manufacturers in their vehicle user manuals.
Reclining headrest
CYBEX's patented reclining headrest tilts the child's head back slightly, helping to prevent it from falling forward during sleep. So, in the event of a side collision, your child's head is more likely to be in a protected position – seven times safer than if it had fallen out of the seat's safety zone. Three positions are available for just the right comfort whether your child is awake or asleep. The CYBEX Solution G i-Fix and CYBEX Solution T i-Fix are fantastic choices for this.
Height and width adjustment
Children grow a lot between the ages of 3 and 12 in width as well as height. Some CYBEX high-back booster seats allow you to adjust the width and height as your child grows. Adjusting the height of the headrest will automatically alter the width, such as the CYBEX Solution T i-Fix.  The CYBEX Solution G i-Fix and Solution B i-Fix have flexible side wings for when your child grows.
Breathability
Breathable fabrics keep the seat temperature comfortable in all seasons, ensuring happy travels for your little one.
L.S.P (Linear Side-impact Protection)
L.S.P is an outstanding combination of design, safety, and functionality. It reduces the impact forces in the event of a side-impact collision.
Adjustable backrest
The backrest adjusts for a snug fit to any vehicle seat and allows for a comfortable position for your child.
How do I know if my child has outgrown their car seat or if it needs adjusting?
Your child may be ready to move to a high-back booster if they are outgrowing their toddler car seat. They may also be ready to switch to a forward-facing seat for more legroom and comfort when travelling. Children can move to a booster seat when they reach 100cm tall, approximately 3 years old and 50kg. High-back booster car seats raise the position of your child, so the car seat belt lies properly across the chest and pelvis. The protective headrest and side wings, help protect your child's head in the event of a collision.
As your child grows, you will need to adjust their car seat headrest to fit them or move them into the next size car seat. Your child's head should not exceed the top of the headrest. When positioning the headrest aways ensure there is a two-finger gap between the top of the child's shoulder and the bottom of the headrest. The headrest offers protection to the vital head area. It's important that as much of the back and side of the child's head is covered as possible.
If your child's head is exceeding the top of the car seat headrest, then they have most likely outgrown their high-back booster car seat and are above 135cm. This means your child can now be in the car without a car seat.
CYBEX High-back Booster Car Seats Available at Halfords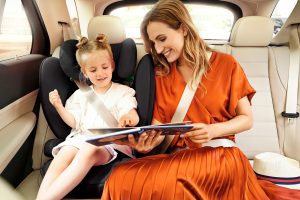 CYBEX Solution B i-Fix (Halfords Exclusive)
UN R129/03 (latest safety standard)
ISOFIX Installation
12 position height adjustable headrest
Built in L.S.P system
Adjustable backrest
Lightweight (4.4kg)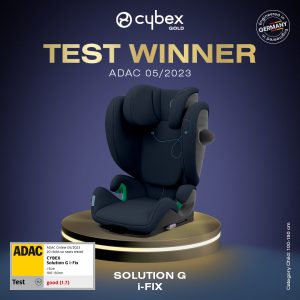 CYBEX Solution G i-Fix  
UN R129/03 (latest safety standard)
ISOFIX Installation
3 Position Patented Reclining Headrest
One-hand Recline Function
Breathable fabrics
S.P Plus and Energy Absorbing Shell
Height Adjustable and Flexible Wings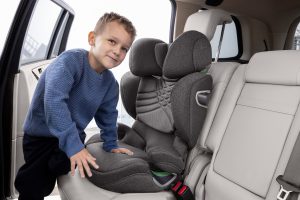 CYBEX Solution T i-Fix  
UN R129/03 (latest safety standard)
ISOFIX Installation
3 Position Patented Reclining Headrest
One-hand Recline Function
Breathable fabrics
S.P Plus and Energy Absorbing Shell
12 Position Height Adjustable
Width Adjustable Wings
Breathable Fabrics
Advanced L.S.P and Energy Absorbing Shell
One-hand Recline