We hate to mention the 'a' and 'w' words while we're still enjoying the tail-end of summer, but the truth is that autumn and winter are starting to peek their heads around the corner. And while that means we have to say goodbye to warmer days, it's also makes now the perfect time to get back to routine and prepare your car for the harsher conditions of the upcoming months.
Your car's bodywork takes a beating over autumn and winter thanks to rain, dirty roads, snow, ice and more. Over time this can leave paintwork and trims looking tired and dull. So we'd recommend using these last days of summer to give your car's exterior a deep clean and apply a layer of protection. It'll help keep your paintwork in top condition and make it much easier to clean on those infrequent sunny winter days.
Okay, let's get started!
1. Apply a bug/tar remover
Bugs and tar have an annoying habit of getting stuck to our paintwork. There's no way to avoid it, but there is a way to overcome it and that's with a dedicated bug/tar remover. Two of our favourites in this space are the Autoglym Intensive Tar Remover and the Auto Finesse Citrus Power.
The Autoglym Intensive Tar Remover dissolves tar on paintwork and plastic instantly. Not only that, but it'll also work on oil, grease, silicone, wax, gum, tree sap, fuel stains and adhesive residues. Quick and easy to apply, the tar remover will make short work of the problem.
The Auto Finesse Citrus Power spray will remove any bugs and grime from your paintwork with its gentle, but effective, formula. It's wax and sealant friendly, suitable for engine bay degreasing and cleaning, and even has a pleasant citrus scent to boot. Perfect!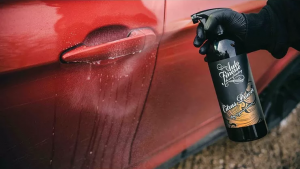 2. Apply a snow foam
Covering your car in a blanket of foam is not only pretty good fun, but can really help to shift contaminants like dirt, grime, traffic film and road salt. What this means for you is that you can move on to cleaning without having to worry about your wash mitt moving these contaminants around and scratching your paintwork.
A pressure washer is the best way to apply the foam and we love the Nilfisk Core 140 Bike & Auto Pressure Washer for its power, variable pressures and handy accessories. Team it with a snow foam like the Autoglym Polar Blast Snow Foam or the Turtle Wax Snow Foam, then sit back and wait for the foam to do its work.
The instructions on the bottle should tell you how best to apply the foam and how long to leave it on for. Then you just need to rinse it off.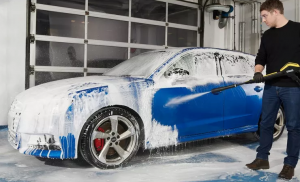 3. Hand wash with shampoo
With the snow foam rinsed clean, it's time to put some muscle into it with some good old fashioned hand washing. Here you'll need car shampoo and accessories like a bucket and a wash mitt.
The Halfords Car Wash and Wax is one of our top car shampoos and packs a powerful blend of detergents into a small bottle. It'll remove any remaining oil, grease and road grime with ease and leave you with a long-lasting, streak-free shine.
Another option is the Autoglym Bodywork Shampoo Conditioner, which quickly and effectively breaks down dirt and road grime without the need for harsh chemicals. It'll also give your car a glossy, water-repellent finish which will make the drying stage a little easier. Speaking of which…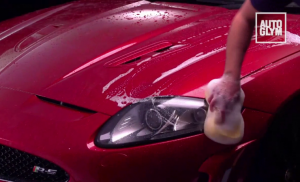 4. Dry
You'll want your car to be completely dry ahead of the next step, so grab yourself a microfibre towel like the Halfords Drying Towel or the Auto Finesse Aqua Deluxe Drying Towel.
Thick and plush, these towels are brilliant at absorbing water. They can be folded into comfortable panels for efficient use and are machine washable so you can use them again and again and again.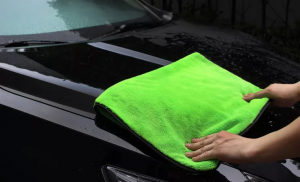 5. Decontaminate
You might wonder why we're talking about decontamination again, but the truth is that your paintwork will get covered in tiny contaminants that washing alone can't remove. And that's where products like the Auto Finesse Iron Out and Auto Finesse Clay Bar Kit come in.
Start by using the Iron Out to remove brake dust and iron particles from your car. It's got a pH neutral gel formula, so you don't need to worry about any damage to your paintwork, aluminium, wheels or glass. It also has a nifty colour effect where it'll turn red when the formula reactions with contaminants on your car, so you can see what needs cleaning.
Follow up with the Clay Bar Kit, which is an effective way of removing embedded contaminants from your paintwork safely. It won't mark your paintwork and by the end you'll be safe in the knowledge that your car is truly clean and free of all contaminants and build-up.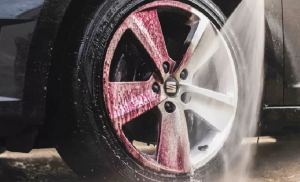 6. Apply a polish
Polish will help to rejuvenate your beautifully clean paintwork by correcting any swirl marks, holograms, light scratches, scuffs and marks. It'll also give you a deep glossy finish that you'll almost be able to see your reflection in.
Our top picks here are the Meguiar's Ultimate Compound or the Autoglym Super Resin Polish. Both will reward you with a showroom-worthy shine, with the Autoglym Super Resin Polish also providing a handy water-repellent finish.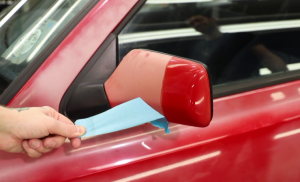 7. Apply a wax
This is arguably the most important step when it comes to protecting your paintwork against the harsh autumn and winter weather. Applying a high-quality wax will effectively seal your paintwork and ensure that all of your hard work up to this point is protected.
Spray waxes are the most popular type of car wax as they're generally much easier to use than old-school paste ones. There are loads to choose from, from many of the top names in car cleaning, but here are three of our favourites.
The Turtle Wax Hybrid Hydrophobic Sealant Wax delivers unprecedented levels of shine and slickness. It can be applied to both wet and dry vehicles thanks to its streak-free dry agents, and it's suitable for all exterior surfaces so you don't need to worry about overspray or residue build-up.
Then there's the Autoglym Aqua Car Wax. Another one that can be applied wet or dry, the Aqua Car Wax can be used to protect all exterior surfaces and leave your car with a dazzling shine and smear-free finish.
And last, but by no means least, is the Meguiar's Hybrid Ceramic Wax. This wax boasts a chemical formulation that offers harder wearing, longer lasting protection. It'll also give you water beading protection and durability beyond that of a conventional wax. Best of all, all you need to do is spray it on, rinse it off and dry your car!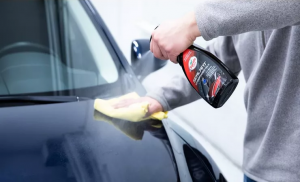 8. Clean and protect trims
Our final step is to bring faded plastic trims back to life and protect them from ageing. Here you can choose from an aerosol spray like the CarPlan Original Black, a liquid spray like the Autoglym Vinyl and Rubber Care or a gel like the Autoglym Bumper and Trim Gel. All will restore and protect your trims as the nights grow darker and the days shorter.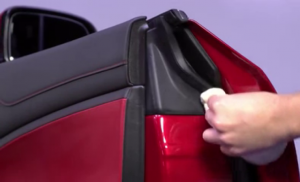 ---
And there you have it: paintwork that's perfectly protected for the seasons ahead. If you fancy giving your car's interior a similar make-over, then check out our range of interior cleaning products on Halfords.com.
We'd also recommend showing the important parts of your car some love with our range of free car checks. Simply book online and choose a date that suits you.