Motorcycle chains are a vital component; in fact, the health of your motorcycle chain basically equals the health of your motorcycle! Keep the chain in good condition with regular cleaning and maintenance to enjoy optimal bike performance.
Whether you've been ramping up the miles as we emerge from lockdown or you've neglected your bike for a while, your motorcycle chain should always receive some TLC. Thankfully, Tru-Tension is on hand with innovative products to keep your chain in mint condition!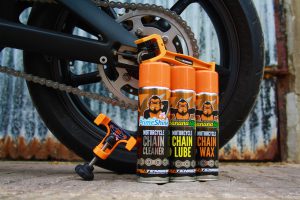 Here's everything you need for ultimate motorcycle chain care.
Motorcycle chain cleaner
Before adding any products to the chain, you need to give it a deep clean to remove all the dirt and grime accumulated on your bike. Creating a clean surface allows lubricants and waxes to better coat and protect your motorcycle chain. To do this, place your bike on a Wheel Monkey to allow for easy access to the chain.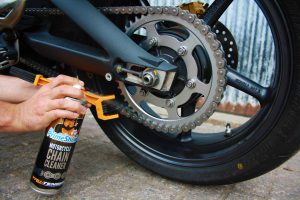 The best way to remove tough, built-up dirt and grease is with a specialist chain cleaner. For the ultimate chain clean, pair the PrimeShine Chain Cleaner with the Muck Monkey Chain Brush. Not only will your chain look as good as new, all the hidden nooks and crannies will receive a thorough cleanse too.
While you're already getting mucky and the bike is secured, now's the perfect time to tackle the grime on your wheels. An all-in-one spray such as TT78 – which both cleans and lubricates all bike parts from swingarms to wheels – is the ideal product for those looking for simple motorcycle care.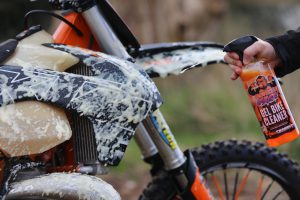 Once your chain and wheels have been thoroughly degreased, treat your motorcycle to an all-over clean. Monkey Juice is an innovative gel bike cleaner that creates microscopic foam. This foam penetrates stubborn dirt and effortlessly lifts particles from your bike surface, leaving a dirt-repellent finish to prevent further grime build up.
The star of Dragon's Den – Chain Monkey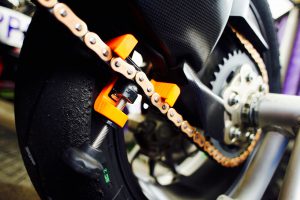 For the most effective chain maintenance, you need to do more than just cleaning. Check your chain tension and adjust for a smoother, safer ride. Previously, this task has been tedious and time consuming, however the Chain Monkey takes the hassle away, allowing you to easily check and set your chain tension.
Another important but often overlooked task is checking wheel alignment. Proper wheel alignment is critical for preventing unnecessary wear on tyres, steering and brakes. Using an appropriate alignment tool, for example the innovative Laser Monkey, you can check alignment quickly without compromising on precision.
Motorcycle chain lubricant
Chain lubricant is an absolute must-have for any motorcyclist! From providing enduring protection against the elements to improving bike performance, chain lubricants are an essential piece of motorcycle kit.
A dry chain can spell bad news for its lifetime and bike functions, so having effective lubricant is vital. These lubricants are available for all kinds of chain wear, including prolonged tours as well as intense bursts of use.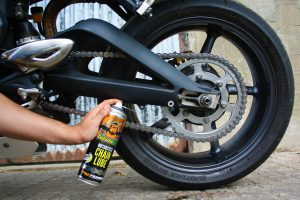 The market-leading Bananaslip Chain Lube is ideal for shorter but more powerful bursts of motorcycle use, such as track and street riding, with a thin initial layer that quickly dries in all the moving bike parts. This means you can apply your chain lube and almost instantly get back on the bike and get going!
For rides of a longer duration in all weather conditions, the Bananaslip Chain Wax is more suitable, providing comprehensive protection for the bike as well as ultra long-lasting lubrication. Where a chain lubricant may be quickly applied on a weekly basis, wax lubricants tend to need applying less frequently.
Once your chain is cleaned, lubricated and tightened, you can enjoy smoother rides with optimised power delivery and peace of mind, knowing your motorcycle chain is cared for using top-of-the-range products.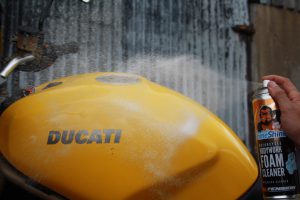 To finish off your motorcycle care routine, polish your bike to shimmering perfection with the PrimeShine Bodywork Foam Cleaner and become the envy of the bike world.