While staycations and day trips provide the perfect opportunity to explore the amazing British countryside and seaside, there's no denying that travelling with children can be stressful!
However, one thing you can easily plan for ahead of your journey is your child's safety, and CYBEX have pulled together their top tips for finding the perfect car seat – and even some extra tips on keeping your little ones entertained, delaying the inevitable 'are we there yet?'!
Latest legislation
By law, children have to travel in a car seat up until they're either 12 years old or 135cm tall (150cm in ROI), whichever comes first.  Prior to travelling, check that your child has the right car seat for their age, weight or height.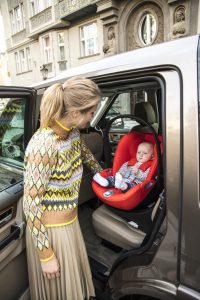 In Europe and most parts of the world, the UN R44/04 and UN R129/02 (i-Size) testing standards are in effect. Car seats produced by CYBEX are tested by independent institutes on a regular basis. They continuously receive top results in the most important European safety and consumer tests such as the German ADAC and Stiftung Warentest testing.
Recently, the CYBEX Solution Z i-Fix was awarded a Best in Test, out-performing other seats in the same category, proving it's capability in side-impact collisions and general safety standards.
Be conscious of the time limit
Car seats are essential for safe travel and at CYBEX we support the Lullaby Trust's recommendation that younger babies should be in a car seat for no longer than 2 hours at a time, and only 30 minutes in the first 4 weeks. If you're travelling long distances, aim to take frequent rest stops and take younger babies and children out of their car seats to let them stretch and move around. All of CYBEX's car seats have been designed to offer maximum comfort and ergonomic seating positions when travelling.
More comfort = more happiness
For safety and comfort, your little one needs to travel in the correct size seat.
Birth until approximately 2 years (group 0+)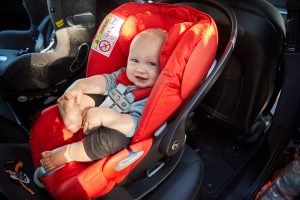 An infant carrier should offer features that provide greater comfort and safety for both children and parents.  On long journeys, even with regular breaks, babies can spend a lot of time in an infant carrier so comfort is nearly as important as safety.
The award-winning CYBEX Cloud Z i-Size car seat is a great example especially for newborns, with a removeable newborn inlay which offers a near-flat lying position to reduce the risk of babies heads falling forward, plus, when outside of the car, on your pushchair, you can adjust the seat into an ergonomic lie-flat position.
Birth until approximately 4 years (group 0+/1)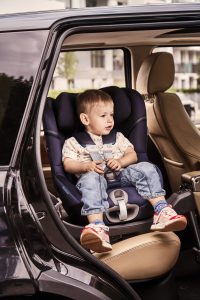 Rotating car seats are very popular as they make it easier to get children in and out of the car and simple to switch between rearward and forward facing. The Sirona S i-Size offers a 360 rotation, as well as five easily adjustable reclining positions for comfortable sleeping and travelling on longer journeys.
3 years until approximately 12 years (group 2/3)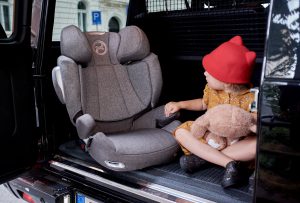 Older children still fall asleep in their car seat, so it's important to make sure their head and shoulders are in a safe and comfortable position in the event of an accident. The CYBEX Solution Z i-Fix has a patented reclining headrest which prevents sleeping children's heads from tilting forwards, ensuring the head remains in the safety zone at all times. This seat easily adjusts in height and width, growing as the child does, always providing safety and comfort.
All CYBEX car seats have superior quality fabrics and are padded for extra comfort and integrated ventilation allows for air flow, keeping little ones cooler.
Safety Features
We have talked a lot about comfort, but the foremost reason for using a car seat is of course safety.  You should consider safety features such as L.S.P (linear side-impact protection technology) which reduces the forces of a side-impact.
CYBEX recommends keeping your child rearward-facing for as long as possible, which is why at CYBEX we have multiple seats that promote this including the Sirona S i-Size and Sirona Z i-Size.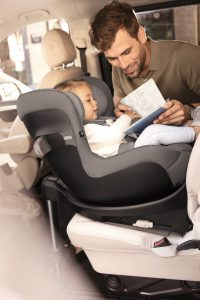 On longer journeys children who get restless may have a tendency to try and escape the car seat safety harness. As well as giving you a scare, this is of course very unsafe, especially if it happens on a motorway or somewhere you aren't able to pull over easily. CYBEX offer a seat with an added feature called SensorSafe which helps to prevent the little Houdinis from pulling a fast one!  SensorSafe is a chest clip which is attached to the harness of the car seat, cleverly linking to an app on your smartphone. It will alert you if the buckle has been undone, if the car is too hot or cold, remind you to take regular breaks and will even alert you if you accidently leave the child in the car.
CYBEX'S TOP TIPS FOR TRAVELLING WITH CHILDREN IN THE SUMMER
Plan stops in advance
Try to plan your route and stops along the way in advance. Check the location of service stations or places of interest.
Do not underestimate the heat
Hot summer days are what many of us long for, but they come with hidden dangers. Babies are not equipped to regulate their body temperatures in the way adults and older children are able to do so.  Just a few minutes left in a warm car can be too hot for babies to cope with. Some infant car seats are equipped with features which alert parents if the inside of the car gets too hot for a baby or if the baby is left alone in the car. The CYBEX Cloud Z i-Size and Sirona S i-Size with SensorSafe are equipped with this feature. The SensorSafe chest clip sends vital safety alerts to your smartphone if the temperature is too high. Features like these can and have saved lives all over the world.
Keeping children entertained
Go retro! Games like I-Spy, Going on a Trip (or Memory Game), 21 questions and Count the Animals will pass lots of time keeping the whole family entertained and creating great learning and interaction opportunities. Once the games have been exhausted, why not turn the backseat into a movie theatre – tablets and devices are a great way to cure boredom and provide a little quiet time for those in the front seat! Let children create a playlist before you travel and download some audiobooks which may distract and amuse all the family.
Before you leave home
So much goes into planning the trip as you're full of excitement, but often some things can be overlooked! Our checklist below will give you some reassurance:
Re-check car seats are fitted correctly – are all safety indicators green?
Check ISOFIX or the seat belt is still attached properly
Are devices fully charged/do you have chargers too?
Are your vehicle water and oil levels correct?
Are the tyres legal?
Are the windscreen wipers working?
The most important, are snacks and drinks easily accessible?
---
Have fun on your much anticipated car trips and stay safe!
Head over to Halfords.com to find our full range of child car seats or visit our help and advice centre for more car seat-related guidance.