Getting out on the bikes is a great way to enjoy some fresh air and keep active. However, it's always wise to wear appropriate cycling clothing to ensure you keep cool during Spring and Summer and warm during Autumn and Winter.
From cycling shorts to cycling gloves, we've got everything you need to stay comfortable when out on your bike, whatever the season. Here's our guide to the best cycle clothing for all weather conditions.
Spring and Summer cycling clothing
Going for a bike ride during Spring and Summer is perfect for enjoying the warmer weather and British scenery in full bloom. We stock a range of cycling gear for the warmer months that will help keep you cool as you whizz along.
Men's cycling shorts
Whether you cycle for fitness, leisure, or commuting, a pair of padded cycling shorts are a must-have item during the warmer months.
An excellent choice for classic cycle shorts is the Boardman Men's Cycling Shorts which contain a high-density cushion pad for even greater comfort and protection in the saddle for up to 3 hours. Featuring supportive stretch fabric that allows freedom of movement and actively wicks away moisture from the skin.
If lycra isn't your thing and you'd rather go for a more relaxed style, check out the Ridge Men's Casual Shorts or the Boardman Men's Casual Shorts. Both pairs offer a comfortable, more relaxed fit for off-road or leisurely rides.
You can also opt for undershorts to be worn underneath everyday shorts or trousers for maximum comfort while maintaining your everyday look. We recommend the Ridge Men's Undershorts, with a medium density cushioned pad, the Altura Tempo Undershorts, with breathable moisture wicking fabric and memory foam padding.
Women's cycling shorts
There are also plenty of fantastic options for women's cycling shorts, all perfect for Spring and Summer. We recommend the Ridge Women's Cycling Shorts, which contain a flattering cross-front design, which also helps you to move more freely.
If you'd rather go for a more relaxed look, the Ridge Women's Over Shorts can be worn over the top of regular cycling shorts for extra coverage or even on their own.
The Boardman Women's Cycling Capri is high-waisted and made of stretch material for extra comfort. The ¾ length leg is also a perfect length for Spring cycling.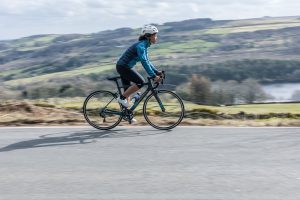 Men's cycling jerseys
A good quality cycling jersey is another must-have cycle clothing item, allowing you to keep cool when riding during Spring and Summer. The Ridge Men's Jersey is made of breathable, quick-drying fabric – perfect for rides in warm weather.
The Boardman Men's Cycling Jersey is another great option, with three rear pockets and a zip pocket to keep your essentials safe.
Women's cycling jerseys
Ladies, if you're heading out on a summer bike ride, the Ridge Ladies T-shirt is a great option, with a more relaxed design made from breathable material for optimum comfort. Alternatively, the Boardman Women's Cycling Jersey has a full zip design with a silicone gripper inside the hem to prevent the jersey from riding up.
Men's and Women's cycling jackets
We all know how unpredictable the British weather can be, which is why it's also valuable to have a cycling jacket handy. For unexpected rain showers, we recommend the Halfords Essentials UnisexPac a Mac, which is shower resistant and easy to pack away.
The Boardman Men's Windproof Removable Sleeve Jacket and Boardman Women's Windproof Removable Sleeve Jacket are fantastic for unexpected chilly days. However, the sleeves can quickly be removed to turn the jacket into a gilet – ideal for the UK's ever-changing summer weather!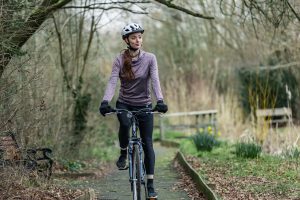 Cycling mitts
There are a variety of fingerless cycling mitts which can keep your hands cool on warm days but provide cushioning to protect your hands. We recommend the unisex Ridge Cycle Mitts, which have a perforated palm for breathability and contain foam padding to help reduce road vibration. The Altura Progel Mitts have gel padding for even greater comfort on your bike rides.
Sunglasses
During the summer, it's especially important to arm yourself with a pair of sunglasses to reduce glare and improve your view of the road ahead. The Halfords Half Frame Polarised Sunglasses offer 100% UV protection and also help shield your eyes from wind and spray. Alternatively, the Halfords Full Wrap Around Sunglasses are water-resistant and offer anti-fog protection.
Cycling cap
With the sun shining, it's also a good idea to invest in a cycling cap to act as a sun shield under your bike helmet. The Boardman Cycle Cap is made from moisture-wicking fabric and helps offer some shade during the summer but can also protect against the wind during the colder months.
Autumn and Winter cycling clothing
If you're commuting by bike or undergoing cycling training during Autumn and Winter, it's crucial you have the right gear to stay warm and dry as you pedal away.
Waterproof cycling jackets
A waterproof cycling jacket is always a must during Autumn and Winter cycling. The Ridge Unisex Waterproof Jacket will not only help protect you from the rain but the fluorescent colour will enhance your visibility on the road – perfect for darker evenings.
The Boardman Men's Waterproof Jacket is a great choice for both cycling and general fitness, as it is fully waterproof with a removable hood. The fabric on the shoulder and sleeve is reflective, so will also help you be better seen on the road.
Alternatively, the Altura Nightvision Storm Jacket is specifically designed for commuting. The silver reflective print will help illuminate you while cycling on the road. The breathable fabric also offers a 10/10 waterproof rating.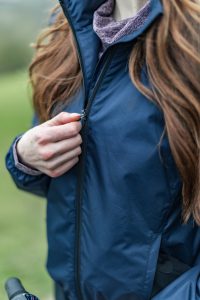 Thermal cycling jerseys
A thermal cycling jersey is a perfect way to stay warm while riding during the colder months. Halfords Essentials Men's Base Layer is ideal for wearing under a cycling jersey or jacket during Autumn and Winter.
Another great option is the Ridge Men's Thermal Cycling Jersey with thumb holes that can keep your sleeves in place as you ride, for extra warmth. The Boardman Men's Thermal Cycling Jersey has a full zip design and contains a silicone gripper inside the hem to prevent the jersey from riding up.
Ladies can layer up with the Ridge Women's Thermal Cycling Jersey or wear on its own for keeping warm when out riding during the colder months.
Cycling legwear
When cycling during Autumn and Winter, you want to ensure your bottom half not only remains warm but also protected from the rain. The Ridge Men's Waterproof Packable Cycling Overtrousers are ideal for commuters, protecting your legs against the elements on rainy days.
For added warmth, we recommend the Boardman Men's Thermal Tights which are a fitted design in thermal brushed back fabric, also featuring a high density cushioned pad for comfort in the saddle for up to 3 hours.
The Ridge Women's Cycling Leggings also contains a cushioned pad to provide greater protection while you ride and the high waistband also offers an extra level of comfort.
Cycling gloves
A good quality set of cycling gloves is a must on colder days to keep your hands feeling toasty.
The Ridge Thermal Gloves are both water-resistant and windproof for added protection. Also ideal for blustery days are the Boardman Windproof Gloves, with the silicone palm print providing added grip.
For greater visibility at night, the Altura Nightvision Insulated Waterproof Gloves are fluorescent yellow with an integrated reflective print, allowing you to be better seen on the road, and also offers touch screen compatibility.
---
And there you have our ultimate guide to the best cycling clothing throughout the seasons to ensure you are as comfortable as possible on your bike rides all year round.
Remember, if you want the best cycling clothing whatever the weather, you want Halfords.