The roof of your car is a great storage space, offering up the perfect place to secure roof boxes, bike racks, sports equipment, trade tools and more. But loading and unloading those items? Well, that can be much more of a challenge, full of struggling to lift heavy bags and clambering up onto your car's bodywork to get the height you need.
Thankfully, there's a better option now and one that we're delighted to bring to our customers: the Dropracks Sport roof rack. Boasting a horizontal loading platform that you can lower down to waist height, the Dropracks Sport means an end to back strains and paintwork chips as you fight to load your car.
Read on to discover all there is to know about the Dropracks Sport and the company behind this ground-breaking roof rack.
Meet Dropracks
The initial idea for Dropracks was conceived in 2015 as part of a project at The Norwegian University of Science and Technology in Trondheim. The team behind the idea – who were both mechanical engineering students and outdoor sports enthusiasts – wanted to solve the problem associated with loading and unloading roof racks by developing the world's first horizontal elevating version.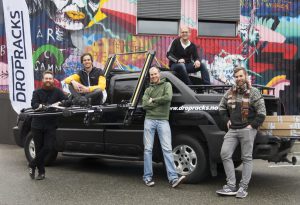 What began life as a university project soon developed into a viable product with a bright future. Over the next few years, Dropracks became a promising start-up company and the team expanded to include product developers and industrial designers.
By 2019, the next generation of roof racks was ready to go into production and the Dropracks XL and Dropracks Sport entered the market.
Meet the Dropracks Sport
The sleek and sophisticated Dropracks Sport is one of the company's flagship products. While it acts like a standard roof rack on the surface, providing a T-track for you to secure your roof boxes, bikes racks and sports equipment to, the act of loading and unloading that rack has been completely transformed.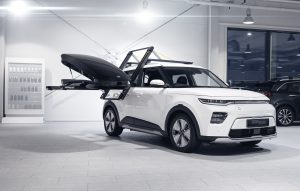 How it works
The ingenious in-built mechanics mean that you can lower the rack down the side of your car to waist height simply by releasing the automatic locking system and turning the crank. Then load your equipment or sports carriers and use the crank to return the rack to its starting position. It's really that simple!
A failsafe braking system is in place to prevent the rack from moving unless you're operating the crank, which helps to ensure the safety of you, your carriers and your car throughout the loading and unloading process.
Weight limits
The Dropracks Sport can support up to 75kg in weight, so there's ample capacity for your bikes, kayaks or work equipment.
Just bear in mind the total load capacity of your roof, as you'll need to both stay beneath that and take the weight of the Dropracks Sport into account (27kg on its own, or approx. 32kg including the fitting kit).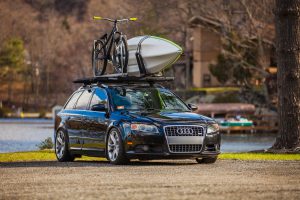 Compatibility
The Dropracks Sport has been designed for cars that have either raised roof rails, flush mounted rails, T-track roof fittings, gutters or fixpoint fittings. They also need to have a sufficient roof loading weight to accommodate the weight of the Dropracks Sport, any attached carriers and any items you want to carry.
To check if your car fits the bill, just pop your vehicle registration number into our online checker. If you find that the Dropracks Sport isn't suitable, then we've got a wide range of alternative options for you to choose from.
Fitting
The Dropracks Sport is a significant investment and here at Halfords, we want to ensure that it's installed correctly every time. That's why we offer a full fitting service for just £20.
All you need to do is choose the fitting option during the checkout process and one of our colleagues will call you to discuss the best time for you to come in to store for your fitting. They'll also walk you through the process so that you can fit the Dropracks Sport with confidence in the future.
If you'd prefer to take on the fitting challenge yourself, then you'll find step-by-step instructions included in the box.
---
The Dropracks Sport really is a game-changer for anyone who regularly makes use of the storage space on their car's roof. Find out more and explore our range of roof bars, roof boxes and bike racks at Halfords.com.