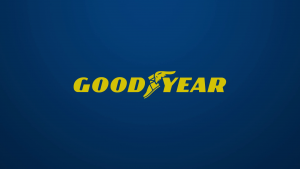 Goodyear is one of the world's largest tyre manufacturers. It's big and it's bold. With over 130 years of experience in manufacturing tyres, there's not much that Goodyear doesn't know about tyre technology and consumer needs, so you can always be sure that you're getting a product that has the latest, industry-leading technology.
Innovation at its heart
Goodyear has been coming up with new ideas since the day the company was founded in 1898. It never rest on their laurels, because new discoveries lead to new technologies and new products, which then lead to better driving experiences for you.
In fact, Goodyear's passion for creativity and excellence has made it one of the largest tyre manufacturers in the world with 63,000 employees and 47 manufacturing facilities in 21 countries around the globe. Impressive, isn't it?
Quality you can rely on
The company's summer, winter and all-season tyres aren't just innovative, they're also highly ranked by experts. They've been regularly tested by independent European tyre magazines over the past five years – with excellent results. That's because Goodyear's engineers test each new tyre design against more than 50 performance criteria, to ensure that they lead to a better driving experience.
Most recently, the UK's biggest selling weekly motoring magazine, Auto Express, crowned the Goodyear EfficientGrip Performance 2 product as the best in the market in their annual summer tyre test. Not only this but Tyre Reviews, the leading source of independent tyre information in the world, has crowned the new Goodyear Vector 4Seasons Gen-3 as the test winner in their 2020 17" All Season Tyre Test, proving the product's performance.

Introducing the Vector 4Seasons Gen-3
The new, award-winning Goodyear Vector 4Seasons Gen-3 combines three key technologies. First, Snow Grip Technology provides improved grip on snow. The large number of special sipes in the center of the tread provide 5% better handling on snow compared to its predecessor.
Secondly, Dry Handling Technology offers reinforced tread and shoulder blocks that reduce the deformation of the tyre under high loads, such as during sporty dry riding. Among other things, this results in 5% better dry braking compared to the previous generation of the tyre.
Finally, the Vector 4Seasons Gen-3 maintains the impressive level of aquaplaning resistance of its predecessor through Aqua Control Technology, over long mileage and even as the tread depth decreases. It's comprised of innovative grooves that optimise water evacuation over the lifetime of the tyre.
The combination of these technologies creates an even better balance of all performance criteria on snow-covered, wet and dry roads – and an award-winning tyre.
Future focused
By 2040, 57% of all passenger vehicle sales and over 30% of the global passenger vehicle fleet will be electric. Goodyear believes in a future powered by new technologies, with a vision of sustainable, safe and new mobility experiences that make life's connections easier every day.
The world of tyres never stops moving. And neither will Goodyear.
---
We stock a wide range of Goodyear tyres here at Halfords and you can find a suitable set for your car by using our online registration number checker. We're also currently running a great promotion on Goodyear all-season tyres (until 30th November 2020), so don't miss out!
If you want to keep moving this winter, you want Halfords.