Electric bikes are constantly growing in popularity as more and more people discover their amazing benefits.
Despite this, we still hear lots of myths and misconceptions about e-bikes, and it's time to set the record straight! From worries over cost to accusations that using an e-bike is 'cheating', here are 5 myths about e-bikes that can be well and truly busted.
Riding an e-bike is 'cheating'
This is one we've heard far too often, and it couldn't be farther from the truth.
E-bikes have motors that provide assistance while you ride, but you'll only receive this assistance if you're pedalling – so they're definitely not 'cheating'!
In fact, it's the complete opposite, as having that added assistance makes cycling more accessible to people who would otherwise struggle to ride. Having the motor can help you ride further and faster, all of which will help you get fitter.
And the assistance level can be altered too. So, if you want an easy commute to work, you can! Or, if you fancy a tough workout, turn the assistance level down to the lowest setting and feel the burn.
E-bikes harm the environment
Another myth. Electric bikes are zero-emission vehicles, so they're much more eco-friendly than other modes of transport, making them a great alternative for your daily commute. If you live within a ridable distance, opting for an e-bike will reduce your carbon footprint, help to reduce traffic on roads, plus you won't need to worry about getting stuck in any jams (so there's less stress too!).
E-bikes are too expensive
Of course, having the added motor on an electric bike comes at a cost, but it's probably not as much as you think!
Did you know, here at Halfords, we have a range of high-quality e-bikes for less than £1000? Or that you can pay over 24 months with Klarna?
And when you consider how much commuting by e-bike could save you on an annual basis compared to driving, they're actually incredibly cost-effective! Through our Cyculator tool, you can find out how much commuting by e-bike could save you, and we've included an example of a short commute in Birmingham below.

To top it all off, you can also get an e-bike through our Cycle to Work scheme which could save you anywhere between 32% to 47% off the cost of the bike and any accessories.
You can't go very far on e-bikes
Worried that you'll only get halfway to work, only for the battery to die, leaving you with no assistance? Don't be!
Ranges on e-bike batteries can vary anywhere between 20 to over 80 miles, which is far more than enough for most people. Most e-bikes also have displays that will help you monitor the battery's level – so there can be no excuses if you're left with no assistance!
And charging an e-bike couldn't be easier either – all they require is a standard socket. Making things even more convenient, e-bike batteries can also be removed from the bike, meaning you can charge them on your desk before your commute home. So, whether you're at work or home, you can always quickly top up the battery if it's running low.
Top tip: even if an e-bike's battery goes flat, you can still ride the bike – you just lose the assistance from the motor.
You can't ride an e-bike in the rain
Many people worry that you can't ride an e-bike in the rain. However, when have you ever actually seen or heard of an e-bike breaking down in wet weather? Probably never, as it's another of those myths. As long as you buy your bike from a trusted retailer like Halfords, it's perfectly safe to ride it in the rain.
And, while you can ride an e-bike in wet conditions, we will concede that it might not be particularly fun if you're not prepared – and that's why having the right clothing and accessories is important. Make sure you're always prepared with waterproof jackets and cycling clothing, and don't forget to use mudguards (those riding behind you will appreciate you using them too!).
E-bikes are heavy and too large
Like normal bikes, e-bikes come in all shapes and sizes. You can get anything from trail-ready electric mountain bikes to commuter-friendly electric folding bikes – so you'll always find an option for your needs.
If you're worried about where to store it or need to take it on public transport, then an electric folding bike can be a great option. They'll be slightly heavier than their non-electric equivalents, but they're still designed to be easy to fold up and carry.
A great example, the Carrera Crosscity Folding Electric Bike has a lightweight folding frame and its powerful 313Wh battery can power you for up to 30 miles!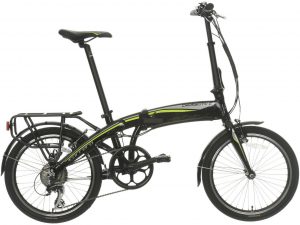 If you're planning on heading further afield for a cycling adventure, Halfords sell a range of e-bike-compatible bike racks to help you transport your bike. Plus, all the electric bikes that we sell have removable batteries to help lighten the load when lifting it onto a rack.
And, whatever e-bike you choose to ride, you won't even be thinking about the added weight when the motor is helping you along.
E-bikes help you ride without limits!
You guessed it; this one isn't a myth! Whichever way you look at it, electric bikes are an amazing mode of transport.
They can help you ride further and faster than ever before, can speed up your commute, save you money and, to top it all off, they release no tailpipe emissions. That makes them much more eco-friendly than other modes of transport – another great reason why you should consider using an e-bike to cycle to work.
When you look at all the amazing benefits, it's no surprise that e-bikes are constantly growing in popularity, and we believe there's never been a better time to join the e-bike revolution!
---
That should help clear up a few common e-bike myths! If you like the sound of e-bikes but want to find out more, head over to our Electrification Hub. You can then explore our extensive range of e-bikes over at Halfords.com.
You want to enjoy all the amazing benefits of an e-bike, you want Halfords!
---
Here at Halfords, we're committed to driving down prices and offering you the best value possible to keep you safe, happy, and secure. We've pledged to never be beaten on price on 1000s of motoring essentials – read more here.