If you experience an emergency breakdown, you'll be glad that you've packed these 12 essentials in your car. It's more important than ever that our cars are in good working order and prepared for anything. To help you, the experts at Halfords have created a list with everything a driver should carry for safety and protection. 
Warning triangle
A warning triangle is a reflective panel that you can place on the road to warn approaching road users that there's a hazard ahead. If you break down, simply grab it from the boot, unfold it and place it around 30 metres from your vehicle. That distance will give the approaching driver the chance to see the hazard and take action. They're particularly useful if you break down on a bend or unlit road. 
They're a legal requirement in Europe, but an optional extra for UK drivers. Don't worry if you've already got a busy boot; they fold flat and are easy to store.  
First aid kit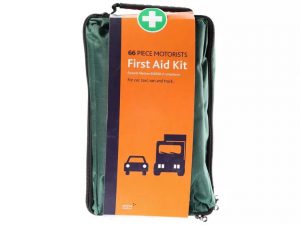 A basic first aid kit contains everything you'll need to deal with minor cuts, grazes, scrapes, bruises and more at the roadside. Within it, you'll find gloves, dressings, plasters and foil blankets, all contained in an easy to carry case. 
While we hope we never have to use it, a first aid kit is a motoring essential that every driver needs to carry. 
Hi-visibility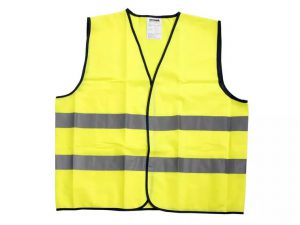 A hi-visibility vest will ensure that other motorists can see you at the roadside. Keep one in your glove box and slip it on if you break down and you'll be safe and visible if you need to step out of your vehicle. They're particularly important to wear if you're not staying in your vehicle and are standing in a safe place.  
Torch and spare batteries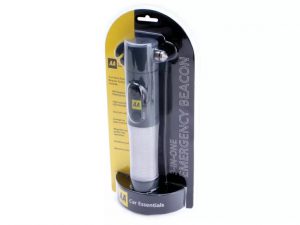 A torch could be a lifesaver if you break down during the night time. Keep it in the glove box with a spare set of batteries and you will have the light you need to access your essential supplies in the boot. They're also great if you're more mechanically minded and want to take a look under the bonnet. Powerful hand torches can help you identify any mechanical problems, leaks or damage that you may need to deal with.  
Rope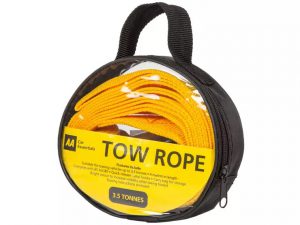 If your car can't be fixed by the roadside, a length of rope will ensure that you can be quickly towed to safety. You'll need to ensure that your cable can adequately manage the forces placed upon it, like our Halfords 3.5 tonne tow rope. Towing your car isn't something that every driver can – or wants to – attempt, but if you do, then do it safely.  
Locking wheel nut 
Your locking wheel nut is required to change a flat tyre – without it, you're stuck! Check that you have your locking wheel nut and keep it somewhere safe. Regardless of whether you're fixing your flat yourself or calling on a breakdown service, you'll need the locking wheel nut that came with your vehicle or you could be waiting a long time.  
Spare tyre and trolley jack 
You should familiarise yourself with the location of your spare tyre and trolley jack. Even if you don't know how to change a flat tyre, someone else might. Your spare tyre and trolley jack are usually found in the bottom of the boot under a piece of carpet. The wheel on some cars and 4x4s may be located on the underside of the vehicle or mounted to the back door. We advise you to check that the spare and trolley jack are there and in good condition because you never know when you might need them.  
Fuel can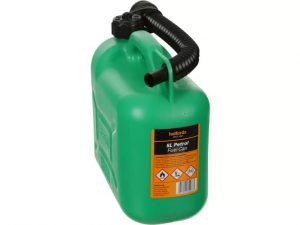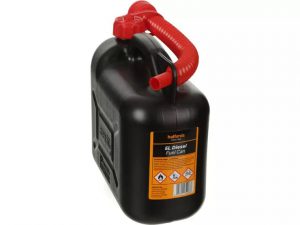 If you ignore the warning light (or the warning light has broken!) and you run out of fuel, packing a fuel can in your boot can get you back on the road quickly. A five-litre fuel can should provide enough to get you to the nearest petrol station. Choose a black fuel can if your car is a diesel to avoid confusion.  
Booster cables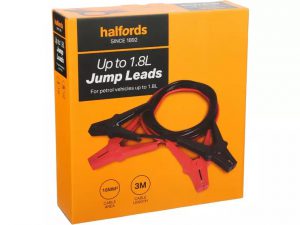 Packing a set of booster cables will ensure that a flat battery doesn't ruin your journey. You can hook them up to someone else's car engine to provide the spark you need to get started. You'll need to select the right jump leads for the size of your engine to ensure that they deliver the crucial cranking power when pushed.  
Tyre inflator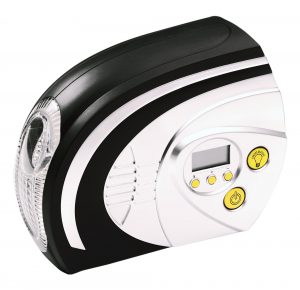 A flat or rapidly deflating tyre can spell danger, so you'll be glad you've got a tyre inflator in your boot. Digital tyre pressure gauges can measure the current pressure and then inflate it to the desired level, all without you needing to find 50p for the machine.  
Puncture repair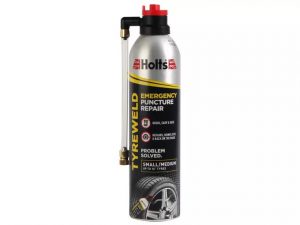 Packing a puncture repair kit can provide a temporary fix that will enable you to drive to your destination. Simply attach it to the valve on your tyre and let it go to work. Your tyre will have enough pressure for you to safely restart your journey, but it's not a long-term solution. Do yourself a favour and book into a Halfords Autocentre to have a replacement tyre fitted as soon as you can.  
Mobile phone power cable
A spare mobile phone cable is a crucial accessory for every driver. Mobile phones do more than just allow us to make calls; they can be used as a GPS and to help emergency services locate us, even in the remotest corners of the UK. A spare Apple or Android charger will keep you connected to family, friends or the emergency services until help can arrive. One handy tip from the experts is to ensure that you have the details of your insurance company and your breakdown services provider logged in your phone.     
Bottle of water
A bottle of water can provide essential lubrication to the most important thing in your car – you. If you do break down, you'll be glad you packed a bottle of water and (if you can resist the temptation) some sweets in the glove box too. If you do find yourself waiting for a long time, particularly if you are exposed or during the hot summer months, even a small bottle of water can prevent dehydration for you and your family.
Breakdown service and insurance details
Make sure that you have your car insurance details and your breakdown service provider in the cabin of your car. You'll want this essential information to hand in the unfortunate event of an accident or emergency. 
While you can't plan for every eventuality,  you'll be glad that you've packed these motoring essentials in an emergency. You can find all the motoring accessories and in-car products that you need at Halfords to keep you and your family safe on your travels.