With the popularity of cycling rising, bike theft is also unfortunately on the up.
Figures from Direct Line Insurance reveal that one bicycle is stolen every six minutes in Britain, with more than £22 million having been claimed on insurance over the last three years. Mountain bikes amount to 48% of these claims, with hybrid bicycles and road bikes just behind.
With this in mind, we've put together our best bike security tips for peace of mind.
Choosing the right bike lock
Identifying the best bike lock can depend on where you'll be leaving your bike but, in every case,, it's about making it as difficult as possible for a thieve to be successful. Thieves want to move quickly so the more of a deterrent you can put in place the less likely your bike will be a target.
It's also worth checking the requirements on your insurance policy. You'll find that many insurers will stipulate a Sold Secure rating. Sold Secure is an independent accreditor working with companies worldwide, testing and assessing security products for their performance and standard levels. They work closely with the Home Office, Police and insurers providing an industry-standard accreditation that gives an indication of the quality of the security product.
Sold Secure have a comprehensive testing procedure and different possible classifications for which a product can gain the much coveted Sold Secure Approved quality mark. Look out for the Sold Secure Gold, Silver or Bronze approval ratings when you're checking out locks.
Use two types of bike locks for extra security
While this might take an extra minute out of your day, using two different bike locks will make it trickier for thieves who want to get away fast. Cable locks will secure your accessories and quick release front wheels. D locks or chain locks lock down the main structure of the bike. The two together will really stop a thief in their tracks, and then hopefully walk on by.
The Halfords Advanced 23cm D Lock is also an excellent choice as it features a D lock as well as the option of a 120cm cable. The hardened steel casing protects against drill attacks and has anti pick locking mechanisms, whilst the cable offers added security for any accessories and quick release wheels.
Designed to fight against prying, jacking and cutting attacks, this is our first 10/10 rated, Gold Sold Secure approved lock. That's the highest certification granted to bike locks on the market in the UK so if you invest in this system you can rely on the fact that you're locking up with the best of the best.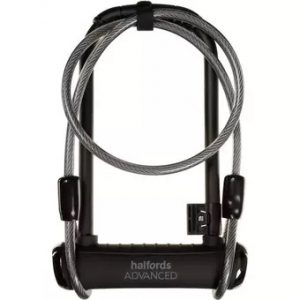 Secure your bike correctly
Even if you pick the best bike lock on the market, it's useless if you don't secure it correctly. Thieves will steal components if they can't take the whole bike, with the wheels usually being the most desirable. The best way to prevent this is to make sure you secure both the frame of the bike and the wheels using something like the Halfords 120cm Cable Lock -Combi. It's designed to work in combination with other locks you have and doubles up your security.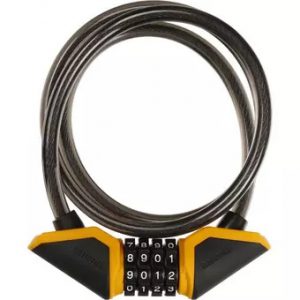 If you're heading into the city, opt for a well-lit, busy place to leave your bike ideally covered by CCTV. Thieves want to avoid being seen, so don't give them the opportunity. Don't forget to check out how secure bike racks are if you're using them. They're not always in great shape whether they're at the train station or at work. Make sure the rack can't be cut and your bike can't be lifted over it before you consider leaving your bike there.
Be secure at home
Have you thought about how secure your bike is where you're currently storing it at home? You'd be surprised how cheeky thieves will be once they've spotted an easy target, as more than half of all bike thefts come from the home. Always keep your bicycle out of view in a shed or garage.
The Abus Granit WBA75 Anchor is perfect for keeping your bike secure whilst at home. The anchor acts as a fixed object for you to secure your bike to with the use of a chain or D lock. The large, weather-treated shackle ring folds flat when not in use to help avoid any annoying toe-stubbing. This is another product in our range that has been awarded the Gold Sold Secure accreditation so if you combine this with a Gold Sold Secure bike lock, your insurance company should be pretty happy.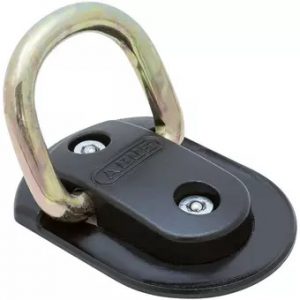 Lost your bike lock key or forgotten your combination lock code?
Don't fret. We've got your back. Register your lock with us when you first buy it with our online Bike Lock Registration database, and we'll be able to send you a new key or code should you lose them. We've all been there and registering your lock means you won't find yourself in a situation where you're having to incur extra expense to replace the lock because you can't find the bloomin' key!
The process is quite simple:
Register your lock with the code that's provided with it at purchase.
We store all your details on our Bike Lock Registration database.
If you lose your key or code, visit our Bike Lock Registration website page and submit a replacement key request or a code reminder request.
We'll send you out a new key within 30 days or send you a code reminder email.
Photograph your bike
Whether your bike is new or old, use a camera to capture any unique features or things specific to yours – especially the frame number. By doing this, it will help the police identify it if it's ever stolen.
We really want you to stay safe. If you've got any questions about bike security pop in to your local Halfords store and one of our colleagues will talk you through the options.