On the surface, car batteries are pretty simple – you plug them in and your car fires up when you turn the key. However, there are loads of myths out there about these handy little electricity bricks. Our friends at DriveTribe have teamed up with Yuasa batteries to put eight of the most popular car battery myths to the test.
MYTH 1: I HAVEN'T USED MY CAR MUCH SO MY BATTERY IS FINE
Myth definitely busted. Even if you haven't used your car for a while, its battery is still being drained by your car's alarm and electrical systems. And as batteries are electrochemical devices, they naturally lose charge over time anyway.
All of which means that it's worth getting your battery checked if your car has been sitting around, or only used for short infrequent journeys. Take advantage of the Halfords Free 5-Point Winter Car Check to get an expert opinion on your battery, or upgrade to a  10-Point Winter Car Health Check for added peace of mind. We have a number of procedures in place to keep you and our colleagues safe during all of our car checks – you can find out more here.
Between 25th December 2021 – 14th February 2022, we're offering our 10-point winter car health check, worth £15, absolutely free! Book online today and have peace of mind that your vehicle is in tip top condition this winter.
MYTH 2: LETTING MY CAR IDLE OR DRIVING A SHORT DISTANCE WILL RECHARGE MY BATTERY
This one is also busted – simply because starting your car is the very thing that puts the highest drain on your battery. It takes a lot of power to get a car going, so it's very unlikely that a short drive will put enough charge back into the battery to cover that energy cost.
Most modern cars can charge a battery while they're idle, but it's not a great idea to just let a cold engine idle its way up to temperature while charging. You're much better off using a battery charger, such as these options from Halfords.
MYTH 3: THE BRAND OF A BATTERY MAKES NO DIFFERENCE TO ITS PERFORMANCE
Again, busted. All Yuasa and Halfords batteries will perform to the specifications on their labels, and all conform to European battery performance standards. All Yuasa batteries are also Original Equipment (OE) quality and spec, which means they're fitted by vehicle manufacturers as standard.
The experts at Yuasa have tested some non-OE batteries and found the specifications are sometimes exaggerated and these batteries can lack safety features. So, it's always worth going with a well-known brand.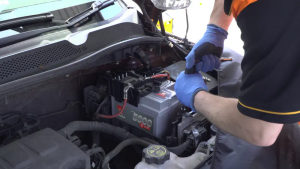 MYTH 4: THE HEAVIER THE BATTERY, THE BETTER ITS QUALITY
This one is actually true. Lead is the main component of a battery, and on a basic level the more lead you have in a battery, the better it will perform.
However, it's not always the case that heavier is better because poor quality batteries have been known to contain concrete to give a misleading impression. You can avoid this risk by always buying a well-known and reputable brand, such as Halfords or Yuasa.
The one situation where the weight = quality rule doesn't apply is with lightweight lithium ion batteries. This cutting-edge technology can now be found in some high-performance production vehicles. Fun fact: Yuasa lithium ion batteries power most of the systems on the International Space Station, where weight-saving is essential.
MYTH 5: PAYING MORE FOR A BATTERY DOES NOT MEAN BETTER PERFORMANCE
Another one that's busted (usually). More expensive batteries tend to have more plates inside and, in basic terms, having more plates gives your battery more energy to start your car. So yes, paying more for a battery does usually mean it'll give better results and last longer.
This is reflected in the starting specification of the Halfords ranges. While a regular budget-friendly battery provides up to 20,000 starts and has a three-year guarantee, the more premium Yuasa Silver 5000 batteries give up to 50,000 starts and have five-year guarantees.
MYTH 6: I CAN FIT A CONVENTIONAL BATTERY TO A CAR THAT HAS START-STOP TECHNOLOGY
Sadly, this is just a myth. If your car has start-stop technology, it'll be fitted with a next-generation lead acid battery. This is because the battery has to crank the engine more frequently as you start and stop in traffic.
Some start-stop cars will have an Enhanced Flooded Battery (EFB), while others will have an Absorbed Glass Mat (AGM) battery. These batteries need to be replaced with one of the same type and spec, or you could run into problems.
If you'd like some expert support with fitting a replacement battery, Halfords is here to help for just £18. Simply book online or pop down to your local store for safe, contactless fitting.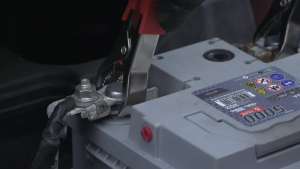 MYTH 7: IF LOOKED AFTER, A BATTERY CAN LAST FOR THE LIFETIME OF A CAR
We'd love this one to be true, but sadly it's not. A battery is a consumable item, just like a brake pad, which means it'll wear with use. And while you can certainly prolong your battery's life with careful charging, testing and maintenance, it will still need to be replaced eventually.
MYTH 8: BATTERIES DISCHARGE FASTER IN WINTER
Myth firmly busted. The natural discharge rate of a battery is actually highest in summer because of the higher temperatures.
So where did this myth come from? Well, a battery will lose 30% of its ability to supply cold cranking amps at 0°C. Also, the act of starting a car engine is much harder on your battery when it's cold (due to the thick, cold engine oil) and that's why you're more likely to struggle to start your car in winter. Batteries also find it harder to accept a charge when it's cold because their internal resistance increases.
---
Here at Halfords, we offer a range of Halfords, Halfords Advanced and Yuasa batteries. Our online vehicle registration number checker will show suitable options for your car, while you can book a safe and contactless £18 fitting as part of the checkout process. Find out more about how we're keeping customers and colleagues safe here.