'Flat-battery Tuesday', or 2nd January, will see thousands of motorists experience the shock of a flat car battery. Motoring organisations expect an increase in the number of emergency call-outs as thousands of cars fail to start after being left alone over the Christmas and New Year period. A flat battery could leave motorists facing car battery blues, but with our help, you don't need to be one of them.
Avoid a flat start to the new year with our helpful guide on how to maintain your car battery. Plus, learn how to use a car battery charger, jump leads, and jump starters.
Why are car batteries important?
The battery in your car provides crucial cranking power to get the engine moving. We rely on them for so much, but the sad fact is that Britain's car batteries are unloved, with research by Halfords showing that 30% of motorists have never had their battery checked by a professional. Over half of drivers (53%) went 5 months without checking their battery, even though experts recommend they're checked regularly.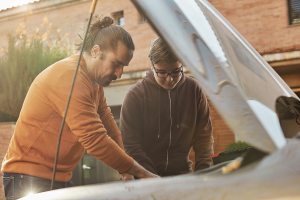 When disaster strikes, 42% of motorists don't know what to do if their car battery dies. And, despite it now being part of the car theory test, what goes on under the bonnet remains a mystery. Our survey discovered that an incredible 11% of motorists don't even know the location of their car battery. (If you're one of the 11%, it's under the bonnet!)
Car battery care
At Halfords, we recommend that you make it your New Year's resolution to show your car battery some care and attention. Here's how.
Car battery failure is common. It can happen suddenly after your vehicle has been left standing for long periods without being started, or after it's been exposed to extremes in temperature, damp, or water. If your battery is completely dead, then the best way to revive it is by using a car battery charger that will slowly and safely bring it back to life.
If you're in a rush and don't mind getting your hands a little dirty, you can use a set of jump leads. You'll need another car, or a dedicated jump starter, to provide the essential spark.
Before messing with your car's powerful battery, spend some time learning how to do it properly by reading our guide on how to jump-start a car. It shows you how to use jump leads safely, protecting you and your vehicle from a high-voltage disaster. It's crucial because incorrectly jump-starting modern cars with complex electrical systems can cause irreparable damage to your electronic control unit.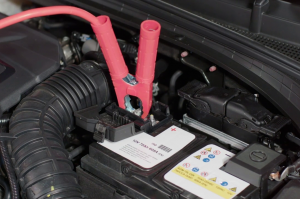 Over time, the condition of your car battery may degrade, so it's crucial you can spot the signs that it's on its way out. In our survey, 31% of drivers have experienced a clicking sound when they turn the key to start their car, 21% have experienced dimming lights when turning over their engine, and 13% have had to deal with a backfiring engine. These are warning signals that you can't ignore.
If you're concerned about the condition of your car battery, you can buy a car battery tester to monitor its health. If you prefer an easier life, then take advantage of our Free Battery Health Check at your local Halfords autocentre. Our technicians will assess the health of your battery, giving you peace of mind that it's still up to the job, or help you to identify the perfect product if it isn't.
Replacing a car battery
Making life easier, if you need a battery replacement and can't get to a store or garage, we offer a safe and contactless mobile expert service who can come to your home or workplace to replace your battery for you. They can also complete a battery diagnostic check or cold start. You can discover the full range of services provided by our mobile experts here.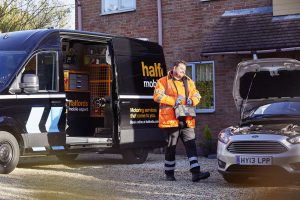 When your car battery needs changing, our car battery buyer's guide is a great place to start. It's packed full of useful information and advice that will help you select the right replacement. Of course, if you want great service, then head to Halfords where our staff will be happy to help you find the right battery for you and your vehicle. We can even fit it for you while you wait for a small fee.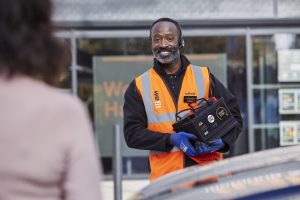 Remember: if you want to avoid a flat start to the new year, you want Halfords.
---
Here at Halfords, we're committed to driving down prices and offering you the best value possible to keep you safe, happy, and secure. We've pledged to never be beaten on price on 1000s of motoring essentials – read more here.
Onepoll research for Halfords, 25th November 2019, based on a sample size of 2,000 adults.