Time sure flies! It doesn't seem that long since we were last tucking into our Christmas dinners and navigating minefields of wrapping paper, but here we are again.
That's right, Christmas will soon be upon as and the search begins for the perfect present for your little one. If you need a little inspiration or are simply stuck for ideas, we're here to help. We have a wide range of kids' and junior bikes that will bring gleaming smiles to many this Christmas, and we've pulled together a selection of our favourites.
And you don't have to just talk our word for it as we've also included the top customer reviews.
If the time has come to buy your child their first bike, the best place to start is with the Trunki Folding Balance Bike. Balance bikes are a great way for a child to learn to ride as they teach balance, can be used from a young age (before they're ready for a pedal bike), and they're simple to use.
Convenient, the Trunki benefits from a unique folding mechanism which allows you to easily carry and fold the bike flat. So, you can take it on all your family adventures! It's the only balance bike of its kind and you can only buy it exclusively through Halfords, with two sizes available (10-inch wheel or 12-inch wheel) in two different colour options, either blue or pink.
What our customers had to say:
My two-year old loves this bike! It's so easy to use and the quality is outstanding. The folding and carry function is so convenient.

(Mrs Faithfull)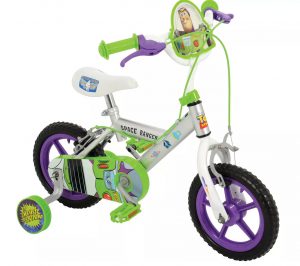 If your little one has an imagination that takes them to infinity and beyond, they need this Toy Story-inspired bike.
Featuring funky Buzz Lightyear character graphics and stabilisers that can easily be removed as your child gains confidence, it's perfect for children progressing from a balance bike.
Its wide EVA-moulded tyres provide extra stability, and the bike has front and rear calliper brakes that will bring your child to a safe stop.
A great Christmas present, this one is also exclusive to Halfords.
What our customers had to say:
I bought this bike for my son's 3rd birthday as he loved his balance bike, and this was the next stage up. Huge success, he loved it! Great for getting them outside and enjoying the fresh air. Fab bike and design. Brilliant for any Toy Story fan.

(Anna3)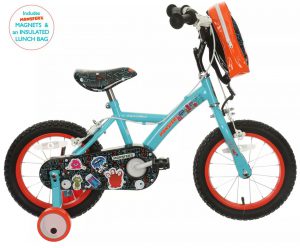 One for those little monsters, the Apollo Monsterz has a unique, magnetic chainguard and comes with a set of magnets so your child can customise the look.
It doesn't just look cool either, and it comes with everything your child needs to develop confidence on the bike including removable stabilisers and calliper brakes. Whether it's a monster hunt or a trip to the park, there's no limits to the adventures they can enjoy, and the bike even comes with an insulated lunch bag, so rides won't be cut short by a grumbling tummy!
What our customers had to say:
I bought this bike for my daughter (4), she loves it. The colours are lovely, the seat is soft, it is sturdy and well built. The training wheels can be removed easily and it is the perfect first bike.

(Fran5)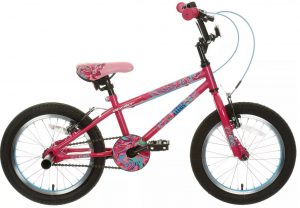 One of our favourite 16" wheelers is the Apollo Roxie Kids' Bike. With its cool marbled-styled graphics, powerful V brakes and strong alloy rims, this one looks as good as it rides.
Prepared for a variety of adventures, it's a great choice for those ready to shed their stabilisers, although you can attach a pair if your little one is still unsure.
And if that wasn't enough, you can also personalise the bike with your child's name to make the present extra special. Learn more about how you can personalise any of the bikes in this list here.
What our customers had to say:
We bought this as our little one had grown out of her previous bike. This is the third Apollo we've had and none have disappointed us. This bike feels sturdy and well built, and the team at the store who built it for us were great as we've always found in the past.

(HelenL)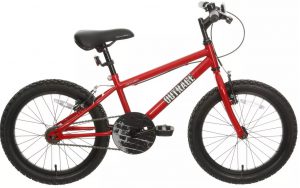 Taking elements from Apollo's range of adult mountain bikes and applying them to a kids' version, the Apollo Outrage is perfect for those who simply love to get muddy.
With a strong steel frame, reliable V brakes and a partial chain guard, it's got everything needed to enjoy safe adventures.
What our customers had to say:
I bought this bike for my son's birthday. He absolutely loves this bike and can ride it with ease and it looks great. We had it built in store too for no extra cost which was brilliant.

(GemmaTMiles)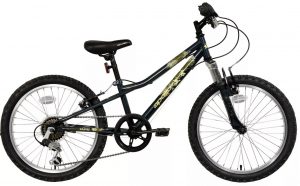 Prepare your child for some serious off-road adventures with the Apollo Chaos Junior Mountain Bike. Whether it's trails, rugged off-road paths or adventures in the park, the front suspension absorbs any bumps in the journey for a smooth ride.
Plus, with Shimano 6-speed gearing, your little one will have no problems conquering any hills, before racing back down the other side.
What our customers had to say:
Bought this as a first bike with gears and my son loves it. It is giving him confidence on beginner trails, and we are enjoying great father/son time!

(Traildad)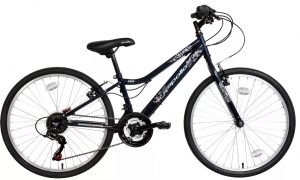 Got a little speedster? Then the Apollo Kinx is the perfect present this Christmas.
Thanks to its 18-speed gearing, your child will never lose a race against their friends and they'll easily power along the flat and up any hills. Of course, at the end of any race they'll need to come to a safe stop, and you won't need to worry thanks to high-performing V brakes.
What our customers had to say:
I bought this for my daughter. It's a good solid bike with a well-designed frame which is very comfortable to ride. The wheels are large which makes biking easy. She's extremely happy with it.

(Allypea2)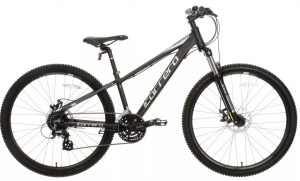 You've probably heard of the Vengeance before. It's our best-selling bike ever, and this junior version is just as impressive.
The perfect ride for junior mountain bikers of all abilities, the Vengeance is packed with amazing features including a lightweight aluminium frame, Suntour suspension fork, 24-speed Shimano gearing, and mechanical disc brakes.
Every aspect of the bike is carefully designed and it's a great option for confident trail riders and first-time off-road adventurers alike.
What our customers had to say:
I bought this bike for my son and he loves it. Best bike he's had. Would definitely recommend it. You won't be disappointed.

(Angkie)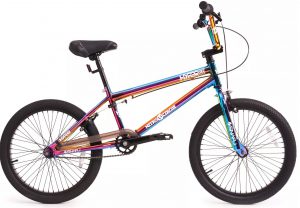 Not all bikes are about going on epic adventures or winning races, and this bike is perfect for children more at home in a skate park.
Helping your child stand out from the crowd, the frame, fork and handlebar are all finished in a custom jet fuel paint finish just like those ridden by athletes at the Nitro Circus.
The bike is also designed with BMX-specific components so your child can hone their skills and discover new tricks.
What our customers had to say:
I love this bike. Its colour is amazing and it's perfect for boys or girls. The strength, style and overall quality is fantastic, and I would definitely recommend it.

(Loobylou1989)
Must-have accessories
Want to make the gift extra special? We have a wide range of kids' cycling accessories that will be great stocking fillers.
The best place to start is with a helmet and we have lots of stylish helmets that will help your little one look cool while keeping them safe. Some are even designed around bikes within this list, including the Apollo Firechief Kids Bike Helmet. You can also kit your little one out with other essential accessories like pads and bells. There are lots of styles to choose from, so you're sure to find the best option for your child.
Finally, personalise the bike and complete the look with styling accessories including baskets and lights – you'll find many more options over at Halfords.com.
---
Choosing only ten bikes was difficult and there are lots more we could have included. To discover many more options, head over to Halfords.com. Don't forget, we also have a wide range of accessories so you can add extra gifts alongside your child's new bike, and many of the bikes included in this list are available in bundles with the must-have accessories.
If you want added peace of mind, why not let our experts build the bike for you? You can then arrange a collection time instore that suits you, with same day collections sometimes available.
You want the perfect Christmas present, you want Halfords!