Spring and summer provide ample opportunity for cyclists to take to the road and build up their fitness levels. But as the weather becomes colder and the nights get darker, how can we maintain those levels when it might not be possible to go outside anymore?
Polar knows a thing or two about getting the most out of cycling training. In this blog, the company looks at how heart rate training can help you to improve your fitness when you're cycling indoors, and explores the two main monitoring options.
Why train with your heart rate when cycling indoors?
Heart rate training can improve your fitness when it's combined with an increase in frequency and duration of your training sessions. With regular and consistent training, you'll start to see a difference in your resting heart rate and recovery as your physical condition and fitness levels improve.
It's a great way to keep your fitness on track during the colder months when you're cycling indoors. Simply add a heart rate monitor to your turbo trainer setup and you'll be able to track the intensity of your training, see how hard you're working and maintain those all-important summer fitness levels.
Polar heart rate monitors: Which is right for me?
Polar is the gold standard of heart rate tracking and offers two different heart rate sensors: the Polar Verity Sense and Polar H10. Both are equipped with the company's innovative heart rate tracking technology, and use Bluetooth and ANT+ to connect to a great variety of training devices, compatible bike computers, apps and Polar sports watches.
But how do you know which heart rate sensor is right for you?
One important difference between the two is that the Polar H10 is a chest strap, whereas the Polar Verity Sense is an optical heart rate sensor that can be worn on your arm for turbo training, clipped to your swimming goggles, or placed just about anywhere on your body where it can fit snugly against your skin.
While chest straps and optical sensors both measure your heart rate, they do it in different ways and using different technologies.
A chest strap measures the electrical activity of your heart and is widely recognised as the most precise way to measure heart rate. An optical heart rate sensor measures changes in the size of your blood vessels with the help of LED lights and a light detector, which allows it to provide incredibly accurate heart rate readings.
Another practical point to bear in mind is that a chest strap comes with electrodes and these need moisture to work, so you'll need to have some water handy. Optical heart rate sensors don't need any moistening so you can start training more quickly and easily.
Choose the Polar Verity Sense if…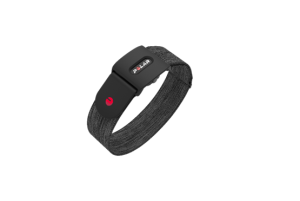 You want maximum freedom of movement
The Polar Verity Sense can be worn anywhere on your body. Spinning class about to start? Slip it on. Ready to track that gruelling climb on your ride? Slip it on. Cold morning ride? You get the idea.
It's part of Polar's newest generation of optical heart rate sensors, which come with updated software, improved battery life, a wider Bluetooth range and a bigger memory.
In total, the Polar Verity Sense gives you up to 30 hours of training with incredible accuracy so you can measure every move. It can also store up to 600 hours of training data, which you can easily sync to the Polar Flow app to keep track of your progress.
Wearing a chest strap feels uncomfortable
Chest straps aren't for everyone. If you find them a little cumbersome and don't want anything getting in the way of your training session, then the Polar Verity Sense is a great alternative option.
Choose the Polar H10 for…

Ultimate pro-level accuracy
The Polar H10 is the most accurate heart rate sensor in Polar's history and the choice of many pro athletes. Having said that, you don't need to be a pro to want to enjoy pro-level heart rate tracking and this affordable option won't break the bank.
Complete with the Polar Pro strap and its interference-preventing electrodes and slip-preventing silicone dots, the Polar H10 captures precise heart rate readings including all the highs and lows your sessions entail.
Ultra-long sessions
The battery on the Polar H10 lasts approximately 400 hours, which makes it ideal for those ultra-long, gruelling indoor sessions and long days out on the road in the saddle.
Interval training
It's hard to beat the Polar H10 when it comes to extremely accurate heart rate measurements in a fast-paced situation, such as interval training on a turbo trainer. The Polar Pro strap also ensures a secure fit and as little interference as possible.
The wrap-up
So now you know why tracking your heart rate during the indoor training season is so important, as well as the basic differences between the Polar Verity Sense and Polar H10 heart rate sensors.
It's good to keep in mind that both sensors are versatile and work for lots of other types of training in addition to the ones listed here. The ultimate point of both is to enable you to use your heart rate to train more smartly, whether that's to track intense indoor sessions during the winter months or long weekend rides during the summer months. Polar has you covered for all your heart rate training needs.
---
Find out more about Polar's exciting range of chest straps, arm straps and sports watches at Halfords.com.