Whether your garage or workshop is simply somewhere to store your car and bikes, or a haven where you can tinker away on your latest project, let's face it: it's tricky to keep that space tidy and organised.
When was the last time you were able to locate that screwdriver set without having to paw through loads of boxes, shelves and cabinets? Or remember where you tossed those gardening gloves the last time you weeded the garden? Wouldn't it be lovely to just know where things were?
Well, with these storage ideas, you can. Here are five types of storage that will help to bring some order to your garage, workshop or shed.
1. Boltless shelving units
Shelving units are an easy and cost-effective way to introduce much more storage space into your garage or workshop. What makes our Halfords Boltless Shelving Units particularly special are their quick, boltless assembly and modular design.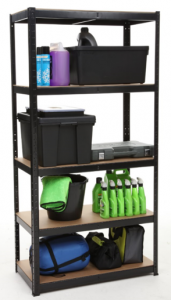 You can slot the rectangular shelving unit, corner shelving unit and overhead wall shelf together to create a bespoke storage solutions that works for the space you have available. You can even split the rectangular shelving units in half to create an instant workbench-storage space combo.
The versatility of these shelving units makes them a worthy addition to any garage or workshop.
2. Storage boxes
You might think that one storage box is much like another, but you haven't met the Wham storage boxes yet. Coming in a variety of shapes and sizes, these boxes are strong, durable and designed to last (even in cold weather).
We particularly love them for their environmental credentials. They're made from 100% recycled plastic, including old car bumpers, crates and bottle caps, which means that adding a Wham storage box to your garage is helping to stop more plastic from ending up in our oceans.
3. Organiser box
Nuts, bolts, screws, fixtures and fittings… they can be a bit fiddly and annoying to organise and store. Well, not if you have a Wham organiser box to hand.
Like their fellow Wham products, these are made from recycled single-use household plastics and you can choose between 18 compartments or 19 compartments with a removable tray so there's plenty of opportunities to split up your bits and bobs into handy sections.
4. Tool chests and cabinets
If your tool collection is threatening to take over your garage or workshop, then you can't do much better than a tool chest or cabinet. They come in various shapes and sizes, from smaller portable tool chests and cabinets on wheels to larger chests and cabinets that combine to create a full-on storage set.
We particularly recommend the Halfords Advanced range because the units are strong, sturdy and have been designed to work perfectly with our modular tray sets. They're an easy way to build the perfect tool storage solution for you.
5. Storage hooks
Storage hooks are a great way of putting empty wall space to good use. Whether you want to store your bike away safely, or even a roofbox, a storage hook will help to keep bulky or awkwardly-shaped items out from underfoot.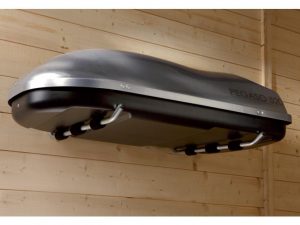 You could even make use of your ceiling space by going for a pulley system – just make sure you're ceiling is high enough to accommodate one first.
Introducing the Halfords Motoring Club
Complement your storage choices by joining the Halfords Motoring Club, where you'll get access to a range of amazing benefits and discounts that will help to keep you moving, keep you safe and keep you saving.
It's free to join and you'll receive money off your MOT, a free car health check and a welcome voucher that can be spent on any Halfords product or service.
Or choose our Premium membership for a small monthly fee (or a one-off payment) to unlock exclusive member pricing on all motoring products and services online and across our stores, garages and Halfords Mobile Experts, as well as a variety of other benefits that will help you to keep moving for less.
With so much to enjoy, this is too good an opportunity to miss!
---
And there you have it: five ideas to help you to tidy up your garage or workshop and organise your space like a pro. Check out Halfords.com to explore our full range of storage products.