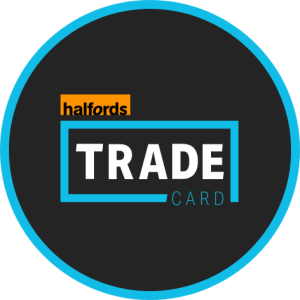 The Halfords Trade Card is a great way to pick up discount car parts, metal storage, workshop tools, engine oils and more. There are potential savings of up to 50% on offer, lowest prices guaranteed and the UK's biggest range of car parts to choose from.
Here's how you can really get the most out of your Halfords Trade Card.
Know your discounts
As a Halfords Trade Card member, you get access to a variety of exclusive discounts:
Lowest prices on bulbs
Lowest prices on oils
20% off Halfords workshop products and tools
20% off batteries
20% off fuses and fixings
10% off oils and additives
10% off car cleaning products (excluding Karcher products)
10% off body repair products
10% off branded workshop products and tools
10% off parts
10% off blades
10% off motorcycle products
10% off seasonal chemicals
Activate your Trade Card online
Whether you applied for your Trade Card online or in one of our stores, you need to activate your Trade Card before you can start taking advantage of your discounts and benefits online.
Head to Halfords.com and create an account, if you don't have one already (if you registered for your card online then you'll already have been prompted to do this). Then go to the Trade Card section, enter your 17-digit Trade Card number and hit 'activate'.
You'll now start seeing trade pricing discounts across the Halfords.com store, and you'll have access to your Trade Card benefits, multibuy deals and special offers online as well as in-store.
Stay up-to-date with the latest deals
Keep an eye out for our regular Trade Card emails, which feature popular products, the latest deals and exclusive promotions. Make sure your details are up-to-date in your Halfords account and check your spam filters to ensure that you always have access to our latest deals.
We may also send you the details of deals and discounts via text, so double-check that your mobile number is up-to-date too.
Join the Halfords Trade Card club
Not yet registered for a Halfords Trade Card, but like the sound of it? It's really quick and easy to sign-up. Just visit your local Halfords and speak to one of our in-store colleagues or register online here.
You'll find a full list of the eligible trades online, as well as full details about how to complete the sign-up process.