With Halfords adding a whole new battery charger line up from CTEK to our in-store range, we thought it was the perfect time to introduce this exciting partner and share a little about what makes their products so special.
The history
Established in 1997, CTEK is all about using new and exciting technology to maximise battery performance. The company has become a global leader in the field and pushes the boundaries of research and development in order to bring new battery charging technologies to the market.
Probably the best example of this is intelligent switch mode charging for lead acid batteries. Invented by CTEK, this technology forms the basis of all smart chargers sold around the world today and demonstrates the lasting impact of the company within the battery charging industry.
The company's innovative battery chargers are designed, developed and tested in Sweden before being distributed by partners in over 70 countries. As well as providing battery chargers to the mass market, CTEK supplies client brand chargers to over 40 of the world's most prestigious vehicle manufacturers including BMW, Ferrari, Porsche and Aston Martin.
CTEK's products have won numerous international test and recognition awards over the years, and truly set the standard for excellence and innovation. We're going to explore a few of them in more detail below.
The products
Starting at the top and we have the CTEK MXS 5.0, which has the distinction of being the world's best-selling battery charger. Winner of the Auto Express Best Buy 2020 award (among others), this charger is designed for battery sizes 1.2-110 Ah and is ideal for motorcycles, cars and trucks.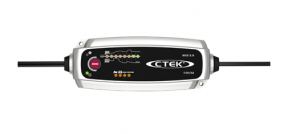 Built-in features include eight different charge programmes, fully automatic charging and automatic temperature compensation. The charger will also diagnose your battery to establish whether it can receive and retain a charge, has an AGM option to maximise the performance life of start-stop batteries and comes with a Recond mode to help recondition deeply discharged batteries.
If you're looking for one of the best battery chargers for your vehicle on the market, then you've found it with the MXS 5.0.
If you've got a vehicle that you're not going to be using for a long time (such as a classic car you've got stored away), then you may want to invest in a model that offers maintenance charging, like the CTEK XS 0.8 Battery Charger.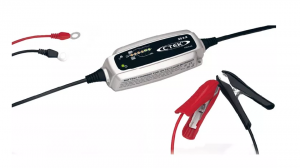 CTEK's smallest 12V charger, the XS 0.8 can send a low level of electricity to a battery to keep it ticking over while it's not being used. It's can also double as a compact trickle charger for the smaller batteries found in motorbikes, jet skis, ATVs and lawnmowers.
This fully automated 6-step charger delivers 0.8A and charges 12V batteries from 1.2-32Ah (with maintenance charging up to 100Ah). It's really simple to use and will help you to keep a battery healthy when it's not being used.
Last, but not least, are a trio of handy accessories. The CTEK Cigarette Plug Adapter provides truly trouble-free charging by allowing you to charge your battery through the vehicle's 12-volt socket (aka the cigarette lighter socket). It really is as simple as plugging-and-playing with this universal model, which fits both 12mm and 21mm sockets.

Next we've got the CTEK Comfort Battery Charger Connector, which is the perfect solution if your battery is difficult to get to or you can't use clamps. Just attached the eyelet terminals to your battery and then you can charge it as normal.
And finally, there's the CTEK 2.5M Extension Cable. As the name suggests, the extension cable means you don't need to be standing over your vehicle to charge the battery. It's suitable for use with all CTEK chargers up to 10A and is 2.5 metres in length.
---
You can check out the full range of CTEK products that we stock on Halfords.com.