On a cold morning in April, nine Halfords apprentices from across the UK arrived at Team Dynamics HQ in Droitwich for the finals of the Halfords Apprentice of the Year competition 2021.
The challenge? A rigorous practical assessment to identify faults on a performance road car followed by a tough interview with the team bosses.
The prize? Joining Team Dynamics for each racing weekend in the 2021 BTCC season.
The winner?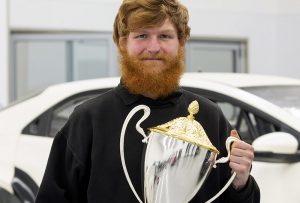 Luke Harris, a third-year Halfords Autocentre apprentice from Newbury, claimed the top spot and the coveted Team Dynamics apprenticeship. The 21-year-old impressed in both the practical assessment and the interview, and his character and personality also helped him to stand out from the crowd.
"We don't just choose the best candidates based on their out and out scores," James Rodgers, Team Manager at Team Dynamics explains. "We look at who has the right attitude and personality to work in a high-pressure environment. Luke scored well, but it was his overall character and demeanour that carried him through."
Luke's love for all things automotive began in childhood, when his grandad took him to car shows. A practically-minded guy, Luke knew an office environment wasn't for him and followed his passion by applying for a Halfords Autocentres apprenticeship. Fast-forwarded three years and he's now the 2021 Halfords Apprentice of the Year, with an exhilarating year in the BTCC ahead.
"I'm very excited to be part of the race team," Luke shares. "I'm looking forward to working with the drivers and the mechanics, and seeing my skills make an impact on the track."
Luke will be part of the pit crew for Halfords Racing with Cataclean, which is the name that Team Dynamics is racing under for the 2021 BTCC season. He'll be rubbing shoulders with three-time BTCC champion Gordon Shedden and the up-and-coming Dan Rowbottom, while helping them in their fight for the 2021 BTCC trophy. It's a great opportunity to gain hands-on experience in a racing environment – experience that Luke can take back with him to his Halfords Autocentre.
For Andy Randall, Halfords Autocentres Managing Director, the Halfords Apprentice of the Year competition has provided a glimpse into the future of Halfords Autocentres – and it's a positive one.
"These apprentices have shown great courage, determination, and skill to reach this stage, and everyone who made the final should be very proud," he says. "Halfords is rapidly expanding its garage estate as it transforms into a service-focused business and we need skilled and dedicated colleagues to make it a reality. These apprentices are the future of our business."
Luke's BTCC adventure will begin at Thruxton on 8-9 May. You can keep up-to-date with the latest Team Dynamics news and race results here.