Whether you're heading out on a road trip or taking the whole family on a caravanning holiday, there are plenty of benefits to taking your car abroad.
To make your journeys as easy as possible, we're breaking everything you need to know about taking your car abroad, from rules and regulations for towing to the best way to pack your roof box.
What documents and permits do I need?
You'll need to take the following documents when driving abroad:
Your full (not provisional), valid driving licence
Your original V5c/vehicle registration document
Your motor insurance certificate
Your passport
Your travel insurance documents
In some countries, you'll need:
A visa
A Green Card from your insurer (the list of countries can be found here)
An IDP (this is an official multi-language translation of your driving license. You can find a full list of countries here)
What do I need to take in my vehicle?
Rules will vary by country, but there are some items that many countries require by law. Other items are recommendations which can be really beneficial to have to hand.
A UK sticker
You'll need to put a UK sticker on your car if your number plate has any of the following:
The Euro symbol
An English, Scottish, or Welsh flag
A Union Jack or a GB marker
No flag or identifier
A hi-vis reflective jacket
Many countries require you to carry one hi-vis for every person in your car in the event of a breakdown so that you'll be visible to other road users.
A warning triangle
In the event of a breakdown, a warning triangle is placed at the rear end of your car to alert other drivers that your car is stationary. It's mandatory in many countries for you to carry one at all times.
Headlight adapters

To avoid dazzling other road users in countries that drive on the right, you'll need to adapt your headlights. Some cars will have a function to automatically redirect your beams, but if yours doesn't you'll need to fit a manual headlamp adaptor. This may sound complicated, but most models are universal and easy to fit.
A breathalyser kit
When driving in France, it used to be a legal requirement to carry a breathalyser kit in your car at all times. While this is no longer the law, it's still an encouraged practice and one that could prove very useful. Most European countries have a lower legal alcohol limit than the UK – on the continent, it's typically 0.05%, whereas in the UK the legal limit is 0.08%. We recommend not drinking at all if you're planning on driving, but it's best to be aware of the legal limit.
The Halfords Motoring Abroad Kit contains everything you need for driving in most European countries in one handy kit, including a warning triangle, UK stickers, hi-vis jackets, a first-aid kit, and more.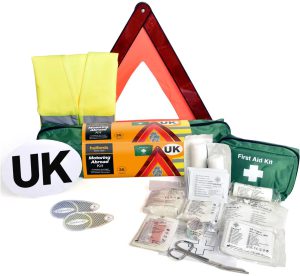 What do I do if I break down abroad?
The last thing your trip needs is a breakdown, but they can strike when you least want them to – the important thing is to be prepared with the right cover.
Your existing car insurance might not cover you if you break down in another country, so check your policy before you travel. If you're not covered, you can either amend your policy or take out separate foreign breakdown cover. With this in place, you can treat the breakdown as you would here in the UK – get to a safe spot away from your car and the road, and phone your breakdown cover provider.
A good policy should include roadside recovery and a hire car if your vehicle can't be fixed at the roadside, so be sure you've shopped around to find the right policy to cover you if the worst happens.
What are the rules for towing abroad?
If you're planning to take a trailer or caravan abroad as well as your car, there are some additional rules to follow.
Documents & items
You'll need to carry an additional green card, one for your towing vehicle and one for your trailer or caravan.
You'll need to apply to have category BE added to your driving license if it's not there already. It's free to do, you'll just need to fill in the DVLA D1.
You'll need to register commercial trailers over 750kg gross and any trailer over 3,500kg gross if you're towing in these countries.
You'll need to place a UK sticker onto your trailer or caravan as well as your vehicle.
You should also check the rules and laws specific to the country you're travelling to to make sure you've got everything you need.
What's the best way to pack a roof box?
If you're heading abroad in your car, we know you'll be keen to fit as much into your roof box as possible. Savvy packing can give you a lot more room to work with, and we've got plenty of tips for maximising space.
Know your weight limits
Check the maximum weight of your roof box, roof bars, car, and car roof, to keep everything safely under the limits
Spread the weight evenly
Balance out the weight across the entire length of the roof box, and put the heaviest items in the middle, to prevent an uneven ride
 Store your suitcases
While many people think to put suitcases in the boot, they're the perfect size to prevent other objects from sliding around, whilst freeing up precious boot room
Keep it secure
Make sure the box is fitted to your roof bars properly
Check your locking components are working
Add straps, hooks, and holders for extra security
What's the best way to load a caravan?
The general rule of thumb when loading a caravan is to put your heaviest items over the axis. This usually means in the middle and low down. From there, you should work your way outwards and upwards by weight, ending with your lightest items in the highest and farthest places.
Packing in this way lowers your caravan's centre of gravity, increasing stability for easy towing. Avoid putting heavy items at the front of your van as this can compress your vehicle's rear suspension. On the other hand, too much weight at the back can cause the nose to lift, reducing the traction of your car's rear wheels.
You should also be mindful of your caravan's maximum weight allowances. For a step-by-step guide, check out our advice article on how to safely load your caravan for touring.
---
Now you're ready to head off on your travels, whether you're going it alone or taking the whole family. If you do need anything else before you go, head over to Halfords.com to shop our range of travel accessories, or pop into your local Halfords store to speak to one of our experts.