Driving abroad on holiday is an exhilarating experience and can be more cost-efficient than travelling by plane. However, if you've never driven abroad before, you may be wondering what you need to take with you.
In some countries, there are specific items that you'll need to have in your vehicle by law, so it's essential to check the requirements before you leave, or you could be faced with a fine.
Rules can often vary between countries in the EU, so if you're crossing borders, it's important to check the laws of each country.
To ensure you've got everything you need, we've put together a list of the key travel accessories that are required in most European countries. Keep reading to help make your driving abroad experience as smooth as possible.
Driving abroad kit
Rather than buying all your items individually, you can buy a driving abroad kit that covers your travel essentials in one convenient purchase. The Halfords Motoring Abroad Kit covers the essentials you need for driving in Europe including; a universal headlamp adaptors, a warning triangle, a universal adult size reflective vest, a UK sticker, a 35 piece first aid kit and Velcro boot fixing tabs.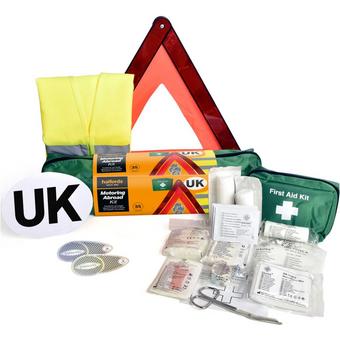 Warning triangle
In most European countries it's a legal requirement to keep a warning triangle in your vehicle. A warning triangle is used to alert other road users if you have broken down or experience an emergency. European breakdown regulations state that a warning triangle should be placed 30 metres behind your vehicle on standard roads or 100 metres on motorways.
However, some European countries also have local breakdown regulations so check the rules for your destination before you set off.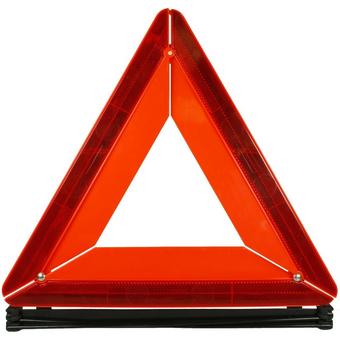 Breathalyser
When driving in France, it was previously mandatory to carry a breathalyser in your vehicle. The law changed in 2020 meaning it was no longer compulsory, however, it's still wise to keep one in your vehicle regardless. Drink driving limits vary across European countries and are often different to the UK, so we recommend you still carry one with you.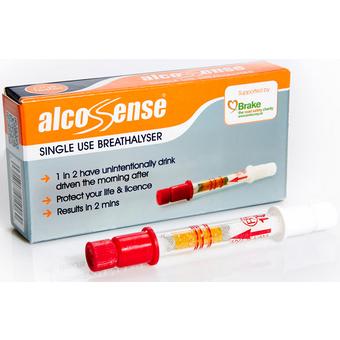 Reflective vest
If you're planning on driving in Spain this summer, it's important to keep a reflective vest in your vehicle, as is the case for most European countries. Whilst it's not compulsory to permanently keep a reflective vest in your car, you could be fined for walking along the road without one. So, should your car breakdown, it's vital to have one handy for each passenger.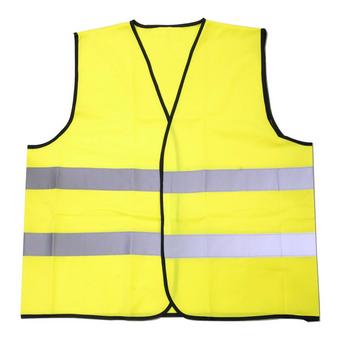 UK sticker
In 2021, the law changed to replace GB stickers to UK stickers. So, even if you have a GB identifier on your number plate, you'll still need to clearly display a UK sticker on the rear of your vehicle. The rules for UK stickers are slightly stricter if driving in Spain, Malta, or Cyprus – even if your number plate has a UK identifier, you'll still need to display the UK sticker.
Headlamp Converters
Headlamp adapters or headlamp converters are a must when driving in Europe. British headlamps are designed for driving on the left side of the road. Headlamp converters will reposition your headlights, so they are suitable for driving on the right-hand side of the road and ensures that you won't dazzle other drivers. We also recommend carrying extra headlight bulbs with you just in case one of them goes out during your trip.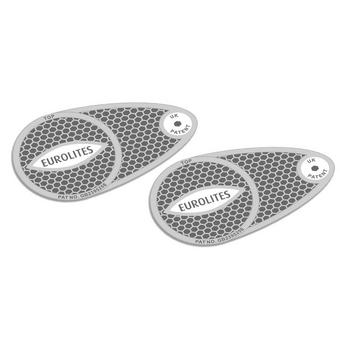 First aid kit
When driving in Europe, it's a good idea to keep a first aid kit handy. In many European countries this is mandatory but, even if it's not a legal requirement for your destination, we still recommend having one.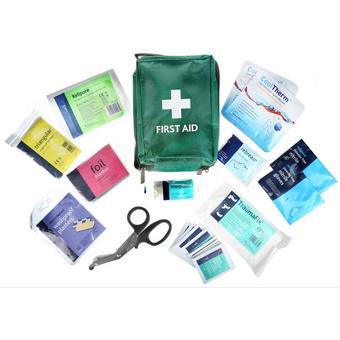 Fire extinguisher
Carrying a fire extinguisher in your vehicle is a less common legal requirement but still mandatory in a number of European countries. We recommend keeping one in your car in case of an emergency.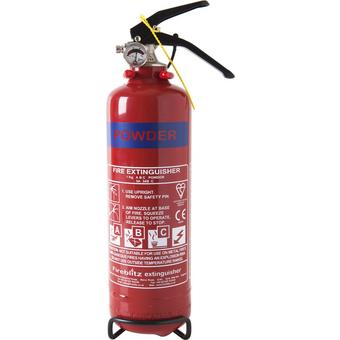 Snow chains
If you're travelling during the winter months, it's mandatory in many European countries to either have winter tyres fitted to your vehicle or to carry snow chains with you.
This concludes our essential travel accessories for driving abroad. Not only will planning ahead ensure you're well-prepared for your journey, but it could also save you a costly fine.
Here is a visual checklist so you can see what you need at a glance: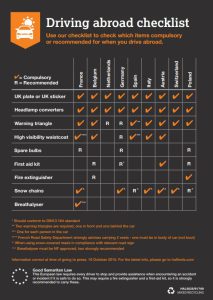 ---
For more information on what documents to bring with you when driving abroad, check out our driving abroad checklist.
If you want the best travel accessories for your European holiday or road trip, you want Halfords.