Your caravan's leisure battery provides the power for the electrical systems that make your home away from home so comfortable.
Leisure batteries are rechargeable units that provide a reliable and regulated source of 12v power for the lights, water pump and refrigerator while you're static or on the move. They can provide essential energy for appliances too.
The best caravan batteries provide strong and stable power, charge after charge – but only if they're cared for. Learn about the best leisure batteries on the market in our information-packed caravan battery blog.
How do leisure batteries work?
All caravan batteries deliver the 12v power that is needed for your caravan's essential systems. Caravan batteries are designed to deliver a few amps of power over a long period. Car batteries, in comparison, provide a big hit of energy, before being recharged by the alternator.
Leisure batteries are known as deep cycle batteries, which means they will provide long-term energy delivery and can withstand many deeper discharge cycles than a typical car battery.
The primary function of your leisure battery is to power the lighting system, the fridge and water pump, but it can also provide power for sockets too.
Modern leisure batteries such as those sold at Halfords are sealed units, which are maintenance-free. This means that you're not able or required to access the battery's cells and top up the cells with water.
They're not fit and forget, however – you'll still need to keep an eye on your leisure battery to ensure it stays in good working order.
How long will a 12v leisure battery last?
The capacity of a battery is measured in ampere-hours (Ah). The higher the Ah, the longer the battery will power your appliances. A 95Ah battery such as the Halfords Leisure Battery HLB800 will last almost twice as long as a 50Ah battery, for example.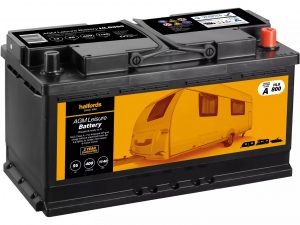 Each battery comes with a cycle rating. This is the number of times that a battery can be safely discharged and recharged. The Halfords Leisure Battery HLB800, can be charged and discharged 400 times before it will need replacing. That's an awful lot of happy holidays!
How do you charge a caravan battery?
All Halfords leisure batteries come fully charged and ready to fit.
When they're fitted, the battery will provide power to the electrical systems. When you're at a campsite and plug into the available power, this will also gently recharge the battery.
Voltage-controlled battery chargers deliver several cycles of voltage-controlled charging while resting, after which the battery is fully charged and ready to go.
It's important not to discharge your battery too much, or you could damage it. A good rule of thumb is to ensure that it doesn't fall below 50% capacity. You should be able to check the level of charge on your leisure battery by looking at the consumer unit in your caravan.
The charging information from your consumer unit isn't particularly accurate. If you're handy with a voltmeter, this will equate to a reading of 12.4v at the terminals with no load applied.
In the real world, we recommend you regularly recharge your battery, particularly if you're not going on any trips soon or are laying your caravan up for the winter. Even if you're not using it, your battery will use a little power every day (between 0.1 and 0.2%), which means it can quickly become dangerously discharged, so we recommend keeping an eye on it.
To ensure your leisure battery is properly topped up, we recommend that you periodically use a voltage-controlled battery charger.
What size leisure battery do I need?
If you're replacing an existing leisure battery, then you can use this as a reference point for your new battery.
You can also measure the battery tray to see what batteries will fit. It's important to select the correct-sized battery for your caravan, or it may move around while you are travelling, which may not be safe.
What type of leisure battery do I need?
Not all leisure batteries are the same. Cheaper batteries built from inferior components won't perform properly and could leave you – quite literally – in the dark.
So, how do you know which caravan battery you need?
At Halfords, we've signed up to the National Caravan Council (NCC) Leisure Battery Verification Scheme which provides guidance to the type of battery you should buy. It's split into three categories:
Category A is for a higher storage capacity for people who frequently use their caravans or motorhomes away from electrical hook-ups.
Category B is aimed at those who frequently use sites with hook-up facilities, but require a greater battery capacity to operate devices such as motor movers.
Category C is for users that require a lower capacity battery to cover basic operation of their habitation equipment for short periods away from a hook-up.
The scheme aims to ensure that batteries are built to high standards and will perform as expected when it's needed. Each of our Halfords leisure batteries has passed the NCC Leisure Battery Verification Scheme and is fit for use.
The best caravan batteries
Halfords Leisure Battery HLB800
The Halfords Leisure Battery HLB800 has an NCC rating of A, which means it's suitable for long-term, off-grid use. The maintenance-free battery provides an impressive 95Ah and is good for 400 cycles – which should last several years of travelling and touring.
The battery pack features our tried and tested AGM technology, that enables rapid charging, which means you'll never be without power when you need it. At 25.6kg, it's is a heavyweight beast for heavy-duty use. It's the ideal choice for the committed tourer who wants a battery they can rely on.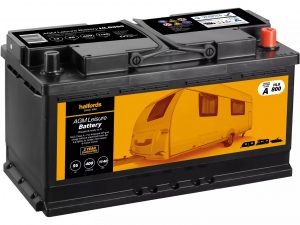 Halfords Leisure Battery HLB700
If you're looking for a stable source of power for when you're on-site, or for infrequent off-grid stops, then the Halfords Leisure Battery HLB700 is for you. With a whopping 100Ah capacity, this 12v beauty of a battery comes fully charged and ready to fit.
The HLB700 is NCC B rated, which means it's designed to be used with an electrical hook-up and for minimal off-grid usage. It's maintenance-free, recharges quickly and is good for up to 200 cycles.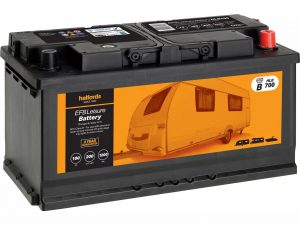 Halfords Leisure Battery HLB681
If you never venture off-grid and want a low-cost, high-quality battery that will last the distance, then the Halfords Leisure Battery HLB681 is the one you need. It's NCC C rated, which means it's only suitable for short periods off-grid. It's built for long-term usage, however, and can withstand up to 80 cycles.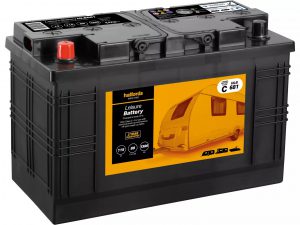 At less than £100, the maintenance-free Halfords Leisure Battery HLB681 is competitively priced and comes with a 2-year guarantee.
Introducing the Halfords Motoring Club
Don't miss out! Join the Halfords Motoring Club today to access a range of amazing benefits and discounts that are designed to keep you moving, keep you safe and keep you saving.
It's free to join and you'll receive money off your MOT, a free car health check and a welcome voucher that can be spent on any Halfords product or service.
Or choose our Premium membership for a small monthly fee (or a one-off payment) to unlock exclusive member pricing on all motoring products and services online and across our stores, garages and Halfords Mobile Experts, as well as a variety of other benefits that will help you to keep moving for less.
With so much to enjoy, this is too good an opportunity to miss!
Join the Halfords Motoring Club today at www.halfords.com/motoring-club.
---
You can shop our full range of leisure or caravan batteries online or by visiting your local Halfords store.
With the uncertainty of the energy price cap and cost of living crisis, we know that you'll be keen to save money as and when you can. Here at Halfords, we're committed to driving down prices and offering you the best value possible to keep you safe, happy, and secure. We've pledged to never be beaten on price on 1000s of motoring essentials, and we've cut prices on our batteries – read more here.
To keep your caravan moving, you want Halfords.