With more and more of us making the switch to an electric vehicle – and the end of sales of new petrol and diesel cars by 2035 – electric vehicle charge points are becoming a more common sight, both on driveways and in public.
While many EV drivers will have a home charge point installed for convenient charging, there are likely to be times when you need to top up your charge while you're out and about. There are thousands of charge points popping up across the UK, each with different benefits and perks. We've rounded up some of our favourites, whether you're prioritising value, convenience, charge speed, or things to do while you wait.
Best for: value
With the cost of living squeezing us all ever-tighter, and electricity bills at home rising, a free-to-use public charge point can really come in handy. Although they're often slower than pay-per-use charge points, you can take advantage of the cost saving over time if you're not in a rush.
These are a selection of free-to-use charge points at locations and attractions that are also free entry, so you can recharge and enjoy a day out without hurting your wallet.
The Donkey Sanctuary, Sidmouth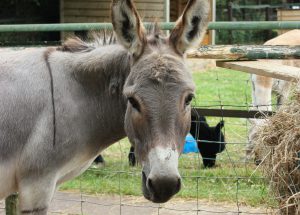 The Donkey Sanctuary gives lifelong care to more than 7,000 donkeys and mules and has advocated for their welfare for over 50 years. The head site in Devon is open to the public and makes for a great family day out while your vehicle charges.
You can visit the sanctuary for free to learn more about the global conservation work they do, as well as meeting some of the animals and enjoying fresh, locally sourced food at the sanctuary's restaurant.
The main car park has two free electric car charging points which are available during the sanctuary's opening hours of 9am-4pm, so you'll have plenty of time to explore and recharge.
Penbryn Beach, Ceredigion
Stretching nearly a mile along the Welsh coast, Penbryn Beach is the perfect spot to relax and take in the stunning views. It's managed by the National Trust, and the car park has free charging facilities.
It's tucked away at the bottom of a winding path through the woods, with the beach nestled at the bottom of the hill. The water is often used for kayaking and swimming if you're seeking a thrill, and there's The Plwmp Tart café next to the car park with both indoor and outdoor seating to make the most of the clifftop views.
Both the beach and the charge point are free to access, but there is a small fee for using the car park. However, like all National Trust sites, this does go towards the maintenance of the area.
Best for: convenience
If you're doing a lot of long motorway drives, you'll likely need to stop for a recharge away from home. A charge point that's close to the motorway can be a handy pitstop to limit any delays or long detours, but you may want an alternative to a service station.
Cotton Lake and the Wharf pub, Dartford
Situated just one mile from junction 1 of the M25, the Wharf pub sits on the shores of Cotton Lake, providing stunning views – and convenient charging.
The pub's car park has two pay-as-you-go rapid charging points that are suitable for all electric cars. They're available all day, every day with no connection fees, and you don't need an app or account to use them. Just tap your contactless bank card and enjoy quick charging that's a stone's throw from the M25.
Wimpole Estate, Cambridge
Located 8 miles from junction 12 of the M11, the Wimpole Estate in Cambridge is a working estate with plenty to see and do year-round, with easy access from the motorway and plenty of EV charge points – you'll find 12 connectors across 6 devices.
You'll have to pay a fee to enter the park if you're not a National Trust member, but this also covers the cost of using the chargers. Plus, all profits generated by National Trust sites go towards maintaining and preserving the grounds, so your money will be going to a good cause.
Best for: quick charging
When it comes to charging speed, you'll usually find four variations: slow chargers (3.6kW to 7kW), fast chargers (7kW to 22kW), rapid chargers (50kW to 99kW), and ultra-rapid chargers (100kW and over).
This next section will focus on rapid and ultra-rapid chargers, for when you need to recharge but don't have the time to wait around. While you'll likely want to pick the fastest charger available, it's worth bearing in mind that some older electric vehicles won't be compatible with an ultra-rapid charger as they're limited to under 100kW.
Rheged Centre, Cumbria
Nestled on the edge of the Northern Lakes, the Rheged Centre in Penrith is just two miles from junction 40 of the M6 and has rapid charging facilities for a speedy top-up.
If you're taking an extended break, this visitor attraction site has shops, cafes, a cinema, a gallery, and both an indoor and outdoor play area, so you won't run out of things to do.
As for your car, the two charge points in the car park have five connectors that all offer a choice of fast, rapid, and ultra-rapid charging for a varying rate, and they're open from 8am to 8.30pm every day.
The National Waterways Museum, Cheshire
Explore the history of Britain's boating legacy with the National Waterways Museum, which sits on the canal itself at the junction where the Shropshire Union Canal meets the Manchester Ship Canal and the River Mersey.
There's plenty to see and do, with interactive features, cafés, and a gift shop to explore, as well themed events year-round and the peaceful tranquillity of the once-bustling canal.
The nearby car park has three devices that can charge up to 8 cars, and you'll have the choice of fats or rapid charging for an easy and convenient top-up.
Best for: days out
Fully recharging your car from empty can take the best part of a day, so you'll likely want to find a charge point near an attraction or amenity. Thankfully, many beauty spots, day-out locations, and visitor sites now come equipped with charging facilities, and we've rounded up some of our favourites.
Coniston Boating Centre
For an action-packed day on the water, Coniston Boating Centre is a great spot to charge up. You can set out onto Coniston Water by motorboat, kayak, canoe, or paddle board, or sit and enjoy the natural beauty of the Lake District with a coffee and cake from the Bluebird Café right on the lakeshore.
There you'll find a 7kW charger with two sockets. Charging isn't free, but all profits from the chargers are used to support conservation projects throughout the national park, so you'll be contributing towards a good cause.
Waddesdon Manor, Buckinghamshire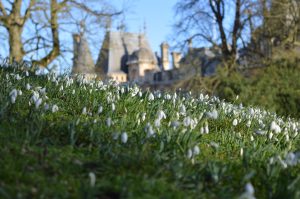 Built in the 1800s in the style of a French Renaissance château, Waddesdon Manor sits surrounded by the Chilterns Hills and provides plenty of entertainment for a full day out while you recharge.
Explore the manor's exotic Aviary to learn about the conservation breeding projects or visit during the festive season to soak up the sights and sounds of the Christmas Fair.
Or, for a slower pace, sit and admire the lavish décor and extravagant architecture while you enjoy an afternoon tea in the Manor Restaurant.
As for filling your battery, you'll find four parking spaces with EV chargers at the manor, and they're all fast-charging and free to use.
Tredegar House, Newport
Located two miles from junction 28 of the M4, Tredegar House sits within 90 acres of parkland and offers an insight into the heritage of Newport. This 17th-century red brick mansion house sits just off the M4, and there's plenty to see and do while your vehicle recharges.
There are three formal gardens – the orchard garden, the cedar garden, and the orangery garden – as well as a park, a second-hand bookshop, and a café with locally-sourced refreshments. There are also guided tours of the house throughout the year, letting you explore the history of this lavish and extravagant Restoration mansion.
Although the car park is pay-and-display, the 7.2KW EV charger is free to use, and parking is free if you're a National Trust member. The car park is open from 9am to 5pm, and costs £1 for one hour, £2 for four hours and £5 for all day.
---
With demand for electric vehicles only set to rise, there's likely to be many more unusual charging locations appearing across the UK for topping up on the go. To explore the impacts, benefits, and technology behind electric vehicles, head over to our electrification hub for a full breakdown.
You want electrifying motoring, you want Halfords.