Nothing's better than a great British summer! With the sun shining (most of the time!), there are endless opportunities to hop onto your bike and head out on two-wheeled adventures. Here in the UK, we're incredibly lucky to have lots of stunning routes, many of which you probably never knew existed.
To help, we've pulled together a selection of our favourite mountain bike routes, covering everything from tough trails to family-friendly days out. We promise you every route is amazing and you're sure to create unforgettable memories!
Lake District National Park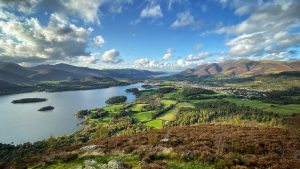 OK, this isn't a single route, but there are so many amazing places to ride your mountain bike throughout the Lake District, we couldn't decide on our favourite.
The great thing about riding in the UK's most popular national park is the variety of riding on offer. Whether you're a wannabe downhill pro shredding technical trails, a family in search of unforgettable memories, or simply want a ride with stunning views (and plenty of Instagram opportunities!), there's the perfect option for everyone.
One of the best places to ride is Whinlatter trail centre, which offers trails of all difficulties for a range of riders. All you need to do is get your bike prepared and head off for a day of unforgettable fun.
If you don't have a mountain bike, you can explore our full range over at Halfords.com.
Forest of Dean
From tricky trails to gentle routes around the forest, the Forest of Dean has a little bit of everything for everyone – and just as importantly, it's a stunning place to ride.
While it's popular among avid mountain bikers, we also think it's one of the best options for families thanks to the Family Cycle Trail, a nine-mile route that winds its way through the forest. With such epic scenery, there are plenty of opportunities to hop off, take some photos and enjoy some snacks (remember to take plenty to eat with you!).
Pedal A Bike Away, the main centre at the Forest of Dean, also has a café with lots of fresh food and cakes – and we think you deserve to treat yourself after completing your route.
Kirroughtree
Scotland may be a small country, but it packs some spectacular riding into its borders. Some of the best can be found at Kirroughtree.
It's easy to single Kirroughtree out as it has the longest black trail in the country named the Black Craig – and black trails are the most challenging out there, designed specifically for experienced riders. However, what makes this destination so impressive is McMoab – a unique granite rock formation with huge rock slabs. They can be found on the outer reaches of the black run and will provide you with plenty of photo opportunities.
Kirroughtree can be found in the far south-west corner of Scotland, and you'll be treated to some stunning views of Galloway Forest Park on your journey there. The area is less popular with tourists compared to other areas of Scotland, but we think it's a hidden gem and it's definitely worth a visit. And if you need help transporting your bike up to Kirroughtree, we have a wide selection of bike racks. You can use our handy Vehicle Registration Number tool to find which racks are compatible with your car.
Amazing Mawddach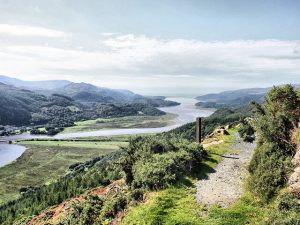 Like the Lake District, Snowdonia is famous for its rugged terrain and spectacular scenery. Naturally, this lends itself to some epic mountain bike trails, but there's also lots on offer for those who want a casual and scenic ride.
One of our favourites is the Amazing Mawddach route. Following the Affon Mawddach river, this incredible route takes you from the town of Dolgellau to the coastal resort of Barmouth. Throughout, you'll enjoy stunning views of the Mawddach estuary as you ride through the foothills of the towering Cadair Idris mountain. At the end, there's plenty of opportunity to put your feet up in the sun and enjoy the amazing seaside views.
The Witch's Trails
Sitting at the foot of Ben Nevis, the UK's highest mountain, you'll struggle to find a more spectacular setting to ride your bike in the UK.
There is a large network of trails around Ben Nevis and these are called The Witch's Trails. For the adrenaline seekers, there are two downhill trails that can both be accessed via gondolas, and these are now used in the Mountain Bike World Cup circuit – so you can say you've ridden on a trail used by the pros!
However, The Witch's Trails have so much more to offer with routes suitable for every level of rider and it's a great place to visit with the whole family. Just make sure you're prepared for your day out with the must-have mountain bike accessories!
---
There are so many more routes we could have included in this list, and you can find options for every level of rider over on our Discovery Hub. And don't forget to head over to Halfords.com to stock up on the must-have mountain bike accessories and safety essentials.
You want unforgettable days in the saddle, you want Halfords!