With the summer holidays in full swing, you may well have some lengthy drives ahead of you to reach your chosen destination and finally switch off and unwind.
While road trips can be a great adventure, there's no getting round the fact that long drives can take their toll. But with the right prep, you can make the journey as enjoyable as the holiday itself for everyone on board.
1. Plan pit-stops at interesting sights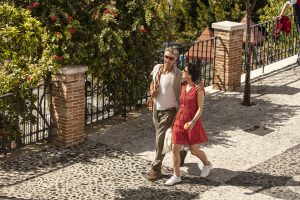 On any long drive, you'll need to stop to stretch your legs regularly. But why make every stop functional? Swap a service station stop-off for a break at a historic site or cultural attraction.
TomTom GO sat navs are preloaded with points of interest so you can discover curious and compelling sites along your route, from castles and lighthouses, to museums and markets. Or even nature reserves and woodlands, so you can find the perfect spot for a midway picnic.
2. Get engrossed in a podcast or audio book
A long drive is the ideal opportunity to catch up on all those podcasts and audio books you've had on your to-listen-to list. Or take the chance to immerse yourself in themes relevant to your trip.
Passing through the Ardennes in Belgium? Tune into a history podcast about World War II. On your way to the south of France? Listen to an audio book on wine tasting to brush up before you arrive. Heading up to Scandinavia? A Nordic noir novel will help transport you there.
3. Take the scenic route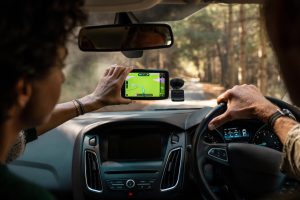 Make your long drive more than just a way to get from A to B as quickly as possible. Use the TomTom RoadTrips Route Planner to discover epic routes that will transform your journey. From spectacular mountain roads in the Alps to floral flatlands in the Netherlands, just don't blame us if you find yourself stopping to snap photos every few minutes.
4. Co-create a singalong playlist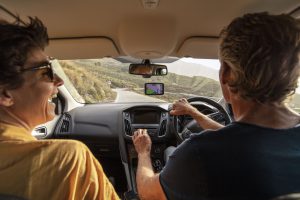 Whether you're travelling with family or friends, before you set off ask everyone to add their favourite car karaoke tunes to a collaborative playlist. When you feel energies dropping or if you need a break from quirky local radio, crack out the playlist for an almighty singalong.
Want to make things more interesting? Have your front seat co-pilot pause each song after the first few bars for a fun game of Guess that Tune.
5. Have games and conversation starters up your sleeve
Speaking of games, make sure you have some ideas ready. Start with the classics: I Spy, Categories, Would You Rather? or 20 Questions, where one person thinks of something (anything!) and the rest of the group can ask 20 yes or no questions to figure out what it is.
If you're driving with older kids or adults, you could also spark some entertaining or thought-provoking conversations to keep things interesting. Asking things like, "What would be your first purchase if you won the lottery?" or, "If you could live anywhere in the world where would it be?" could lead the conversation anywhere and before you know it, you're nearly there!
6. Avoid extra travel time with TomTom Traffic
At some point on your long drive, you or your passengers might start to feel weary or irritable. To try and avoid this, make sure there's no unnecessary extra driving time added to your journey. Use TomTom Traffic for real-time updates on road incidents and congestion so you can adapt your route and arrive at your destination promptly.
7. Turn to toys and tech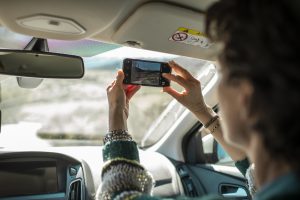 Let's face it, old-fashioned family car games will only entertain for so long. If you're travelling with kids, make sure they have their favourite car-friendly toys within arm's reach – even if they drop them! Attach baby and toddler toys to their car seat so they can be easily retrieved.
For older kids, a tablet loaded up with TV shows and movies will prove to be a lifesaver. Bonus tip: get kids their own headphones so you can listen to your own music, podcasts or audio book at the same time.
---
TomTom is here for all your long journey needs and you can find a great selection of Tom Tom sat navs at Halfords.com. We'd love to see what you get up to on your adventures, so take some photos and share them with us by using #ReadyFor on Instagram and Twitter @Halfords_UK.