Our industry-leading apprenticeship scheme has been developing top-class technicians for over 20 years – and every year our best apprentices compete to become the Apprentice of the Year. 
It's always a competitive field but there can only be one winner, with our Apprentice of the Year joining BTCC's Team Dynamics and getting to experience life in a professional motorsport garage for a full season! 
Halfords and Team Dynamics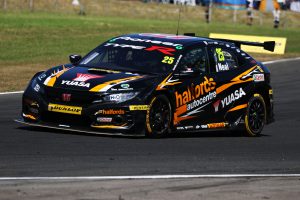 We're proud to be sponsoring Team Dynamics in 2022 for the seventh season in a row, having first sponsored the team between 2004-2008. It's been an incredible period in which the team has won three Drivers' Championships. This year, the team will be hunting for further success under the name of Halfords Racing with Cataclean. 
The partnership has also enabled us to provide one lucky apprentice with the dream opportunity of joining a professional motorsport team for a full season – something many apprentices aspire to. 
It's a one-of-a-kind scheme that we're incredibly proud of. 
"The Apprentice of the Year competition is an amazing opportunity for one of our apprentices to gain experience within a top-level motorsport team," says Neal Rhodes of Halfords' Autocentres Training and Apprenticeships team. "As you'd expect, many of our colleagues are big motoring enthusiasts, so it's great to have a racing team to cheer on, especially knowing one of our colleagues is involved." 
Becoming apprentice of the year
Winning Apprentice of the Year is no mean feat! Not only are applicants put through rigorous testing, but they're up against the best apprentices on our scheme.   
Any of our apprentices can apply, with applicants having to complete an online exam and a questionnaire. The top applicants then progress to the next round – a day at the Team Dynamics headquarters. Here they'll face both tough practical exercises and interviews that are designed to assess their technical know-how and their ability to work as part of a busy team in a high-pressure environment.
At the end, the winner is announced, and they'll get to experience life in a professional motorsport garage for a full season. 
Life in the pit lane
It's an amazing opportunity, but the Apprentice of the Year won't have too long to revel in their victory, as they quickly link up with the team ahead of the new season. 
Over 10 race weekends, the apprentice will work inside the team's garage, helping prepare the cars throughout qualifying and race day. They'll experience the excitement, ecstasy, heartache, nerves, and every raw emotion that accompanies life in the pit lane.  
And they're not there to just make up the numbers – instead, they'll become a vital cog within the team, with lots of responsibility. An average race weekend can include: 
Assisting with damage repairs

 

Garage set-up and management

 

Helping tyre technicians with scraping 'pick up' from tyres

Pre-race grid tyres dispersal

 

Cleaning the car after each race

 

Keeping the 

garage

 

clean and prepared

 
Previous winners
2020 saw Jackie Hardey become the first female winner and she knows first-hand what an amazing opportunity it can be.  
"I was very nervous and anxious when meeting the full team for the first time, but they were very welcoming and easy to get along with," Jackie says. "Their outlook on motorsports and success was very inspiring and I've taken away so many key skills." 
Jackie was followed by Luke Harris in 2021. The apprentice from Newbury spent a busy spring, summer and autumn with Team Dynamics last year, working particularly closely on Dan Rowbottom's car. "It was the experience of a lifetime," he reflects. "It was amazing and I learned so much."
And the winner for 2022? Cameron Palmer, who now has an exciting year ahead of him starting at Donington Park in April. "It's weird!" he replies with a smile when asked how it feels to win. "It was like something I just wasn't expecting at all. I'm just so happy."
---
Follow the highs and lows of the 2022 BTCC season through our race reports and latest news here.
Want to become a Halfords apprentice? You can learn more about our apprenticeship scheme over on our careers page.