The year was 2005. Matt Neal and Dan Eaves were in the driving seats at Team Dynamics, their Honda Integra Type-Rs proudly bearing the orange and black livery of Halfords. 11 race wins lay behind them and as Neal crossed the line at Brands Hatch for the final time, he brought home a maiden Drivers' Championship victory for himself and a Team's Championship victory for Team Dynamics (driving as Team Halfords). Not to mention victory in both the Independents' Championship and Independent Team's Championship.
Not bad going for just the second year of the Halfords-Team Dynamics partnership.
The first sponsorship (2004-2008)
Halfords first began sponsoring Team Dynamics in 2004 (under the name of Computeach Racing with Halfords). The sponsorship was seen as a great way to engage with key customer audiences, to build brand awareness and to give Halfords colleagues a team to cheer on in one of the oldest, most prestigious and best-loved motor racing championships in the world.
Team Dynamics had already enjoyed significant success in the Independents' Championship, with Neal racking up four victories, and a maiden Drivers' Championship trophy was tantalisingly close.
The 2004 season proved to be a solid one, with four race wins and some strong point scoring leading Neal and Eaves to fifth and eight place finishes in the championship respectively. Close, but not close enough. It was time for a change.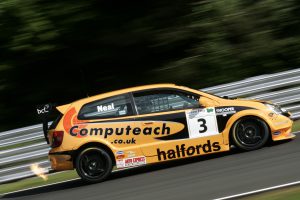 Enter the Honda Integra Type-Rs. In an unusual move for an independent team, Team Dynamics left ex-works cars behind for the 2005 season and instead chose to develop a Honda Integra from its basic road-going form. The gamble paid off in spectacular fashion when Neal became the first independent driver to win the overall drivers' championship – scoring points in every race of the season along the way – and Team Dynamics topped the Team's Championship table.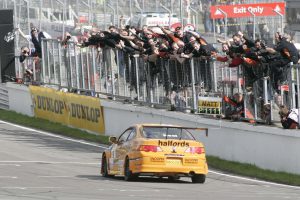 That amazing form continued into 2006, when Neal was joined in the team by Gordon 'Flash' Shedden for the first time. The pair achieved 12 race victories between them, and Neal and Team Dynamics claimed their second championship wins.
2007 and onwards brought a raft of changes, with Honda Civics replacing the Integras due to regulation changes, a couple of seasons of mixed results and several driver changes. The first Halfords sponsorship came to a close… but there was much more yet to come.
The second sponsorship (2016-present)
Fast-forward seven years and Halfords and Team Dynamics reunited in 2016, under the guise of Team Halfords Yuasa Racing. Team Dynamics was coming off the back of a championship-winning 2015 season with Shedden and was hungry to defend that title. Halfords was eager to return to a partnership and a championship that had seen such success.
"It's fantastic to bring the Halfords and Halfords Autocentre brands back into the country's biggest motorsport championship," Paul Tomlinson, Motoring Expert at Halfords, said at the time. "We're looking forward to laying down the gauntlet this season and bringing orange and black back to the grid with Team Dynamics, as well as our partner Yuasa Batteries, to defend the driver and manufacturer titles."
James Rodgers, Team Manager at Team Dynamics, agreed. "Having worked with Halfords for five years in the past and winning two championships with Matt, we look forward to a long and successful future together."
The sponsorship quickly delivered on its promise as Shedden drove his way to a second consecutive championship win in dramatic fashion, sealing victory by just two points in the final race of the season.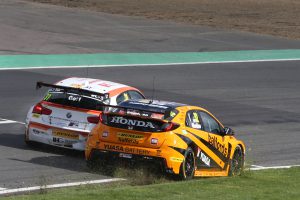 2018 saw Shedden bid a temporary farewell to Team Dynamics and BTCC debutant Dan Cammish fill his seat. It was a mixed year for the team as they found their feet with the newly introduced Honda Civic Type R FK8, but confidence in the Halfords-Team Dynamics partnership remained high.
"Over the past three years we have really seen the return on investment through this relationship," Halfords's Paul Tomlinson said ahead of the 2019 season. "The BTCC's audience is very loyal and committed. They engage with us on every BTCC-related activity we undertake, and we'll be looking to enhance that further during 2019."
That confidence proved to be well-placed when Cammish came within a breath of winning the championship in 2019, only to see his chances dashed by a brake failure on the penultimate lap of the final race. Despite the setback, Team Dynamics once again claimed the Teams' Championship trophy thanks to Cammish's and Neal's efforts.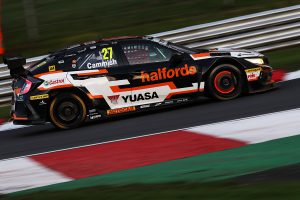 Following a 2020 that was disrupted by the coronavirus pandemic (but in which Cammish still managed an impressive third-place finish), all eyes turned to the 2021 season.
It was a year of change, with Neal stepping into a mentoring role, Shedden re-joining the team and up-and-comer Dan Rowbottom making his Team Dynamics debut. Add in a new title sponsor in Cataclean – and a new team name in Halfords Racing with Cataclean – and Team Dynamics had high hopes for the season.
The potential of this new setup was plain to see and while 2021 wasn't quite able to deliver the championship win the team was looking for, it still had its fair share of success with both drivers claiming multiple podium places and Rowbottom winning the Jack Sears Trophy.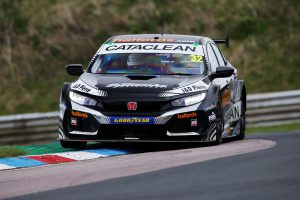 Now it's time to find out what the 2022 season may bring. With the introduction of new hybrid technology into the cars and other rule-related changes, it looks like it's going to be one exciting ride.
"2022 is Halfords Racing with Cataclean's time to shine," the team says. "We've put in a lot of hard work and effort in the off season to integrate the new Hybrid technology and go into the year with high expectations. It'll be a learning year, but we feel we're as advanced as any team with employing the hybrid technology. The cars are there, the drivers are there – we just need a bit of luck along the way!"