Self-isolating involves a lot of staying at home, but you must stay active to give your body the best chance of fighting infections. As gyms are closing and we're encouraged to stay indoors for our safety, we all need to be creative to cut the calories. Everyday household items can be transformed into weights, and chores into energy-intensive exercises that can help you to maintain and improve your fitness. Here are ten ideas for simple at-home workouts you can do without any specialist equipment.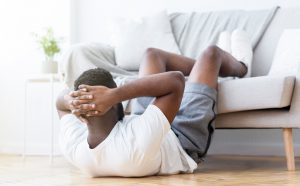 1. Canned heat
Canned goods are a stockpiling staple, but they've got other uses too. Grab a couple of tins and use them as workout weights while dancing or moving. Tins of paint (with the lids firmly sealed) are equally as good. Stream your favourite music and get dancing or join one of the many free online workout classes.  
2. DIY dumbbells
Before gyms, people used to lift whatever they needed to stay fit. If you're stuck inside, why not create your own dumbbells by filling empty plastic bottles with soil, water or sand? You can use them in the same way as regular dumbbells (but remember to screw on the caps first!). As you get fitter, add more weight. You'll soon be curling a squash bottle full of stones. 
3. Exercise is a chore
Household chores can see you burn off hundreds of calories an hour. Sweeping and vacuuming can burn off almost 40 calories per-hour, that soon adds up. Spend an hour cleaning the house, and you've earned that rest and a biscuit, expending around 200 calories. 
4. Dynamic de-cluttering
Remember that loft that you were going to clear out? Now's the time. As well as the energy used lifting, shifting, boxing and moving, you'll be improving your balance and posture as you contort yourself into tight spaces. Dynamic exercises like this work your body in different ways, creating a better overall range of movement and flexibility. 
5. Dig a deficit
Gardening is an incredible activity for burning calories, with hard garden work like lugging paving stones or digging veg beds worth an amazing 500 calories every hour. Even light garden work like potting or weeding will expend more energy than sitting indoors. Plus you'll be able to enjoy the fruits of your labour when summer comes around. 
6. Resistance isn't futile
You can use the weight of your own body to provide resistance – it's the oldest form of exercise. Press-ups, pull-ups, star jumps and more can help to keep you active while isolating. The NHS has created a series of 10-minute workouts that are suitable for exercisers of all ages. 
7. Turn steps into success
Step-aerobics is likely to bring out anyone who remembers the 90s in a sweat, but the logic is sound. Walking up and down your steps burns calories. And lots of them. An hour workout on the stairs is intense, burning more calories per hour than running or cycling.
Spending an hour up and down your stairs may not seem like your idea of fun, but up and down a few times a day can be beneficial, with each step worth 0.17 calories. For maths fans, you'll need to walk up the average 12-step staircase 100 times to earn that chocolate bar. 
8. Old-school inspiration
The simple games were always the best, so workout with your children by embracing the classics that may have been forgotten. Chalk out a hopscotch court in the garden, and hop your way to happiness. If you've not got chalk, then masking tape will be fine. Check the dusty recesses of the shed or garage for a skipping rope, and you'll be able to enjoy hundreds of high-energy games. If you've got some old rope, you can create your own, just like they did back in the day. 
9. Corky mug
This one is strictly for adults. Grab some cups from the side and that discarded cork from the night before and get active. Stick the cork in the mug and toss it to your friend. Traditionally, the one who drops the cork downs a drink, but in these austere times, you can simply keep score. It's simple, fun and energetic. 
10. Paint for perfection
Not many of us enjoy painting, but when you're stuck inside, there are no excuses. While decorating you can burn over 300 calories per hour, that's not to sniffed at. If you're painting exterior walls or fences, you'll use more, scientists at Harvard have found.