Folding bikes are now a common sight in towns and cities throughout the UK, and for good reason! A popular choice for commuters and urban riders, they come with a host of benefits including their convenience and size.
But the advantages don't end there, and a folding bike can also benefit your health. Like what you hear? Here are 5 ways in which your folding bike could provide a boost to your health.
1. Excercise while you commute
A folding bike can transform your daily commute into a fun-filled ride that will improve your fitness. The best folding bikes such as the Brompton M3L are lightweight, making them easy to fold up and carry on or off a train, bus or even plane!
If you're caught in a daily commute, it can be challenging to get the advised 150 minutes of exercise we should all be doing every week, but not with a folding bicycle. You can ride as little or as long as you want, and use public transport for the rest of your journey.
2. Improve your pedalling efficiency
Folding bikes typically come with smaller wheels (up to 20") than road bikes, mountain bikes and hybrid bikes. Unless you've got a foldable electric bike, you will find that the way you cycle and the effort you expend is different.
While many road bikes and mountain bikes can have 20 or more gears, most folding bikes have much fewer, in some cases just one! This means you need to adapt your style, increasing your cadence (what professionals call 'spinning').
As well as being a tremendous amount of fun, riding a folding bike can improve your pedalling efficiency and your bike handling skills as you manoeuvre the small-framed bike through traffic and other obstacles.
Whether you're a robust roadie or mountain lover, you'll benefit from the impressive workout you'll get from your new folding friend. So, next time you test out a non-folding bike, check out how efficient your pedalling has become.
3. Perfect for small journeys
Every week we take many small journeys that can all be made more enjoyable and productive with a folding bike. Even if you're just popping to the shops to get some bread or milk, you can enjoy regular exercise.
Or if you're stuck in a lunchtime rut then you can jump on your bike and explore somewhere new to eat in the great outdoors. Don't spend your break in a book or staring at a screen; unfold your bike and find some freedom!
4. Cycling can improve mental health
Cycling provides incredible stimulation for your brain as well as your body, with scientists concluding the aerobic exercise can reduce our sensitivity to anxiety and stress.
Even moderate amounts of exercise (around 20 minutes) have been proven to have a positive effect on mental wellbeing, and the more you exercise, the better you feel!
A folding bike is the perfect stress reliever for riders of all ages and can be used to help boost your mood when you need it.
5. Easy storage and accessibility
Sometimes the inspiration to ride can come quickly… and be extinguished pretty sharply when the thought of unpacking the bike from the garage or shed comes to mind – but not for folding bike owners!
Store your folding bike somewhere easily accessible within your home and you'll have no excuse not to get cycling as soon as you feel the urge. Store it somewhere with your helmet, jacket and set of lights and it'll be ready to go as soon as you are.
Best folding bikes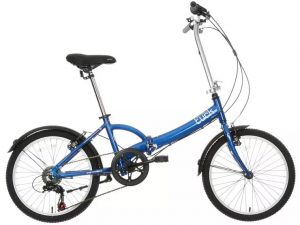 The 6-speed Apollo Tuck comes in at just £260, making it the cheapest bike in our round-up. For that price, you get 6-speed Shimano gearing, mudguards, a kickstand and a cool blue finish. The pay off is that at 14.2kg, the Apollo Tuck is a little heavier than other models, but that's a small price to pay for the performance you get. It's our best value entry-level folding bike, and we still don't know how they do it.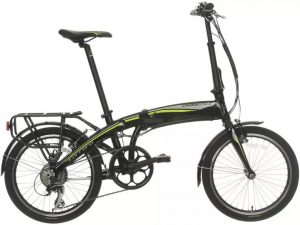 Offering up to 30 miles of motor-powered pedalling support per charge, the Carrera Crosscity packs a massive amount of performance into a tiny package at £949. Electric folding bikes are an emerging market that is going to expand rapidly as the technology becomes more affordable, with Carrera leading the way. It comes with everything you'd expect, including mudguards, powerful v-brakes, and an impressive 8-gears. It would be a great commuter cruiser without the motor – but with it, it's our choice for the best electric folding bike.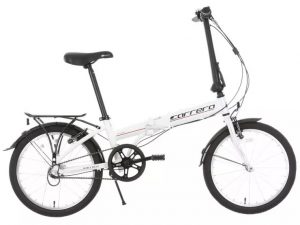 The Carrera Transit is proof that great commuter bikes don't come with massive price tags. At just £355, it's incredible value for money, with the lightweight aluminium frame, 3-speed hub gearing and 20" wheels giving it excellent handling. It comes with mudguards, a kickstand and a crucial rear rack for transporting your workplace essentials. It genuinely is everything you need from a reliable fold-up ride – which is why it's our best value folding bike.
---
Make sure you take advantage of all the amazing health benefits of folding bikes. If you want more help or advice about your folding bike, head over to our advice guides.