Towns and cities across the UK are full of people commuting by electric bike – and there's no reason why you can't be one of them!
Thanks to the number and variety of electric bikes now available, commuting by e-bike is easy. Assisted speeds of up to 15.5mph allow you to pedal further and faster, all with minimal effort! And with more e-bikes now available than ever before, there is the perfect option for everyone, allowing you to ditch public transport or your car and enjoy a fresher start to your mornings.
At Halfords, bikes are built into our DNA, and we have a range of high-quality e-bikes available at a price that won't break the bank. Below are the different types of e-bikes for commuters and our top picks.
Folding e-bikes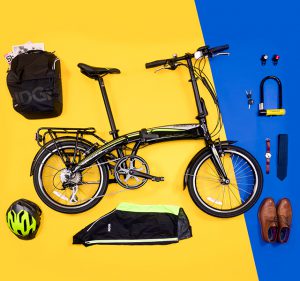 There was a time when all e-bikes were large, cumbersome beasts. Not anymore!
With easy folding frames, folding e-bikes are designed for commuting, perfect whether you need to pop onto public transport along the way or quickly get to a nearby meeting. Easy to assemble and quickly fold away, you can be sat down one minute and pedalling away the next.
Electric folding bikes come in a range of guises, from those that have a larger range such as the Raleigh Evo Electric Folding Bike 20" (a whopping 30 miles!) to ones that prioritise being lightweight- the Apollo Transport Electric Folding Bike barely registering at only 16kg.
Wheel sizes vary between either 16" or 20" depending on whether you prefer comfort or lightweight.
With such convenience, it is no surprise that folding bikes are now everywhere in our cities. And whichever option you opt for, a folding e-bike will be a worthy companion for your daily urban commute.
Still not sure that a folding e-bike is for you? Discover 5 health benefits of a folding bike.
Hybrid e-bikes
Of course, not all of us are city based or even restricted to the road! For those who value versatility, there is no better option than an electric hybrid bike.
Combining comfort with the ability to ride on both smooth and moderately rough surfaces, hybrid e-bikes usually have bigger tyres, comfortable saddles, and an upright riding position. Many also benefit from a front suspension, the benchmark for cycling comfort. You won't be able to hit the trails with one, but you'll easily glide along well-maintained canal paths – a great way to mix up your commute.
With hybrid bikes being larger than folding bikes, you also get the bonus of a larger motor and battery, with most having a range of over 40 miles. Living too far away from work is no longer a problem! Short recharge times will also ensure that your bike is ready every morning when you need it.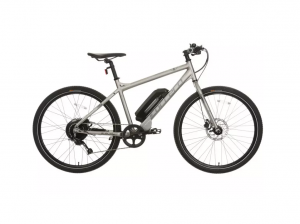 Our top hybrid e-bike pick? With a leading Suntour Performance motor, a range of up to 40 miles*, Tektro hydraulic disc brakes and puncture-resistant double-walled rims (the list could go on), the Carrera Subway E Mens Electric Hybrid Bike 2.0 is a pure commuting machine.
Road e-bikes
As much as comfort is important, some of us have a need for speed! Of course, riding fast into work is too tiring, right? Not with an electric road bike.
Incorporating powerful motors with the aerodynamic characteristics of your standard road bike, an electric road bike will have you powering down the road, wind in your hair and clothes flapping – all without your muscles burning!
Great for those facing a longer journey, or those keen to incorporate more exercise into their daily commute, electric road bikes are the perfect commuting option. You'll get the maximum 15.5mph level of assistance (a legal limit) – at that speed you'll never be late to the office again!
Tempted by the prospect of a swift two-wheeled commute? Try the Boardman ADV 8.9E Men's Adventure Electric Bike. It may not be an out-and-out road bike, but it's designed to offer maximum versatility for UK riding, meaning it's as comfortable on sleek tarmac as it is on off-road adventures. And with a high-quality Fazua Evation drive system and a maximum range of up to 60 miles*, it's the perfect option for those who want a swift commute.
Safety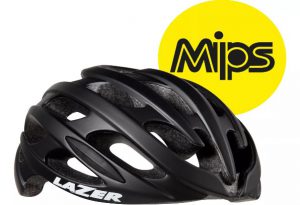 Whichever e-bike you choose for your commute, safety remains of paramount importance. Use bright lights, reflectors and clothing, learn the rules of the road and, most importantly of all, wear a helmet!
Lightweight, comfortable and with the latest MIPS safety technology, the Lazer Blade+ MIPS Helmet is ideal for commuters.
The Multi-Directional Impact System (MIPS) is at the forefront of helmet safety, reducing rotational forces in a crash to better protect the brain.
You can fine tune the fit of the helmet through the Advanced Rollsys Retention system. You don't want a sore head from an ill-fitting helmet every time you arrive at work!
Whether powering along on your electric road bike, or cruising along your local canal path, the Lazer is a stylish option.
---
Need a little more advice? Find out everything you need to know about e-bikes over on our e-bike hub, and shop the full range at Halfords.com.
You want to bring a breath of fresh air to your daily commute. You want Halfords.
* Note: The total travel distance will depend on the capacity of the battery, rider and luggage weight, power mode setting and riding style.