If you've already got a sat nav, then you'll know all about the fantastic benefits that come from having a talking screen that allows you to keep your eyes off the map and on the road! But have you considered what you could be missing out on if you're using an older model that hasn't been updated in a while?
Our range of TomTom sat navs have been best sellers for many years, with a mixture of outstanding features and superior quality making them one of the most trusted brands on our shelves and website. This is why we're so excited about the TomTom GO range, the perfect option for motorists looking to upgrade their sat nav to something that is capable of more.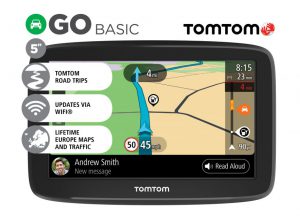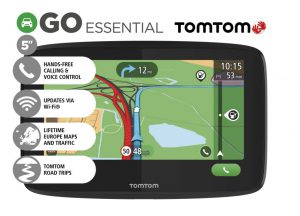 The TomTom Go Basic and TomTom Go Essential are great choices if you're looking for a new sat nav that's packed with plenty of exciting new features and superb functionality. But what exactly makes them so good?
Lifetime Maps
You've probably noticed that the UK's roads are constantly changing thanks to the seemingly endless amount of roadworks. With certain sat navs, this often means that your poor old sat nav thinks you're driving through a field thanks to outdated road information. With lifetime maps included as standard, you won't need to worry about having to replace or update your new TomTom Go when the roads change – maps will simply update when you plug your sat nav into your PC and download updated maps from the TomTom website, or connect it to your Wi-Fi network, meaning you'll always have an accurate digital maps that you can rely on.
Lifetime TomTom Traffic
If you're using an old sat nav, you'll probably fall victim to joining everyone else on the shortest route home, which just happens to currently be jammed up with rush-hour traffic. What you'll be missing out on are the live traffic updates provided by every TomTom Go model. TomTom Traffic will re-route you onto the the best alternative if there's a snarl-up ahead and tell you any time differences, perfect if you're on a tight schedule (or just hate sitting stationary!)
Wi-Fi connectivity
If you've got an old sat nav, then those updates for new road systems we just mentioned will probably involve hassle that goes something like this: take your sat nav out of its holder, disconnect the charging cable, fire up the computer, plug in the sat nav, look for updates online, wait an age to download, fiddle around trying to install said update, then mess on getting your sat nav back in its usual spot.
Wi-Fi makes things a lot easier. By simply connecting your TomTom Go to your home network, all map updates will be downloaded and installed automatically once you've pressed the 'update' button in your TomTom menu, saving you plenty of time and hassle.
Hands-free operation
If you opt for a TomTom Go Essential, then you'll be able to reach your destination without touching the sat nav at all. With the Speak & Go function, you can tell your TomTom where you'd like to go and it'll do all of the keying-in and confirming for you. This will save you plenty of time when you're setting off, but it's also a great safety feature – you'll be able to keep your hands on the wheels and eyes on the road, infinitely better than having to pull over to add an extra stop of change the destination.
TomTom road trips
Ever wanted to tell your family the best way to get somewhere or share a new traffic-free route to work with your colleagues? Well, with TomTom Road Trips, you can! Road Trips allows TomTom owners to share their recent trip with the wider Road Trips community, so you'll find helpful routes for everyday commutes, as well as pleasure drives across both the UK and Europe that take in amazing sights and popular stops.
Bring your trip into the 21st century and take advantage of these superb features by grabbing a new TomTom Go – you'll certainly enjoy a better driving experience, and you may even get there get there quicker!