With more of us becoming conscious of our carbon footprint, the quest for finding sustainable Christmas gifts has become a greater priority for many. Most of us have been guilty of buying and receiving Christmas presents with a short life span that very quickly is placed at the back of the cupboard or even thrown away a few months later.
If you're looking to get your child an eco-friendly Christmas gift that lasts, a kids' bike is a fantastic option. Discover why a kids' bike is the Christmas gift that keeps on giving and why it should be added to your list of sustainable gift ideas.
Bikes are a gift that lasts
Each year there seems to be 'the trendy toy' that's at the top of most kids' Christmas lists. More often than not, the novelty can quickly wear off with these types of presents as trends quickly change and kids are soon after the next best thing.
However, bikes will always be on trend and won't be easily forgotten. Bikes are a gift that gets regular use all year round and a present kids can get continuous enjoyment from. While the initial cost of a bike may be more than 'the trendy toy', a bike that gets used frequently can provide better value for money in the long run.
Bikes are a sustainable form of travel
Not only is a kids' bike a gift that lasts, but it's also a sustainable form of travel that keeps your child active and enjoying the great outdoors. Riding a bike regularly can instil healthy habits from a young age and encourage them to continue cycling into adulthood.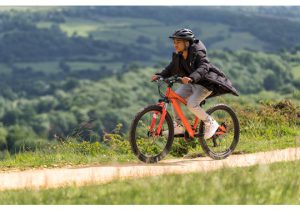 Cycling also brings social benefits as kids can go on bike rides with their friends and even allows you to spend more time together outdoors as a family, making for some great days out in the new year. Check out our blog on family bike rides for inspiration on the best routes.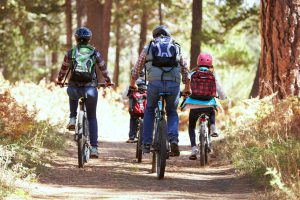 Bikes don't have to be brand new
We understand that Christmas can be an expensive time of year and that a brand-new kids' bike may be out of budget. However, there's always the option of buying a high-quality pre-pedalled bike. A pre-pedalled bike is essentially a second-hand bike and, with Halfords, you have the peace of mind that each bike has been safety checked by our experts and comes with a 12-month warranty.
Buying a second-hand bike this Christmas is not only a great way to save money but also reduces waste. It ensures that more bikes are put to good use, particularly after children have outgrown their old bikes.
However, if you are looking to buy a brand-new kids' bike, check out our blog on the best affordable kids' bikes to ensure you get the best value for money this Christmas.
Halfords Bike Xchange
If you're looking to upgrade your child's bike, you could save money with the Halfords Bike Xchange scheme. You could exchange your old bike for a Halfords gift card for a value of up to £1,000 for adult bikes or £200 for kids' bikes or save money on a brand-new Halfords bike. Your old bike can then be restored and sold to another child for them to enjoy. If we're unable to re-sell your old bike, we'll give it to one of our charity partners who'll repair and donate the bike to African communities.
Bike Xchange is another opportunity to help reduce waste and ensure that our customers have access to quality bikes at affordable prices.
If you're looking for other ways to save money this Christmas, why not sign up to the Halfords Savers Club? Simply top up a Halfords saver card with a minimum of £5 and you'll receive 5% off your initial load value. You can then top up whenever you need to and use the balance to make purchases online, in-store, or in our garages.
---
There are certainly numerous benefits to buying a kids' bike during the festive season, particularly if you're looking to have a more sustainable Christmas. From their long lifespan to purchasing recycled bikes, this is a gift that can help reduce waste and offer great value in the long run.
If you're unsure of the best kids' bike for your child, check out our kids' bike buyer's guide or head to your local Halfords store and speak to one of our experts.
For extra peace of mind over the festive season, you can lock in prices today and pay later with Klarna over a period to suit you. Discover our full finance options available here.
Remember, if you want great value this Christmas, you want Halfords.