One of the biggest motorsport series in the UK, the British Touring Car Championship has been keeping fans entertained for over 60 years. Its brand of exciting racing has been played out across some of the UK's most iconic tracks, leading to some unforgettable moments in British motorsport history.
If you've ever caught a glimpse of a race or heard the name and want to learn more, here's our beginner's guide to the BTCC.
History of the BTCC
The British Touring Car Championship first waved the chequered flag back in 1958, and it has since built a worldwide fanbase of millions of fans.
Differing from other motorsports, BTCC drivers use modified road cars to race around some of the UK's most famous tracks. In 2011, new regulations were introduced limiting the components cars could use, giving teams with a smaller budget a bigger chance and levelling the playing field. The result? Unpredictable racing with lots of wheel-to-wheel action.
Now in its 63rd year, the BTCC continues to grow and will be a regular fixture on ITV until at least 2026 – so you won't miss a thing!
Race weekend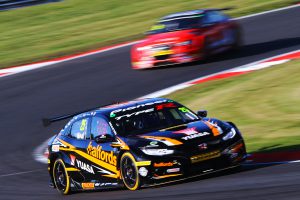 Featuring ten rounds, the 2021 BTCC season will visit eight different tracks.
Races
Every round consists of three races spread over a Sunday, with each race lasting around 30 minutes. These short races lead to an exciting spectacle, but what really makes the sport unpredictable is the unique qualifying system.
Qualifying
Like most motorsports, qualifying is held on a Saturday, but only determines the grid positions for the first race. The results from the first race are then used to determine starting positions for the second race – although the top ten cars are given extra ballast weight to even things up.
For the third race, a unique reverse grid system is used. The race numbers of the cars that finished in positions six to twelve in race two are put into a bowl, and one car is randomly drawn. That car will then start in pole position, with the cars that finished ahead of it taking the next positions. For example, if car seven is drawn, cars six to one will be the next cars, with the rest of the grid lining up in order of their result in race two.
In BTCC, getting pole position on the Saturday doesn't guarantee success, and the qualifying system leads to lots of overtaking and close-contact racing.
Tyre rules
There is also an 'option' tyre that must be used in four of the rounds during the season at Snetterton, Oulton, Knockhill and Croft. This tyre provides different performance to the 'standard' tyre and is another way of levelling performance across the grid. Any of the three races can be chosen to use this tyre and it is only known to teams as they leave the pit lane.
Points system
While there are usually over 20 drivers competing, there can only be one overall winner of the BTCC.
On the road to glory, most points are picked up by finishing in the top 15 of races. The points awarded for finishing in each position are:
                                                   BTCC points
Place
1
2
3
4
5
6
7
8
9
10
11
12
13
14
15
Points
20
17
15
13
11
10
9
8
7
6
5
4
3
2
1
However, more points are on offer, and additional bonus points are awarded for qualifying first, getting the fastest lap in a race, and for every lap spent leading a race. So, it's not all about finishing position!
There are lots of points on offer and last year's championship finished with four drivers separated by only 24 points, with Team Dynamics' Dan Cammish earning a spot on the podium.
Circuits
You don't have to be a motorsport fanatic to recognise the names Silverstone or Brands Hatch. They're two of the biggest sporting arenas in the UK, and the BTCC graces their tarmac every season.
Entertaining fans up and down the country, the 2021 calendar will take in six other established tracks too. Here's the full calendar:
 8th-9th May: Thruxton
 12th-13th June: Snetterton
 26th-27th June: Brands Hatch Indy
 31st July-1st August: Oulton Park
 14th-15th August: Knockhill
 28th-29th August: Thruxton
 18th-19th September: Croft
 25th-26th September: Silverstone National
 9th-10th October: Donington Park
 23rd-24th October: Brands Hatch GP
Team Dynamics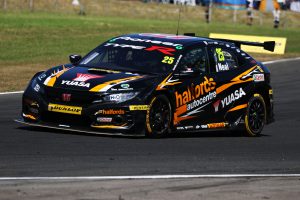 After a successful 2020 season, Halfords will continue to sponsor Team Dynamics for the 2021 season, with the team sport a new name: Halfords Racing With Cataclean. Last season proved to be a successful year, with Dan Cammish finishing third in the championship.
This year sees the return of Gordon 'Flash' Shedden to the line-up, having previously won three championships with the team in 2012, 2015 and 2016. Alongside him will be Daniel Rowbottom, an exciting prospect who has been racing in the BTCC since 2019 and has an impressive pedigree, having won a number of Championships in both the British and European Karting Championships (6-time winner).
The Halfords Racing with Cataclean Team will be looking to replicate their success in the coming season, and you can track their progress every step of the way here.