Thanks to turbo trainers, training during the cooler months has never been easier. There's no longer any need to pile on layers of clothing and head out into the worst conditions that the British weather has to offer.
Turbo trainers are great for maintaining fitness, and while you can simply hop on one and pedal away, you will get so much more out of a structured training session. As the sessions are much shorter than when training outside, every pedal stroke counts. Completing the right training sessions is therefore important.
Below are our picks of the best turbo trainer sessions so that you can enter the new cycling season in perfect condition. Most of these suggestions require a knowledge of power and heart rate training zones and you can find guides to these over on our advice guides. If you don't have access to a turbo trainer that shows power data or a heart rate monitor, you can still use the training zones within the guide, but you'll need to complete the sessions based on perceived effort.
V02 max boost
What is it?
VO2 max is the maximum amount of oxygen your body can utilise during exercise. In cycling this is important as the more oxygen your muscles can absorb, the better they will perform. This training session therefore aims to improve your VO2 max.
Which training zones?
For this session, you'll be riding in your VO2 max training zone. This is zone five which equates to 90-100% of your maximum heart rate and 105-120% of your functional threshold power.
As it's an intense session, it shouldn't be carried out too regularly or on consecutive days, as your body requires adequate rest to reap the benefits.
How do you do it?
15-minute warm-up (easy spinning of the pedals)
15 minutes at zone 2
5 x 3-minute intervals at VO2 max (zone 5), with 3 minutes at zone 2 in-between each
Cool down
Threshold boost
What is it?
Your lactate threshold is the maximum amount of power you can produce while keeping your lactate levels under control — in other words, without your muscles becoming awash with lactate acid. We've all been there when we've pushed it a bit too far and our legs feel like they're crammed with weights.
With this threshold boost, the target is to increase your lactate threshold and give you the ability to ride harder, for longer.
Which training zones?
This session will mainly focus on zone four, conveniently named the threshold zone!
How do you do it?
10-minute warm up
5 x 5 minutes at zone 4, with 3 minutes of easy spinning recovery in-between each (you can change the number of repetitions according to your fitness levels)
Cool down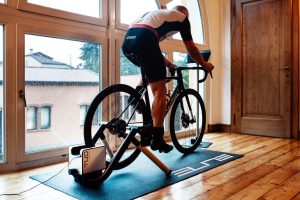 Up your cadence
What is it?
A lot of factors affect your cycling performance with one of the key ones being how quickly you can turn the pedals (your cadence). Cyclists often use too high of a gear, riding with a low cadence. While this can equal the same speed as riding a higher cadence in a low gear, it results in your legs become tired much faster.
This session therefore aims to not only improve your ability to ride at a higher cadence, but also improve your pedalling efficiency.
Which training zones?
With the focus being on pedal speed, this session concentrates more on your cadence than training zones. The below session can therefore be carried out at whatever training zone you would prefer. Try to choose the zone according to the other sessions you're completing. If you've already got hard sessions scheduled in, make this one a little easier.
How do you do it?
10-minute warm up
1 minute at 90 rpm (reps per minute) and 1 minute at 120 rpm, continuing for 12 minutes
10 minutes at zone 2
1 minute at 90 rpm and 1 minute at 120rpm, continuing for 12 minutes
Cool down
Strength builder
What is it?
As the road arches up to the sky, there will be times when riding a high cadence simply isn't possible. Instead, you will solely be relying on your leg strength. Strength training is important for all cyclists, whatever your goals. Ultimately, it's your legs that will lead you to success, and the stronger they are, the easier it will be.
This turbo session is a low cadence, strength training exercise. The type that person on your club ride with the giant calves does!
Which training zones?
Like the previous session, the focus here is cadence. We've suggested power training zones, but these can be altered accordingly. The aim is to work a harder gear than you usually would while maintaining the same power output.
How do you do it?
10-minute warm up
10 minutes of zone three at 60rpm
5 minutes of zone two at 90-100rpm
10 minutes of zone three at 55rpm
5 minutes of zone two at 90-100rpm
10 minutes zone three at 50rpm
10-15-minute cool down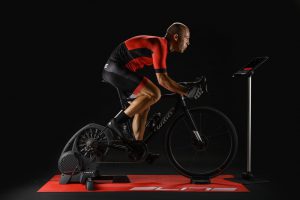 Russian steps
What is it?
Not one for the feint-hearted, this session will hurt! Involving repeated maximum efforts, the aim is to improve your sprinting speed and build up your power and tolerance so that you're capable of repeated hard efforts on the bike.
A session such as this takes skill as, although it's only short efforts, you can still quickly blow up. So try to pace yourself on the longest reps.
Which training zones?
Consisting of multiple maximum-effort repetitions, this is the only session on the list that targets zone six – the highest intensity of exertion. It's not a long session as your legs and lungs will quickly be burning. If you're really fit, you can add it on to the end of a session.
How do you do it?
20-minute warm up
15 seconds at zone 6, 45-second recovery at zone 2
30 seconds at zone 6, 30-second recovery at zone 2
45 seconds at zone 6, 15-second recovery at zone 2
1 minute at zone 6, 1-minute recovery at zone 2
45 seconds at zone 6, 15-second recovery at zone 2
30 seconds at zone 6, 30-second recovery at zone 2
15 seconds at zone 6, 5 minutes 45 seconds recovery at zone 2
10-minute cool down
---
That completes our list. Follow our turbo training sessions and you'll be flying from the moment you venture back out onto the road. Of course, there are many more turbo sessions we could have included. Follow our advice guide to the best turbo training apps to find more.
To find a range of turbo trainers, heart rate monitors and power meters, head over to Halfords.com.
You want to conquer your cycling goals. You want Halfords.