Last year, Halfords apprentice Jackie Hardey traded her Xbox controller for pit stops by securing a season on the road with Team Dynamics of the British Touring Car Championship (BTCC). The 21-year-old apprentice landed her dream job after beating eight other apprentices to become our Halfords Apprentice of the Year for 2020.
Providing a once-in-a-lifetime opportunity to work as a mechanic on the Team Dynamics BTCC team for a full season, we caught up with Jackie to reflect on her year as a BTCC apprentice and to find out why she thinks the apprenticeship is an opportunity that shouldn't be missed!
Investing in the next generation of motor vehicle technicians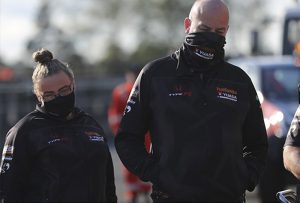 At Halfords, we're investing in the next generation of technicians and engineering experts so that we can help keep cars on the road for the next 50 years. Our apprenticeship scheme is the best in the business and has been training top-class car technicians for the last 20 years.
Every year, we select the best apprentices to battle it out against one another, with the victor receiving a top prize – a place on the Halfords sponsored Team Dynamics race team!
"Each apprentice is judged not only on their overall marks, but also on their personality and attitude," says James Rodgers, team manager at Team Dynamics. "In a high-pressure environment, it might not always be the person that scored highly that applies themselves in a fast-moving situation, so we have to look at the bigger picture of who we feel can work well within the team."
Last year, the winner was Jackie Hardey – a motorsport-mad apprentice who became inspired to pick up a spanner after watching car racing on TV and playing computer games on her Xbox. Looking for a challenge, Jackie then decided to apply for the BTCC apprenticeship, where she impressed the team and earnt a place in a professional motorsport pit lane for a full season.
Application process
So, how did Jackie earn this once-in-a-lifetime opportunity?
Selected apprentices are put through their paces, tackling technical challenges and a probing interview with industry experts where they're quizzed on their knowledge of cars. There's no place to hide and applicants are pushed to the limits of their technical knowledge and practical skills.
While it's a challenging process, Jackie believes it's one that is worth the effort.
"Win or lose, the whole experience is awesome! During the assessment, I had to complete a task and an interview. It was challenging, but you shouldn't let confidence hold you back – you'll be surprised what you can achieve. Personality is key, and you just need to be yourself."
A day in the life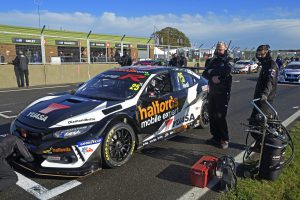 Winning Apprentice of the Year is no mean feat but with it comes the once-in-a-lifetime opportunity of working with the BTCC Team Dynamics race team.
"I was over the moon when I first found out I had won the apprenticeship," Jackie shares. "Naturally, I was very nervous and anxious when meeting the full team for the first time, but they were very welcoming and easy to get along with. I had a fabulous time with them all."
Stepping up to the apprenticeship was a challenge, but working at Halfords Autocentre St Albans, Jackie was already a member of a well-oiled team and quickly adapted to her new role – but what is life in a motorsport garage like?
"The average race day is exciting, tense and overwhelming – you can never tell what's going to happen next," Jackie explains. "Because it's so busy, there's always something you can be doing. It really was an amazing experience!"
Don't miss the opportunity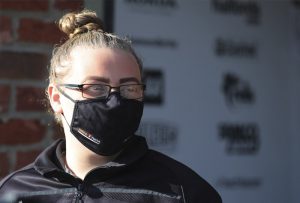 Want to follow in Jackie's footsteps? Jackie thinks you should!
"I'll never forget the whole experience and I've taken away so many key skills. That's why you shouldn't let anything hold you back from applying for the Apprentice of the Year. Just be yourself and have confidence in yourself!"
In the male-dominated world of motor mechanics, Jackie hopes her win will also prove an inspiration to other young women who are interested in becoming apprentice mechanics.
"I really hope my win will inspire other women to apply. If you want to do something, just do it – don't let anything hold you back. Anything a man can do, a woman can do better! Honestly, it really is an amazing experience and woman or man, you should just apply".
---
Inspired by Jackie's experiences as the BTCC apprentice? If you're a wannabe mechanic and think you have what it takes to join our team, then visit our careers centre to discover more.
Halfords will continue to sponsor Team Dynamics for the 2021 BTCC season and you can learn more about the partnership and follow every race here.