Our thoughts are turning to tyres as we move into October and celebrate Tyre Safety Month. But what actually is this Tyre Safety Month and what can you do to keep your tyres in tip-top condition? We've got all the answers and more.
What is Tyre Safety Month?
Tyre Safety Month has taken place every October since 2010. The annual event sees our friends at TryeSafe promoting the importance of looking after your tyres, and highlighting the dangers that uninflated, damaged or worn out tyres can bring.
Who organises Tyre Safety Month?
Tyre Safety Month is the brainchild of TyreSafe, a UK charity dedicated to raising awareness of the important of tyre maintenance and the dangers of defective and illegal tyres. The charity was formed in 2006 and so far its activities have helped to reduce the number of people killed or seriously injured each year in a tyre-related accident by an impressive 46%.
TyreSafe's work is supported by many areas of industry including most major tyre manufacturers, retailers and wholesalers, and vehicle manufacturers. The charity has become an authority on tyre safety issues and we're proud to be supporting them at Halfords.

How can I check that my tyres are safe?
We're glad you asked! There are actually lots of things you can do – and lots of things we can help you with.
First off, let's talk about tyre pressure. Underinflated or overinflated tyres can affect handling, so having the right tyre pressure is pretty crucial. A tyre pressure gauge is an easy way to get an accurate pressure reading and inflating your tyres is something anyone can do. Your vehicle's handbook should list the correct pressure settings for your tyres.
You can also be notified when tyre pressure gets too low via a tyre pressure monitoring system (TPMS). A TPMS is an electronic system built into vehicles and can help you avoid potential road accidents and tyre wear as a result of under-inflated tyres.
Second is the condition of your tyres. You'll need to get up close and personal for this. You'll want to be on the look out for any cuts, splits or nicks, and also any glass, nails or screws that might have become imbedded in the rubber and could cause a puncture in the future. Make sure you check your spare tyre too so that it'll be ready and waiting if you need it.
Finally, it's the turn of tread depth. While you can do the old 20p trick (where you pop a 20p into your tread and then, if you can see the outer band of the coin face at any point, this shows your tyre tread is too narrow), we recommend using a more precise measuring method. A tyre depth gauge will help here, or you can pop into one of our autocentres for some expert advice.
Feel confident that you can take good care of your tyres? Try testing your tyre regulations knowledge with our fun tyre safety game! Avoid the road hazards while keeping your tyre pressure and tread within the legal limits!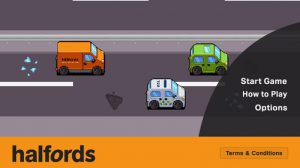 How can Halfords help me to keep my tyres safe?
We're here to offer advice on any of the points we've listed in the previous section. Our Free Tyre Check is the best starting point as that'll identify any issues that need fixing, before one of our expert technicians talks you through the solutions that are available.
Another option is our 10-Point Car Health Check, which also checks the condition of key components such as your tyres, headlights, brake lights, battery, wiper blades, oil level and screenwash level. Best of all, to celebrate Tyre Safety Month, we're offering this check for free between 5th October and 1st November 2021, so book in today to take advantage of this great deal (which is worth £15).
Poor wheel alignment can accelerate tyre wear, pull to the left or right as you're driving and place strain on your car, putting your safety at risk. So, during Tyre Safety Month, we're also offering half-price wheel alignment when you purchase two or more tyres from 28th September to 10th November 2021, to help you stay safe on the roads. If you're buying on Halfords.com, simply add two tyres to your basket (plus fitting) along with the wheel alignment product and the discount will then be automatically applied. If you're buying in one of our garages, the discount will be applied at the checkout.
If it turns out that you need replacement tyres, we can support you there too through our Halfords autocentres or mobile expert service. All you need to do is enter your vehicle registration number online to find the perfect tyres for your car and then select a fitting option during the checkout process.
---
You don't want to get caught out this October. You want to make sure your tyres are in a good condition and will keep you safe on the roads. You want Halfords.