It's Christmassssss! Well, maybe not just yet but it'll be here before you know it so it's time to start planning.
One of the best bits about Christmas is watching those shiny eyes open their presents, especially if it's a new bike or scooter. However, there's nothing worse than the surprise being ruined because your lacklustre attempt at hiding it behind a duster in the garage wasn't good enough.
When you buy a kids' bike through Halfords, you can book a collection slot up to 30 days in advance of your purchase – so, it'll spend less time in your secret hiding place. However, you'll still need to keep it a secret once it's collected, so here are some handy tips for hiding your kid's bike.
Garage
If you're considering a hiding spot in the garage, just make sure you do a good job of hiding it. Curious small people have a habit of stumbling across things.
If you've got some beams, you could winch it up on a rope and secure it safely. Most of us don't tend to look up so it could be sitting up there quite comfortably, hiding in plain sight until the big reveal.
Of course, the simplest solution is to lock your garage and banish kids until Santa has been. But be warned, curious minds will want to know what presents are hiding behind the door.
Shed
A shed can be really handy as you can padlock the door so no-one can snoop, no matter how much they want to. If there's a window, it might be wise to cover it with some material to shield the contents from prying eyes. Throw some tarpaulin or a bedsheet over the bike and no one will be the wiser. If you choose to store it in a shed or garage, make sure it's not wet or overly damp as this could damage the bike.
Loft
Getting a bike up into the loft might not be the easiest depending on the access, but you'll know for sure that the present will remain a surprise.
The only problem is getting it back down without making too much noise and waking up little ones – although they'll probably be awake excitedly listening for Santa anyway.
Under the stairs
If you're lucky enough to have a reasonably sized under-the-stairs cupboard, with a bit of a reshuffle, you can sneak in a child's bike. Then, try camouflaging it with the usual stuff you keep in there. It might even encourage a much-needed clear out!
Under the bed
Sometimes, the most obvious places are the best.
And one of the best could be under your child's bed. It's a risky strategy, but how often does your kid or teenager actually look under there?
It might be a bit of a struggle squeezing a bike under there, but scooters or balance bikes should be small enough.
You'll just need to make sure you've removed it before Christmas Eve night.
Spare room
Following the theme of obvious hiding spots, a spare room can be a simple but effective place to hide a new bike too.
It's much more convenient than a loft or reorganising under your stairs. Plus, if you know your little one never goes in the room, you can be fairly confident it will go unnoticed. Just make sure it's discreetly hidden under a bed sheet or behind other things.
Out of the house
The safest option of all is to remove the present from your house all together.
Grandparents or even a friendly neighbour may be willing to lend you some space in their garage, so you can relax knowing there's no chance of it being discovered.
How to package your gift?
When Christmas day arrives, it'll finally be time for the bike to come out of hiding. You want the big reveal to be as special as possible, so why not use a reindeer gift bag and a red bow to complete that Christmas look?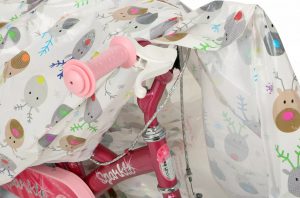 You can also personalise your little one's new bike by adding their name to the frame, and you can combine all three of these amazing extras for only £10!
Best kids' bikes and scooters for Christmas
Of course, before thinking about storing your present, you'll need to find the perfect kids' bike or scooter.
And, here at Halfords, we have the perfect option for every child, from tots through to teenagers. You can explore our full range here.
Making things even easier, we can build any kids' bike so that it's ready to ride. You can choose to have the bike built and collect it instore on a time and date that suits you for only £10. For selected junior and BMX bikes, we can also build and deliver the bike straight to your door (£20).
---
Have fun finding the perfect hiding spot for your little one's present this Christmas.
And don't forget, if you're looking for the best kids' bike or scooter for Christmas, you'll find the perfect option for any child over at Halfords.com.