It's always a sad moment when the glorious summer days slowly give way to autumn's gloomier weather. With more rain and colder temperatures, it gets harder and harder to go out and ride, and there are fewer (if any!) events to help motivate you. That's right, it's time for off-season!
While off-season may be a quieter time in terms of riding outdoors, that doesn't mean it isn't important for your training. Use off-season efficiently and you'll enter next year's riding season in prime form, ready to conquer your goals and any events. With that in mind, how do you use off-season to prepare for next year's riding? Here are some top tips.
Recover
Before you can think about anything else, you need to take some time to recover.
That means time away from the bike to give your body some much needed rest. Even though we're not professional athletes, a summer filled with riding will still take its toll. So, take at least 10 to 14 days away from the bike before slowly easing yourself back into riding again.
Not only will your body feeler fresher, but you'll find it boosts your motivation to ride too.
Base training
Once you've taken a well-deserved rest, your mind can slowly turn to training again. And it may surprise you, but the training you do throughout autumn and winter is arguably the most important of all. It's these months that provide a fitness base for the rest of the season. With the right foundations, you'll enter the spring and summer months in great form.
But what does base training involve? When you're preparing for an event or simply trying to improve, the chances are you'll be doing lots of high-intensity workouts. But for the off-season, you should concentrate on low-intensity training and getting plenty of miles under your belt. Of course, this isn't easy when the weather is far from optimal. But that's where a turbo trainer comes in handy.
A smart turbo trainer like the Elite Zumo is a great option as it provides accurate power data to +/- 3% accuracy, making it ideal for training. It's also fully compatible with the most popular training apps including Trainerroad, Zwift, Rouvy and Sufferfest.
And if you need help finding the best indoor training apps, check out our 'Guide to Indoor Training Apps'.
Strength training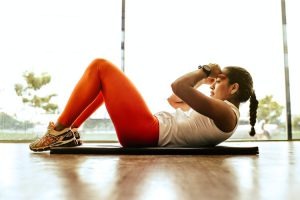 Many cyclists neglect core and strength training. Why would you want to do that when you can hop on your bike instead? But integrating strength and core training into your routine could provide a boost to your performance.
Why is core strength so important? While strong legs push the pedals, it's your core that provides the foundations for this power. Plus, a weak core restricts the capacity of your lungs, so you can't take in as much air. And finally, we all know how uncomfortable it can be on a long ride when you get neck and back ache, but a strong core can help prevent this. So, strength and core training really can make a big difference.
And there's no better time to integrate this new training into your routine than during the off-season. When you start training muscles that aren't regularly tested, they tend to ache for a few days afterwards. This isn't great if you're close to an event, but in off-season it's less of an issue.
Join a cycling club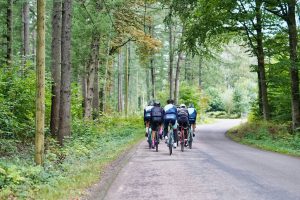 One of the easiest ways to improve on a bike is by joining a cycling club. You'll find lots of like-minded cyclists who all help motivate each other out on a ride. Trying to stick with a group during a ride can be a great incentive to push yourself harder, something you might struggle with when riding alone.
So, why not use the off-season to find a cycling club? You might not plan on riding outside much during these months, but many clubs do group rides on indoor training apps like Zwift. And when it does come to heading outdoors, meeting club mates can provide that extra incentive to get out of bed on chilly mornings.
Prepare your bike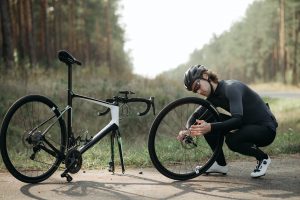 That takes care of training, but what about your bike? The off-season provides the perfect opportunity to get your bike back into tip-top condition ready for next year. Here's a few things to consider:
Get your bike serviced – Everyone wants a bike that rides smoothly and efficiently, and that's why you should get your bike serviced at regular intervals. And if you're planning some recovery time, it's the perfect opportunity to get your bike serviced. Here at Halfords, we offer a range of services starting with our Bronze option for bikes that need tuning up, to our Gold service for high-mileage bikes that need a full strip down. Shop our full range of bike services here.
Keep your bike clean – Riding during autumn and winter takes a bigger toll on your bike. Muck and dirt gets everywhere, and you'll need to clean your bike after every ride. But don't worry because we have the perfect solution in our range of Nilfisk pressure washers which are all designed to be used on bikes. They'll make light work of any dirt or grime and come with a range of attachments to help with the job. Just make sure you're careful when cleaning around the wheel hubs, bottom bracket and headset as water can wash away grease from the bearings.
---
Follow these tips and you and your bike will be in prime condition ready for next year's riding season.
And don't forget, you can find everything you need for off-season over at Halfords.com.
You want to keep riding this autumn and winter, you want Halfords.