Cycling is more popular than ever before, and we hope you're one of the millions of people who have caught the cycling bug. If you are, you may be looking to freshen up your cycling experience with like-minded people or simply want a new challenge – and we think the best way is by joining a cycling club.
Taking the plunge and joining a club can be daunting but we promise you it'll be worth it. For a little extra encouragement, here are seven reasons why we think you have to join a cycling club.
Meet new people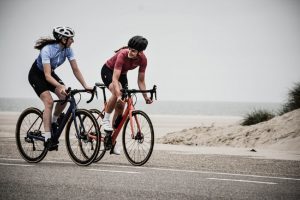 From the outside, cycling clubs can appear a bit cliquey – a place for cycling enthusiasts to discuss the finer details of everything cycling. However, this couldn't be further from the truth.
In reality, you'll find lots of different people from a range of backgrounds who all have different interests. So, while cycling will naturally be the source of some conversations, a lot of the time you'll find yourself shooting the breeze about everything from what you had for breakfast to a shared love of the outdoors.
After you've spent endless hours in each other's company, club mates can often become friends for life.
They're for riders of all abilities
Joining a cycling club can be daunting, as you may be worried you won't be able to keep up on a ride. But don't worry! Cycling clubs will have multiple rides in a week, each for different levels of ability.
Many clubs have beginner rides with ride leaders who will guide you around a pre-determined route. These are a great place to start as all the riders stick together and no one is ever left behind. If you want to improve, you can always progress to a harder group to test yourself and train harder.
Some clubs also have women-only rides and there are even dedicated women-only clubs. With the help of British Cycling, HSBC UK Breeze offer free group rides for women up and down the country too.
Discover new routes
Sometimes, it's tricky to find new routes. But you'll probably find that there are lots of hidden gems that you never knew existed in your local area and, if there are any, your local cycling club is sure to know about them.
Alternatively, if you've moved to a new area and want to discover the local roads, there's no better way to do it than with the local cycling club.
…and the best cycling cafes!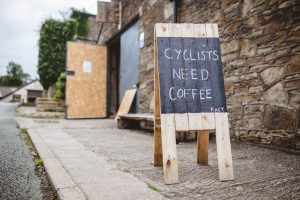 We all know that the best bike rides need a café stop, and if there's one thing you can be sure of, it's that any club rides will stop off at the best local cafés.
After a few weeks of riding with your new club, you'll already know where to find the best post-ride cake.
Show off your new kit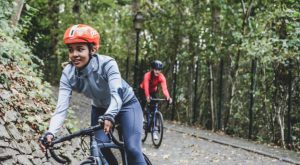 Once you've joined a cycling club, it's the perfect opportunity to treat yourself to some new kit – before showing it off to your new friends.
You could get a stylish helmet, an eye-catching jersey or a new pair of shoes – Boardman's Road Cycle Shoes are a great choice that are sure to turn a few heads.
If you really want to push the boat out, why not also invest in some new tech? The best place to start is with a cycle computer and the Garmin Edge 530 GPS Cycle Computer is one of our favourites. It's packed with the latest technology including turn-by-turn navigation, dynamic performance monitoring, and a unique cycling safety feature with group messaging and tracking.
And even a new bike
Let's be honest, you can never have too many bikes! If you're thinking about buying a new bike, there's no better time to get one than after you've joined a cycling club.
You'll be surrounded by lots of cycling enthusiasts who can offer great advice and you'll probably find yourself admiring the bikes they're all riding too. When it's time to find your new bike, head over to Halfords.com or to your local Halfords store for some amazing options, including the newest range of Boardman road bikes which have been winning an impressive range of awards.
Motivate yourself for the winter months
Even the hardiest of souls struggle to crawl out of bed on a freezing winter morning for a bike ride. However, you'll have much more of an incentive to do so if you've planned a ride with friends.
Sometimes the weather is so bad that riding outdoors simply isn't an option, but thanks to the range of indoor training technology now available, you can join club mates on a virtual ride instead. Just make sure you're prepared with a turbo trainer and the must-have turbo training accessories.
How to find a cycling club?
That's seven great reasons to join a cycling club, but how do you find the right one for you?
The easiest place to start is British Cycling's club finder tool. It'll help you find all the local clubs within a certain distance of your home.
Clubs will differ with some more performance orientated while others will favour a more social approach, so do a little research before deciding which one to join. And most clubs will let you pop along for a ride or two before asking you to join.
---
With the warmest months ahead of us, it's the perfect time to join a cycling club. Just make sure you're prepared with all the accessories and tech you need, and you can find everything over at Halfords.com.