In the rolling British countryside, nestled in the heart of the Cotswolds is the beautiful Dormy House Hotel. The perfect spot to catch up with Victoria Pendleton and her lovely mum Pauline on her Electric Bike collaboration with us. Developing the Somerby-E with her signature style in mind, we were in the perfect setting to complement this stunning model. Read on to find out all about the inspiration behind the design, and even some fun facts dating back to when she was little!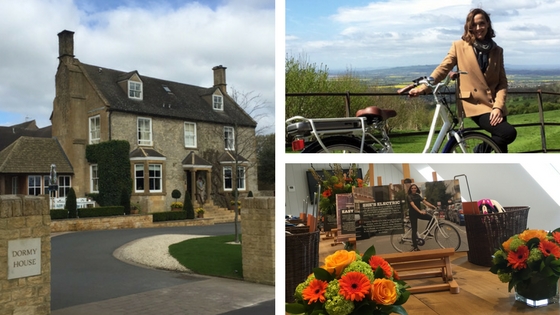 First things first, what would we find in your saddle bag(s)/basket(s)?
Victoria Pendleton: I can answer this question for you mum! Your basket would be FULL of bargains.
Pauline Pendleton: I can't resist a bargain.
VP: A bike lock?
PP: Definitely a bike lock. You'll never know when you need to leave your bike. You don't really want to leave your bike of any value without being locked up.
VP: Erm, a puncture repair kit.
PP: Yes if you know how to use it. I've never had much luck getting the patches to stick!
VP: Then in that case mum a mobile phone to call someone to come and fix your bike!
PP: Phone your nearest and dearest.
PP: Apart from that, I would say chocolate!
VP: No you don't need any emergency rations mum.
Obviously, speed isn't something you have to worry about, so where did the idea to put your name on an E-bike come from?
VP: Well (we) had a go on Uncle Nicks', your brother's bikes didn't we mum. He's got a couple of electric bikes in California.
PP: Yes we went on holiday together didn't we. He's into all-electric things including cars. He was insistent we both had a go on his super duper electric bikes.
VP: Once we had a go…
PP: It was a revelation! I was just worried about American traffic. It's quite hilly in that area.
VP: But once you had a go on the bike…
PP: Definitely sold. I came back and thought I'm definitely going to have an electric bike.
VP: And so it seemed like the perfect opportunity to develop one for the brand.
Where did the inspiration for the design come from?
VP: We kept it the same as the Somerby because the Somerby bike has sold so well. It's a popular model, and it made sense to have a step through, something comfortable and convenient. It's not for training it's for getting around, enjoying the scenery around you and being able to go a little bit further than you can perhaps physically normally. Just to enjoy riding really and getting outside, so we kept it the same as the Somerby because it's a firm favourite!
What would your ideal day out on the bike together look like?
VP: I'll choose one thing you choose one thing –
PP: Shopping!
VP: Ok you choose shopping I choose stopping for a coffee and cake somewhere.
PP: To encourage me to get out I need a purpose or destination.
VP: Bargain hunting, followed by some cake and coffee and then more shopping?
PP: Yes I would say so.
VP: Maybe a little stop by the garden centre.
What are your earliest or most memorable bike memories?
PP: About the age of six, learning to ride a bike around a little green near where we live, it had a little slope to get going. I had a second-hand bike when I was at grammar school to get from one town to another. Most memorable was as soon as I got a job and could afford to buy one, I bought a small wheeled bike in my favourite colour ruby red which I treasured, and was sad to see it go but I upgraded to racing bikes after that. Because of Victoria's dad.
VP: My twin brother Alex learnt to ride without stabilisers first so I felt a little bit of pressure and expectation to get on with it and just up and down the road really where we lived. We had two frames resprayed, and that's the first bike I remember. Alex went for yellow and blue and I went for white and blue, it was a very 80's spray fade.
What's your favourite feature of the bike?
VP: For me, well it's a very comfortable bike but I have to say the first time you get on and put it to level 3, full power, it is a bit of a 'WEEEEEE' moment. It does make you smile and I don't know how you could not enjoy having a little bit of power to help you along. It's like a little helping hand pushing you up the hills…lovely.
Can you sum up the Somerby in three words?
VP: Easy, peesy, speedy.
PP: Ditto!
What would you say to someone thinking about getting an E-bike?

VP: Give it a go! People think 'oh is it gonna whizz along without me?!', it's not motorised itself you have to still be pedalling so you have to ride it just the same. You'll be pleasantly surprised.
The Pendleton Somerby-E is now available!