Bike helmets are undoubtedly a vital accessory when it comes to cycling safety. Although some cyclists may decide to forego wearing a bike helmet, there's no denying the necessary protection they provide.
Research indicates that bike helmets can reduce the risk of serious head injury by up to 70%, so it makes sense to ensure you're always fully equipped when out on your rides.
At Halfords, we stock a wide range of kids and adult bike helmets, so you can pedal away safely and stylishly whatever your age or ability.
Best kids' bike helmets
From first bike helmets to helmets for kids aged 7 and over, we've got something for little ones of all ages. Whether they're into bright colours or movie characters, we're sure to have the right helmet to suit their personality.
Bike helmets for toddlers
For toddlers just starting out on their cycling journey, the Stars Toddler Bike Helmet (44-50cm) is a great choice with its eye-catching design. Your little one will be safe and sound with the dual-fit system for easy adjustment and removable pads for added comfort.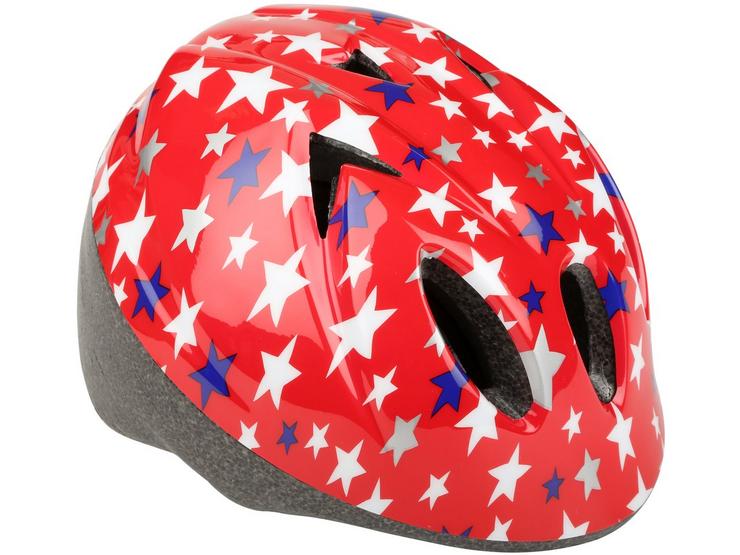 The Polka Dot Toddler Bike Helmet (44-50cm) will certainly make your little one stand out with its bright and colourful design. The 6 ventilation spots prevent little heads from getting too hot, so they can learn to ride with ease and comfort.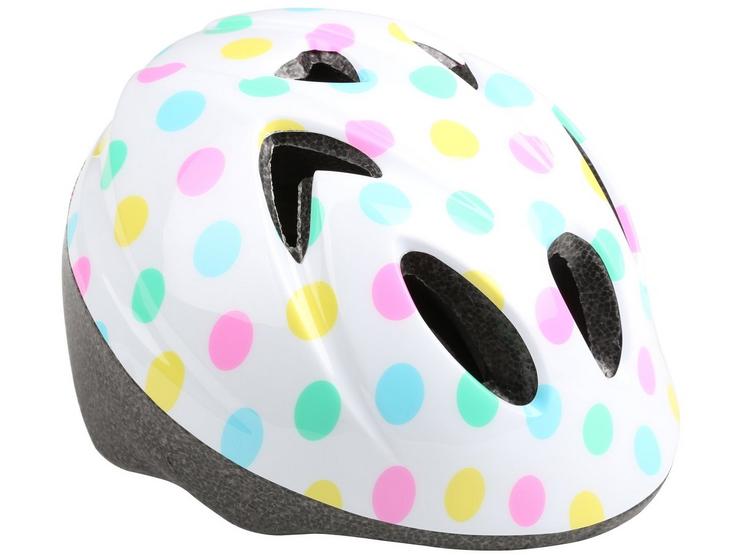 Bike helmets for younger kids
For younger children between the ages of 3-7, we have plenty of options as they continue to build their cycling confidence. The Blue flame Bike Helmet (48-52cm) contains a cool design and durable shell so your little daredevils can whizz away confidently.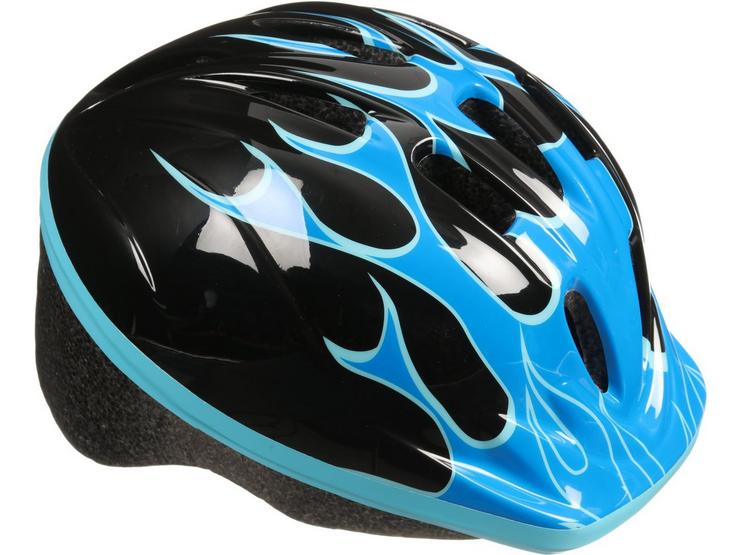 For kids who love to stand out from the crowd, the Halfords Kids Confetti Helmet (48-52cm) is a popular choice. The 8 air vents help maximise airflow while the adjustable straps allow for easy fitting.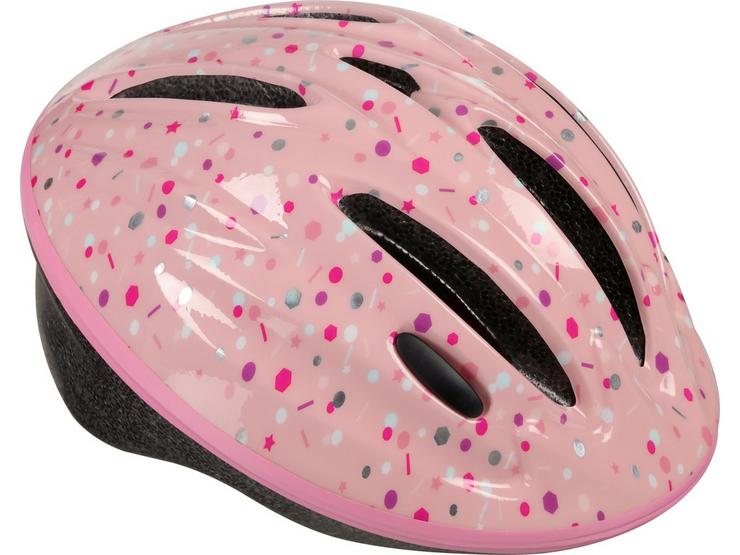 If your child dreams of being a little policeman or policewoman, the Apollo Police Patrol Kids Helmet (50-54cm) is the bike helmet for them. This is the perfect option for staying protected while they're out on patrol.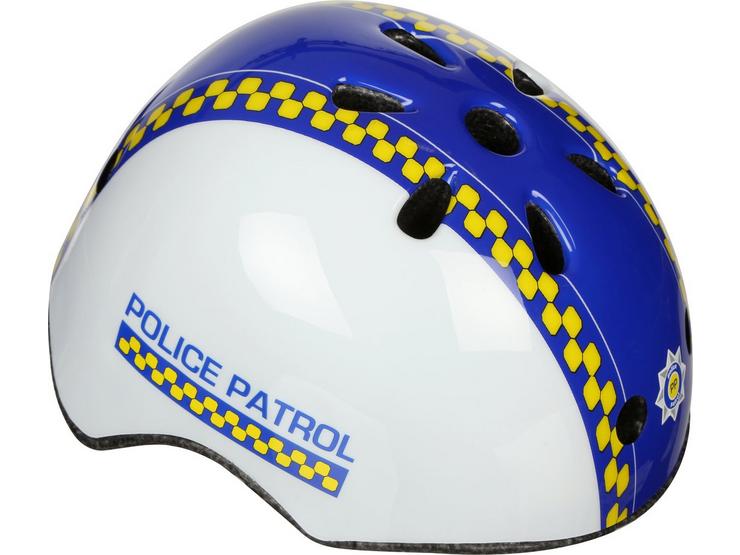 Bike helmets for older kids
For kids aged 7 and over, we have an array of fun yet more grown-up helmet options to choose from. The Black and Grey Lines Kids Helmet (52-56cm) features a stylish design that includes a front visor to protect eyes from rain and sunlight.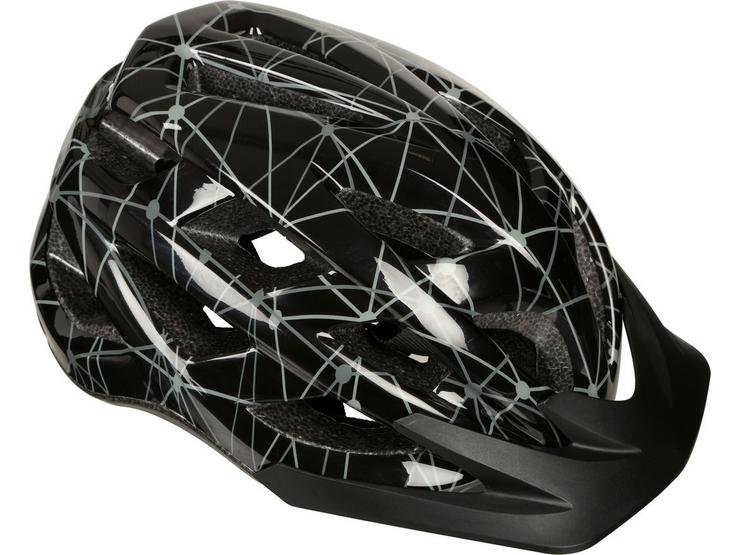 The Halfords Junior Leisure Helmet in pink (52-59cm) comes in a large size range, covering kids between the ages of 7-16 years. The 17 cooling vents add comfort to rides and the helmet allows for a rear LED light which can be purchased separately.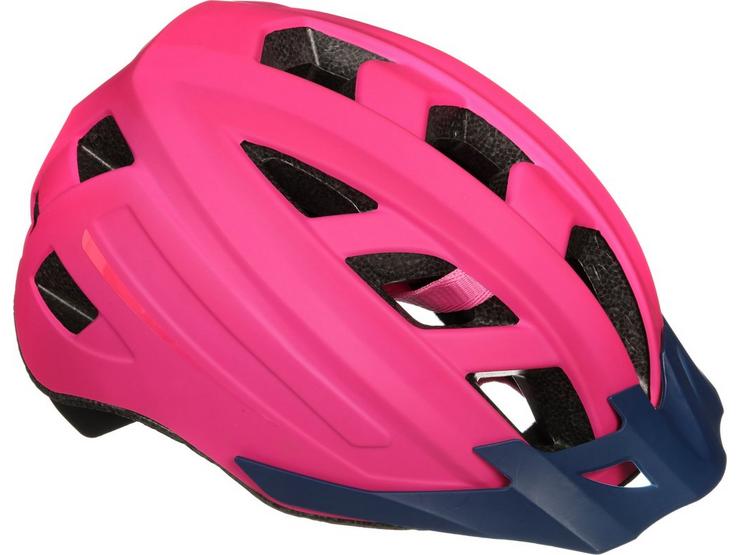 For young adrenaline junkies, the Halfords Junior Skate Helmet in black (52-58cm) is perfect for cycling, BMX, scooting, skating and skateboard use. The helmet contains high-density EPS inner foam for greater protection as they show off their skills.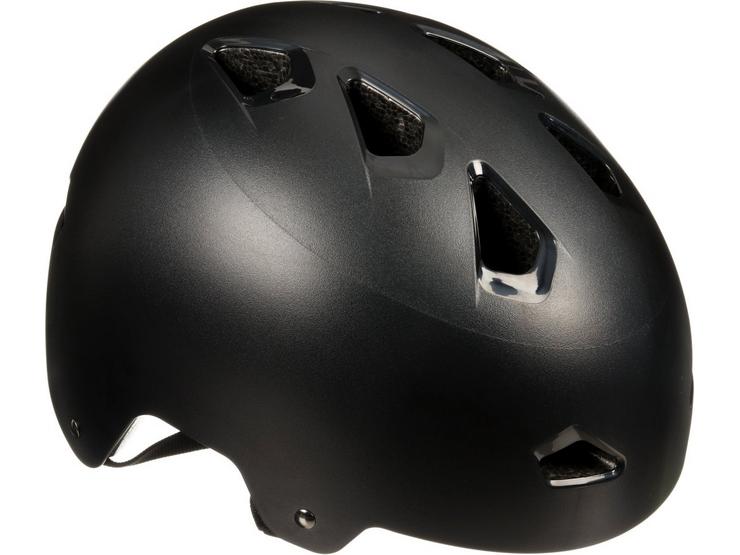 If your child likes to venture out and ride off-road, the Halfords Advanced Junior ERT Helmet (52-57cm) will keep them safe and secure. The helmet contains an extra protective layer that helps further absorb impacts and is perfect for riders that want additional protection.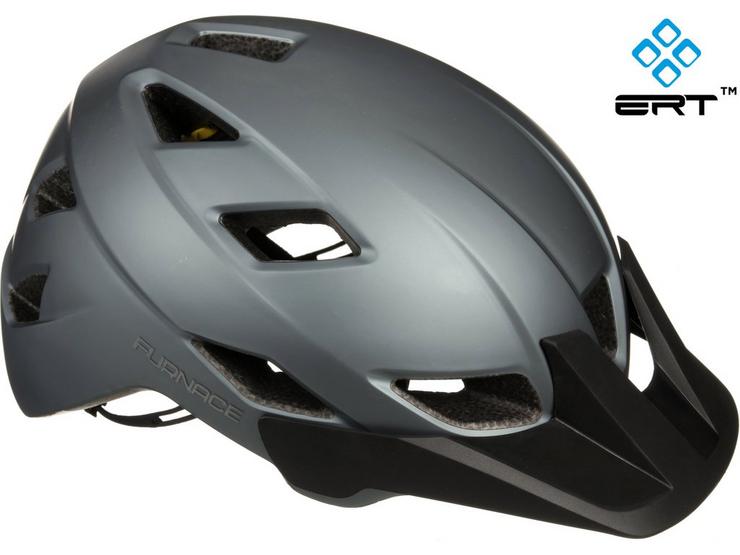 Best adult bike helmets
When it comes to adult bike helmets, specific helmets are suited to different types of cycling. From mountain biking to commuting, we've got the right helmet to suit you.
Mountain bike helmets
When venturing out on your mountain bike, it's important to choose a bike helmet that will offer greater protection against the elements and rough terrain on longer rides.
Mountain bike helmets usually have deeper rear coverage than a conventional bike helmet, as well as increased coverage around the temple areas. The design allows cyclists to ride more vigorously on trails and rougher terrain, yet also be protected from the wind and rain. Larger visors also help protect the eyes and face, acting as a guard against dirt and debris. Goggle strap holders at the rear of the helmet help riders wear goggles more comfortably with their helmet.
The Halfords Transfer Helmet is a great choice for extended adventures as the sweat-wicking padding helps keep you feeling fresher for longer. This is also a great option if you are new to mountain bike riding or are looking for a budget bike helmet. It contains the essential mountain bike helmet features mentioned above while also being comfortable and durable.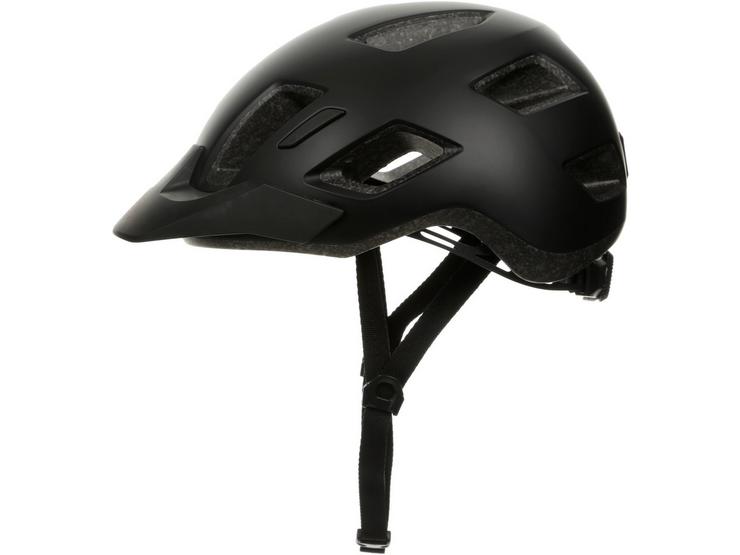 To help protect your eyes, the Lazer Coyote Helmet contains a large visor to shield the sun, rain and mud, allowing you to focus on what's ahead.  The design also improves ventilation to help keep you cool and reduce sweating to make cyclists feel more comfortable. The cool-looking design will make any rider look the part at the local trail centre.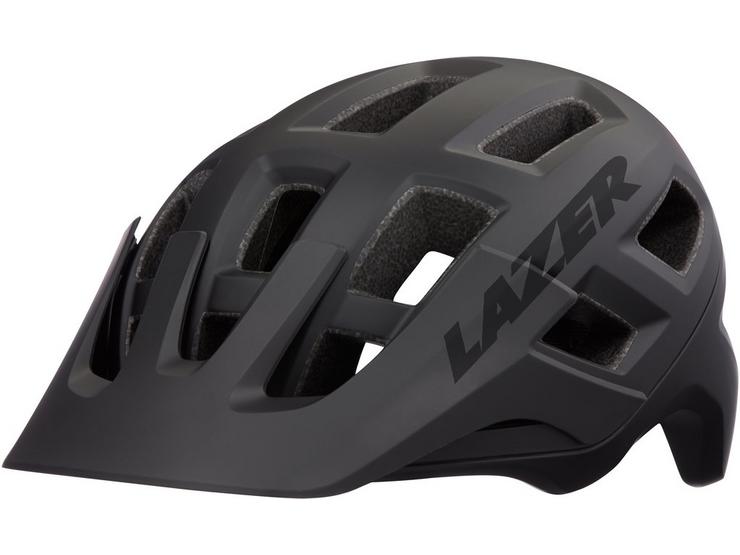 If you're after full face protection, the Lazer Pheonix+ Helmet provides full coverage while the 16 air vents offer great airflow, so you can feel both secure and comfortable. This is a great option for thrill-seeker trial riders that are all about speed and performance but want to stay extra safe. The full-face protection offers extra piece of mind, providing additional security if you experience a fall. The Phoenix+ is also great value for money if you're looking for a full-face helmet on a tight budget.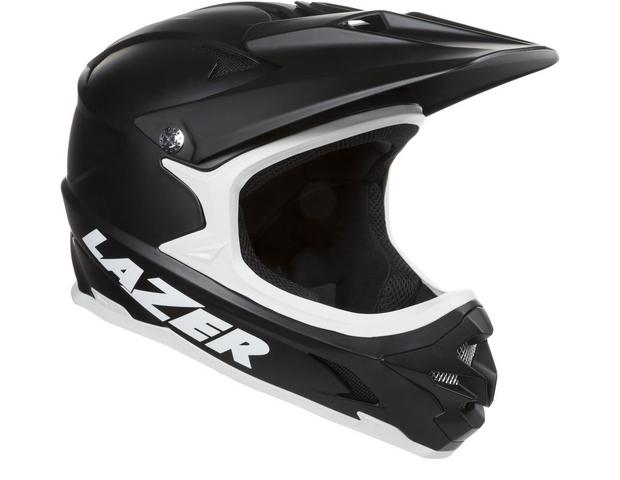 Road bike helmets
If you're heading out on your road bike, you'll want to make sure have a helmet that is lightweight, aerodynamic and has sufficient ventilation. You might want to consider a MIPS-equipped helmet or one with a similar rotational system. MIPS stands for Multi-directional Impact Protection and is a system that provides a layer between the EPS (expanding polystyrene) foam and the helmet liner. This allows for a sliding motion of between 10 to 15mm in all directions. The purpose of MIPS is to protect your brain from rotational forces if you experience a fall.
The Halfords Road Helmet is super lightweight yet durable making it a great option. The large vents help encourage airflow while the sweat-wicking padding helps keep you fresh. It's also a fantastic choice for those who are new to road cycling or are looking for a bike helmet on a budget.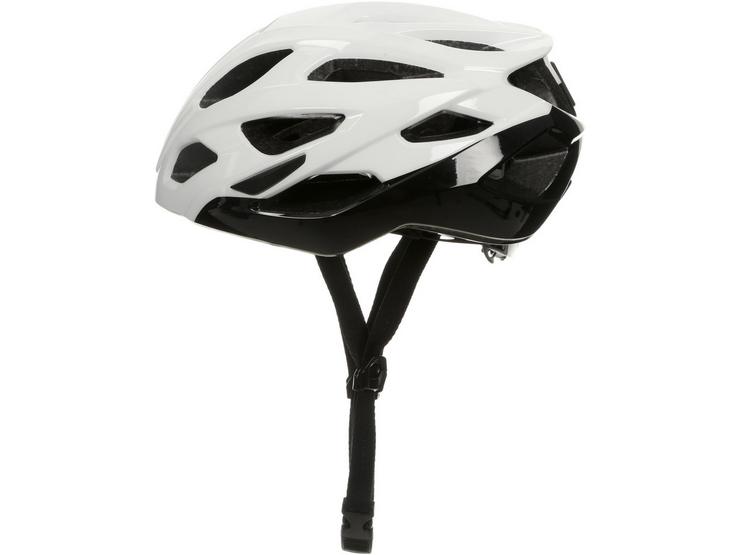 Always stay cool on your rides with the Lazer Tonic MIPS Helmet which contains an impressive 28 vents. The TS Plus dial also ensures the helmet stays firmly in place while remaining comfortable. This is also a great option if you're looking for a MIPS helmet for added protection when out on your rides as outlined above.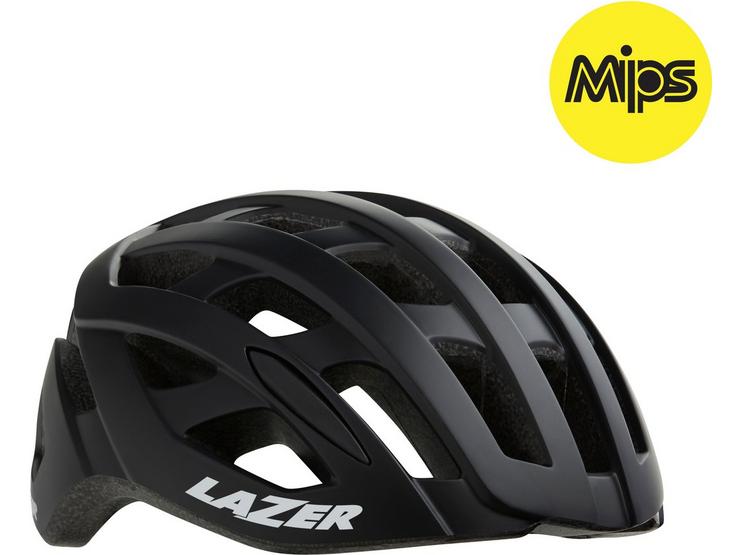 To increase aerodynamics and visibility, look no further than the Lazer Century Helmet. This is an ideal option for cycling enthusiasts who want to invest in a bike helmet that will help increase performance. The most impressive feature is the twist cap, allowing you to switch from a full ventilated helmet into an aero helmet that can help you edge closer towards your personal best. Its striking, innovative design also has a built-in LED light to improve visibility, making it an ideal choice when out on your road bike.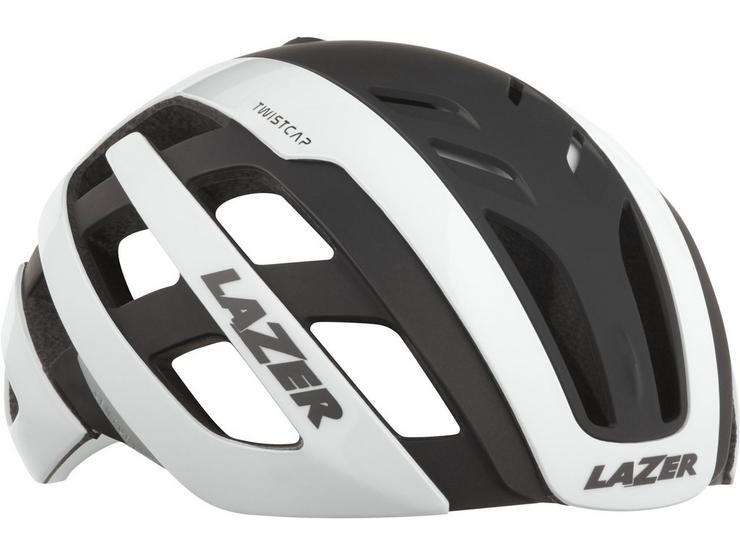 Leisure cycling helmets
If you're more of a leisurely cyclist, you'll want a simple bike helmet that perhaps has less of the premium features outlined above but still provides style, comfort and protection. The Halfords Trail Helmet is a great option for leisurely riders as it features a visor to shield you from the sun and the rain and has a lightweight yet durable in-mould construction.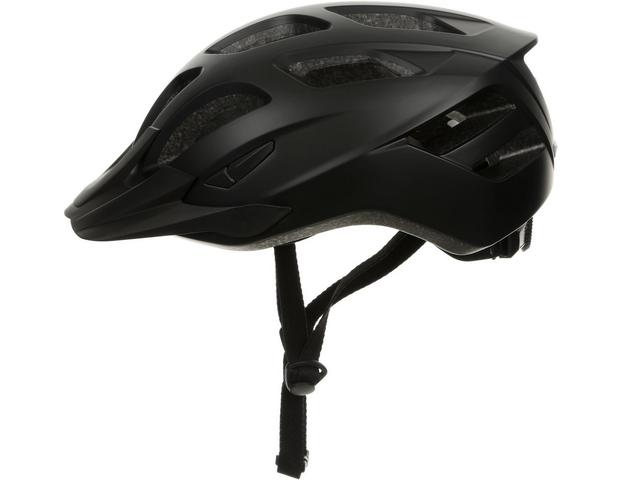 Alternatively, the Lazer Compact Helmet Flash Titanium contains useful features such as 20 cooling vents, in-mould construction and Turnfit TS plus adjustment. The removeable visor also means you can switch up your style to suit the weather. This is an ideal option for those who want a bike helmet from a quality, well-known brand like Lazer without having a costly price tag.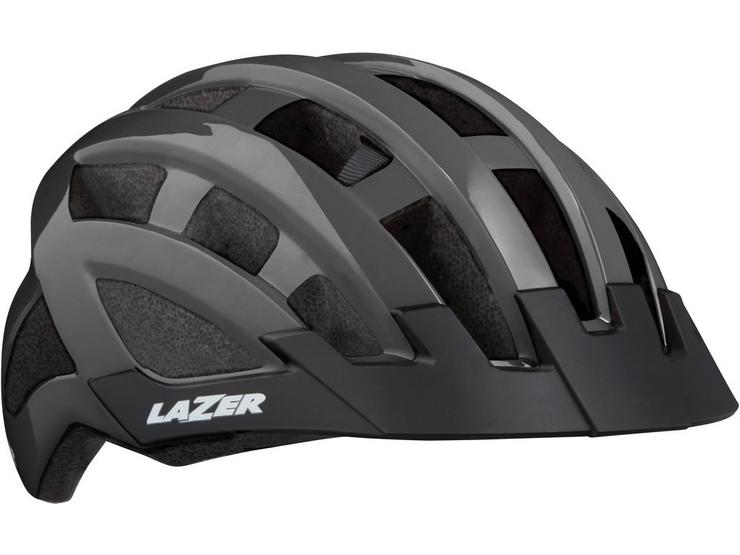 Commuting helmets
For those who commute by bike each day, it's essential to choose a durable helmet, sturdy enough for everyday use.
The Halfords Urban Helmet contains a tough ABS shell, so you can handle whatever your journey throws at you. The modern shape and design are perfect for cycling in the city, so you can look the part whether you're riding to the office or meeting up with friends after work. The cap-style fabric visor also adds to the cool urban style.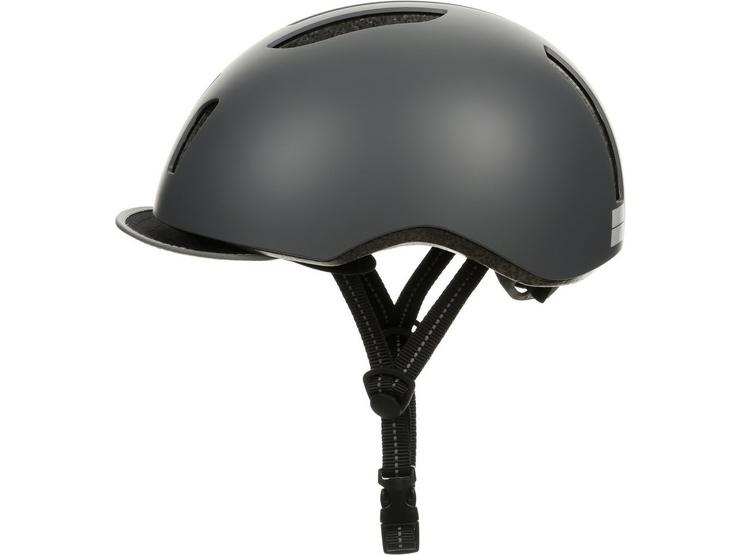 A higher spec option is the Halfords Advanced E-Bike Helmet with a seamless double shell and thicker EPS core, which provides even greater protection – perfect for your daily commute. The Fidlock magnetic buckle also makes it quicker and easier to fasten the helmet, while the built-in rear LED light means you'll be more visible in busy urban areas.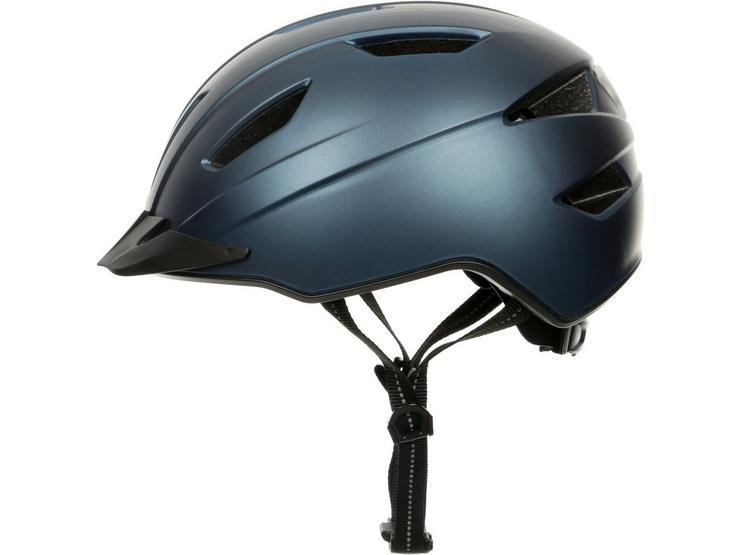 ---
With our wide selection of bike helmets for both kids and adults, you're sure to find the right one to suit your style and needs. Visit Halfords.com to browse our full range of bike helmets.
Remember, if you want the best bike accessories, you want Halfords.