Can you get an electric bike for under £500? If you're buying a new bike sadly, no. However, if you use the Government's Cycle2Work scheme available through Halfords, you can save up to 47% on a new electric bike from Halfords – which opens up a whole range of e-bike options to choose from!
In this article, we focus on entry-level electric bikes that you can get for close to £500. 
If you're searching for information on electric bikes, check out our Halfords e-bikes hub. It's packed full of expert information on what electric bikes are, how they work and why an e-bike might be right for you.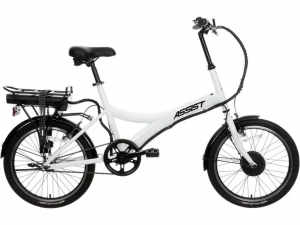 Okay, so it's not £500, but at £549 the Assist Hybrid Electric Bike is the closest you're going to get.
The small, but perfectly formed two-wheeler's battery provides rider assistance for up to 20 miles. The bike is a single-speed, with a front-drive motor that provides gentle pedalling support for short and medium-range rides.
If you're looking for a cheap option to cycle to work on or an entry-level electric bike, this is a sensible choice.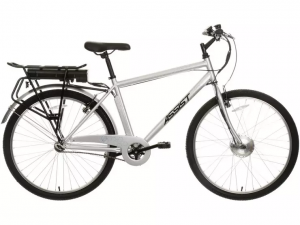 The Assist Hybrid Electric Bike features a front-hub motor that provides up to 20 miles of pedalling-powered support. The motor will help propel you to 15.5 mph – the legal limit on UK roads – before leaving your legs to do the work. 
The Assist Crossbar Hybrid is a super-commuter, with a fitted rear rack and front and rear mudguards, making it road-ready. The single-speed gear makes maintenance simple too. All you need to do is get on and ride.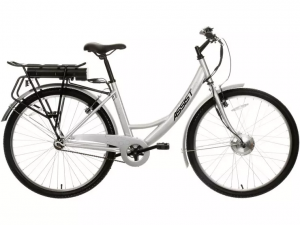 If you're looking for a simple step-thru hybrid bike for shopping or commuting, the Assist Step-Thru Hybrid is for you. It has the same motor as the Crossbar hybrid, giving up to 20 miles of power on a full charge. 
Step-thru bikes are perfect for sightseeing, light touring and commuting with the lack of a top bar making it easier to jump on and off. Step-thru frames also have a lower centre of gravity, which can improve handling – particularly useful when you're dodging in and out of traffic on your way to work. 
With the Assist Step-Thru Hybrid, you get a massive amount for your money, and the package is topped off with a rear rack and mudguards too.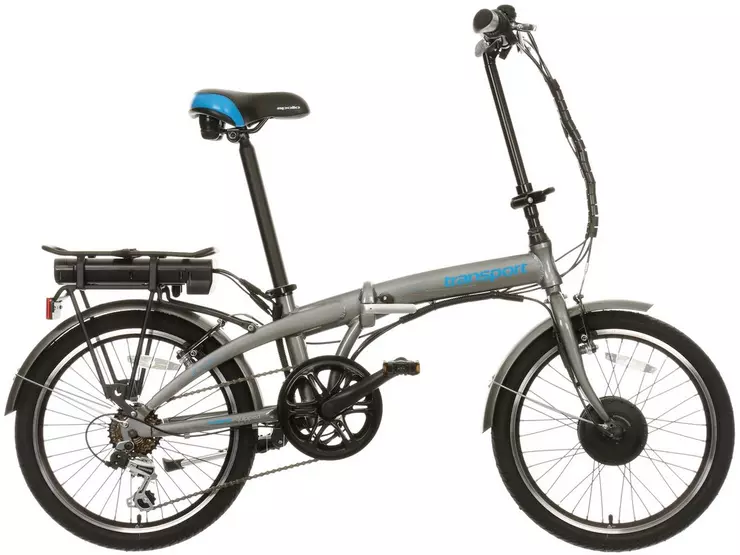 We're stretching the budget a bit now, but if you can stump up the extra cash, you can get the ultimate in electric bikes – a folding e-bike. 
The Apollo Transport E packs a high-performance 209Wh Panasonic battery that gives up to 20 miles of power-assisted pedalling and can be packed away in just seconds! It's the perfect choice for city centre rides during the week, and leisure rides on the weekends. 
It's fitted with 6-speed Shimano gears, mudguards and a luggage rack. It's so much fun, you'll almost forget you have to work when you get there.
Why buy an electric bike from Halfords?
At Halfords, we have a superb selection of electric bikes in stock from manufacturers such as Apollo, Boardman, Pendleton and Carrera.  
All of our e-bikes over £250 receive a free bike build and safety check by one of our expert technicians. You will also get free safety checks for life and the opportunity to purchase our comprehensive Performance E-Bike Cyclecare package. For just £70 you'll get unlimited puncture repairs, brake and gear adjustments and 3 services throughout the year.
To find the best electric bike for you, simply visit your nearest Halfords store or search online.
Halfords is here to get you where you want to be.
---
With the uncertainty of the cost of living crisis, we know that you'll be keen to save money as and when you can – including choosing a cost-effective e-bike. Here at Halfords, we're committed to driving down prices and offering you the best value possible to keep you safe, happy, and secure. We've pledged to never be beaten on price on 1000s of motoring essentials – read more here.