Electric bikes are the fastest growing market in the cycling world. The best electric bikes are easy to ride, comfortable and pack a whole lot of performance into a competitively priced package.
In this round-up of the best electric bikes under £1,000, we choose our favourite electric mountain bikes, folding e-bikes and budget-busting electric bikes. If you're looking for a budget electric bike to cycle to work or just for leisure, then read on! And you don't need to just take our word for it as we've included some of our customers' reviews so you can see why they love the bikes too!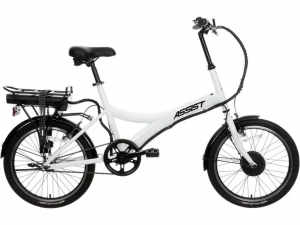 At just £499, the Assist Hybrid Electric Bike is the cheapest on our list of electric bikes under £1,000, but it's still a mighty machine.
A full charge will give you up to 20 miles of pedalling power and you can fully recharge the battery in 2-3 hours. It weighs in at only 18kg, so if you're looking for a low-cost bike for city-centre commuting, the Assist Hybrid Electric Bike is a great choice.
Reviewers rave about its speed and simplicity. At Halfords, it's our cheapest electric bike, but there are no compromises here.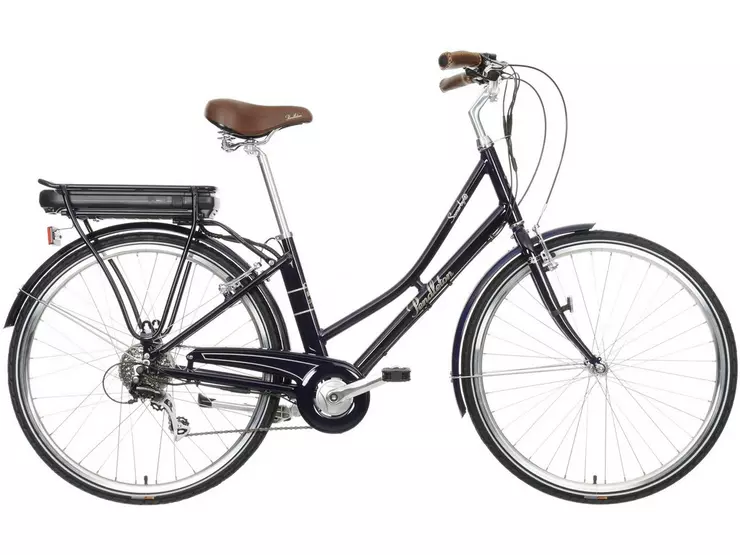 The Pendleton Somerby Electric Bike is a part of our exclusive range of Pendleton bikes, designed in partnership with Olympic gold-medal-winning cyclist Victoria Pendleton.
As well as looking like a work of art, the Somerby's 317Wh battery will provide up to 50 miles of rider support – enough for commuting, leisure riding and touring. It fully recharges in just 5 hours too!
The bike comes with a whole host of extras, such as mudguards and a rear rack. Plus, when you buy an electric bike through Halfords, you'll receive unlimited safety checks and a lifetime warranty on the frame and fork.
Meet our best budget electric bike!
What our customers are saying:
It makes cycling accessible. I bought this bike 6 weeks ago and I love it! I'm mid 50s and want to get fitter. This bike, when you switch on the electric motor, will enable you to get up hills and that was what put me off cycling.

(Scotsmum23)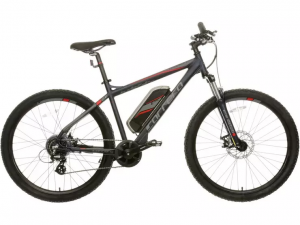 Okay, so it's a bit over £1,000 – but if you can push the pounds a little further, you will get a genuinely fantastic electric mountain bike.
The Carrera Vengeance comes with 8-speed gearing and a 317Wh rear hub motor that will power up to 40 miles of off-road adventuring.
It's all built around a lightweight frame, with a Suntour XCT coil suspension at the front. You'll also get traction and comfort from the premium 27.5" Kenda K1027 tyres.
If you can stretch a little, you're getting an awful lot for your money.
What our customers are saying:
I am 57 with worn knees. My old bike was a struggle. But this bike has put me back in the saddle!

(Robbie 63)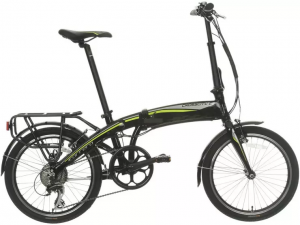 Folding electric bikes are the next revolution in commuter cycling.
The Carrera Crosscity Folding Electric Bike is small, perfectly formed, and competitively priced – which is why it's our choice for the best folding electric bike under £1,000.
This Brompton-beater packs a powerful rear-hub motor that will provide up to 30 miles of rider support on a full charge.
The 8-speed Shimano Acera gears provide the perfect range for city riding and light touring, with the 18kg weight meaning you won't be breaking your back or your budget.
What our customers are saying:
I bought this bike a month ago on a bike to work scheme. From start to finish, the service was excellent and the staff were very helpful. The bike itself is amazing. I'm not a fitness fanatic and got the bike for general use. Since having the bike, I'm addicted. The bike is simple to use and the electric motor is fantastic!

(Topsparkie)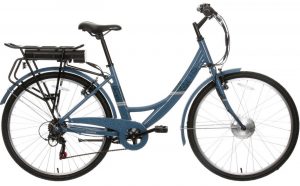 When it comes to urban riding, nothing beats a low step-through hybrid bike – they're comfortable, convenient and lots of fun to ride!
One of our favourites is the Apollo Metis Women's Electric Hybrid Bike. Designed to give an upright, confidence-inspiring riding position, the Metis's battery has a range of up to 20 miles – more than enough for running any errands around town. Combined with a powerful front hub motor and reliable V brakes, the bike is equally adept on commutes, leisure rides and any other urban riding.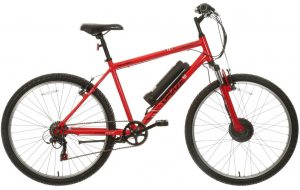 Whether it's tackling trails, commuting or enjoying a leisure ride, the Phaze is a real all-rounder that can turn its hand to anything – and it's only £799!
It shares its foundations with the Apollo Phaze Mountain Bike, building on this with a powerful front hub motor that provides uncompromising performance. The lightweight alloy frame handles perfectly on all terrain, and you won't need to worry about any lumps or bumps on your route with the front suspension packing an impressive 100mm of travel – so you'll always ride in comfort.
If you plan on turning your hand to different types of riding, the Phaze is your best choice.
What our customers are saying:
Absolutely fabulous… I love it! Since I bought it in November, I've only driven to work 4 times – come rain come shine, I get the bike out and love it!

(Fionkir)
Electric bikes for any budget
Whatever electric bike you need, Halfords has the perfect option!
You'll also get free safety checks for life and the opportunity to purchase our comprehensive Performance E-Bike Cyclecare package. From just £45, you'll get unlimited puncture repairs, brake and gear adjustments and silver bike servicing every six months.
---
So, what are you waiting for? Join the electric bike revolution today! Visit the Halfords website where you can compare a huge range of electric bikes from top brands such as Apollo, Boardman, Pendleton and Carrera.
If you need more information on electric bikes, check out the Halfords electric bike hub. It's packed full of expert information on what electric bikes are, how they work and why an electric bike might be right for you.
You want the perfect electric bike, you want Halfords.