When you think of the best road cycling routes, your mind probably wanders to epic Alpine passes or the smooth tarmac of the Canary Islands.
Bring your mind closer to home and you'll find equally stunning routes here in the UK. Don't believe us? Take a look at these routes and plan your next UK-based cycling adventure.
Scotland
Shetland Islands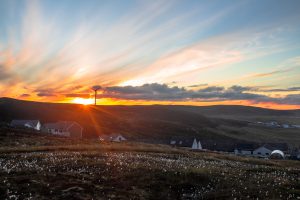 With over 1000 miles of quiet roads, the Shetland Islands are a haven for cycling – yet they're overlooked by many cyclists. OK, we'll admit their accessibility may be a factor. But for those looking to plan a cycling holiday, the UK's northern-most point is definitely worth the journey.
Perfect for riders of all abilities, you'll get to explore rugged landscapes shaped by the North Sea, a rich history or simply challenge yourself on the undulating roads. The Shetlands is also home to the northern-most part of the National Cycling Network which is only 400 miles south of the Artic circle.
Picking one route is difficult so we'd suggest checking out Visit Shetland who have route suggestions for riders of all abilities.
North Coast 500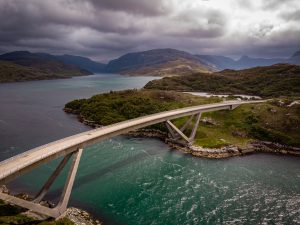 No list of the top UK cycling routes would be complete without the North Coast 500.
The UK's answer to Route 66, the NC500 winds its way across the Scottish Highlands before following the rugged coast all the way back round to Inverness. As the name suggests, it's 500 miles and many cyclists tackle it in one big challenge (over numerous days!). However, many only tackle certain sections making it a great option for riders of all abilities. Do a little research and find your favourite section and then plan a manageable distance. Picking one section will be tricky as the whole route is stunning.
For experienced cyclists, the Bealach Na Ba climb is a must. Averaging 7% for over 9 kilometres, it's one you'd expect to find in the Alps. Wherever you choose to ride, you won't be disappointed.
Wales
Ffordd Brailsford Way, Snowdonia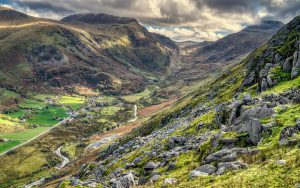 Home to the hardest cycling sportive in the UK (the infamous Dragon Ride), it's no surprise that Wales is full of bucket-list routes. And top of your list should be Snowdonia.
Wales' largest National Park is a popular choice for cyclists thanks to its challenging terrain. However, it also has 200 miles of coastline and 35 beaches, making it a great option for those wanting an easier, steady ride too.
If you need route inspiration, check out the Ffordd Brailsford Way. Created in tribute to the local cycling legend, there are 50 and 75-mile routes to choose from.
Celtic Trail
The Celtic Trail is a National Cycling Route that takes in the most beautiful countryside south Wales has to offer. Starting at the Severn Bridge on the English border, it winds itself through to the Pembrokeshire coast.
National Cycle Network routes don't stick to roads, so it's best to use the route as inspiration and plan a fully road-based route around it. But it's definitely worth the effort and you'll be rewarded with unforgettable riding.
England
North York Moors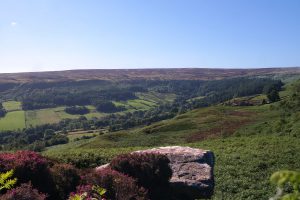 Go back 10 years and Yorkshire wasn't regularly associated with cycling. That all changed when the world's largest cycling race visited in 2014. Now, it's recognised as one of the best places to ride, not just in the UK, but anywhere in Europe.
Riding through the North York Moors sometimes has an out-of-this-world feeling with the colours constantly changing and the landscape dipping up and down. This is what makes it the perfect cycling location, with undulating roads that present a challenge and stunning views for those who prefer a leisurely ride. Just as importantly, every ride needs a café stop and Yorkshire is famous for its tea rooms (if you get the chance, stop off at Robin Hoods Bay).
Lake District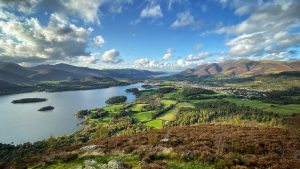 We couldn't complete this list without the Lake District. A paradise for road cyclists, there are leg-sapping climbs, flowing descents and fast valley roads.
It's also home to a number of sportives which is a great opportunity to test yourself. If you don't fancy taking part in an event, use their routes for inspiration as they'll be a good guide.
As it's a popular destination, the roads can get busy in peak seasons. However, with good route planning, you can avoid the busier roads for the majority of your ride.
Northern Ireland
Causeway Coast Route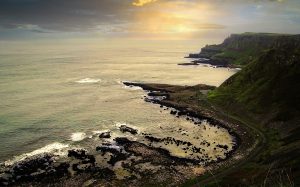 Northern Ireland may be smaller than its counterparts, but it doesn't lack epic cycling routes.
And there are few better places to visit on a ride than the Giant's Causeway. It's one of the UK's most famous destinations, so we think it's worth planning a ride around. Located on the north coast, there are lots of picturesque towns and villages along the coastline and you can plan a route linking them all together.
There's also a National Cycling Route you can follow. Expect stunning views out to sea and an undulating ride along rugged coastline.
---
Here in the UK, we're blessed with lots of amazing road cycling routes, and we've only included a fraction on this list.
Before heading out and experiencing these epic rides, make sure you have all the accessories and clothing you need over at Halfords.com.