Nothing beats riding outdoors, but sometimes it simply isn't possible. Whether it's the pesky British weather or a hectic work schedule, those missed rides can soon stack up.
However, you can keep up the cycling momentum through indoor training. Although you miss the view and fresh air, indoor cycling is convenient, more time-efficient and unaffected by rain. That's why so many cyclists rely on it, especially throughout the colder months.
But how do you get started? From essential equipment and apps to our top tips, here's everything you need to know about training indoors.
Best indoor cycling trainers
First things first, you'll need an indoor trainer. Your choice will usually be between a turbo trainer or rollers.
Turbo trainers
Turbo trainers are the most popular option. There are lots available covering a wide range of budgets, starting from basic entry-level models to technology-packed machines.
Wheel-on trainers: At the lower to mid-range end of the scale, you'll find wheel-on trainers like the Elite Novo Smart Turbo Trainer. These are simple to use, and the trainer clamps the bike in place through the skewers. The rear wheel then rests on a cylinder which provides resistance as you pedal. It's best to use a specialised training tyre otherwise the trainer could wear your regular tyre down.
Direct drive trainers: Direct drive trainers like the Elite Zumo Turbo Trainer come with a cassette attached. You simply remove your back wheel and attach the bike to the trainer like you would for a wheel, making sure to correctly tighten the skewer or thru axle. The trainer then generates resistance through the cassette. This means you won't need to worry about wearing down a tyre. Plus, they're usually quieter than wheel-on trainers as there's no noise generated by the tyre rubbing against a cylinder.
Rollers
Rollers are a bit trickier to master. They have three large drums (or rollers) – one at the front and two at the back. You put your rear wheel on the two at the back and your front wheel on the single drum. Each of the drums are connected to each other by a rubber belt, so they'll move at the same speed.
There's nothing holding you and your bike up, so it takes a bit of time to master balancing. Once you've got the hang of it, they can help improve your bike handling skills and core muscles. They're also compact and can easily be stored away (which is why many riders take them to events and use them to warm up).
However, you don't get the same resistance and functionality that you do with a turbo trainer.
Smart trainers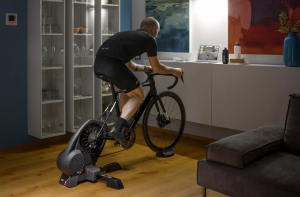 Which leads us neatly on to functionality. Turbo trainers come with a range of technology. On the basic ones, you alter the resistance using your gears or manually through inbuilt resistance controls. Some allow you to alter resistance through apps or on a device.
The most functional trainers are smart trainers. These connect to devices and apps and can alter the resistance level automatically. Why is this important? There are lots of apps available that offer the chance to explore virtual worlds, complete structured workouts and even race others (more on this later!). These require a trainer that automatically changes the resistance to match the virtual world or training session you're riding in.
When choosing a trainer, think about what you want to use it for. Plan ahead too. Many buy entry-level models but get the indoor cycling bug and quickly upgrade to a higher-end model. Here at Halfords, we have a wide selection of smart turbo trainers from market-leading experts Elite, and you can explore the full range here.
Essential turbo training accessories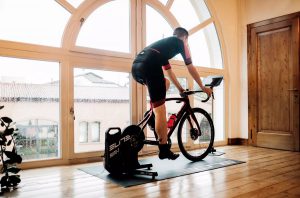 To maximise your indoor riding, you'll also need turbo training accessories. Some of these are must-haves while others can simply improve the experience and help maximise your training.
Use a fan (or 2!): Turbo training is hot and stuffy work. There's no breeze to cool you down and you can quickly overheat. That's why a fan is a must. Even better, use two fans to cool you from different angles.
Bottles: You should already have these but always have a couple of bottles to hand. Have we mentioned it's hot and sweaty work?
Training mat: A training mat isn't a necessity but it's a great idea if you don't want to scratch a floor or cover it in sweat.
Towel: Will be needed to wipe any sweat. Place it tactically so it covers your handlebars and top tube. This will prevent sweat dripping down onto your bike (which can erode components). Give your bike a quick wipe down when you're finished too.
Heart rate monitor: If you want more insight into your training, a heart rate monitor is a must. They're also great for lower-end models which don't provide power data. Learn more about training using heart rate here or power here.
Riser block: When riding on an indoor trainer, your rear wheel will be slightly raised. A riser block can be placed under your front wheel so you're not leaning too far forward.
Best indoor training apps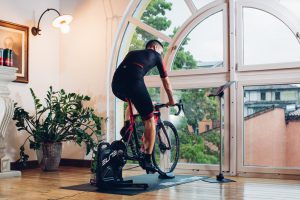 Indoor training has been transformed in recent years by a wide range of apps. You can now lose yourself in virtual worlds, simulate real-world climbs, take advantage of training plans and even race other people. We've got a full breakdown in our guide to the best indoor training apps, but here's a quick overview:
Zwift: Is the most popular app out there. Featuring various maps, you can explore virtual worlds and even climb the Alpe du Zwift (based on the famous Alpe d'Huez). Zwift is also famous for its racing platform which is incredibly popular and allows you to test yourself against riders from around the world. Races are categorised by ability so they're perfect for riders of all abilities.
Use Zwift if: you want to have fun, enjoy riding with others and take part in all aspects of indoor riding.
Trainerroad: Is the purest training platform. It helps you create training plans around your goals with hundreds of specially designed sessions. For 2021, they've also introduced adaptive training which will suggest alternative sessions based on your progress and current condition – ensuring you always do the most effective session.
Use Trainerroad if: You're solely focussed on training. Trainerroad doesn't have the same entertainment value as other platforms, but that's not its aim. It's there to make you faster.
Head over to our guide to indoor training apps to discover more.
Top turbo training tips
Before you get started, here are some top turbo training tips:
Know your training zones: To get the most out of training, you need to train smartly. That means knowing your training zones. These are levels of exertion based on power output (watts) or your heart rate. You can learn more about heart rate zones here and power zones here.
Beware of noise: Some turbo trainers make a lot of noise, especially wheel-on trainers. So, be mindful of your neighbours. Try not to train at unsociable hours and use sound-dampening equipment like training mats and training tyres.
It's fun!: To many purists, indoor training is boring. 10 years ago, we'd have agreed. Now there are lots of apps available that make indoor training engaging, entertaining and lots of fun. So, don't dismiss indoor training and experiment with apps until you find the one you enjoy the most (the majority have free trials).
Use training plans: For most riders, the aim of riding is to improve and get faster. However, that means creating effective training sessions and plans, which can be tricky. That's why it's easier to use an app. They'll help you train more effectively, and it can be more efficient than training outdoors.
And don't forget a fan: Have we mentioned it gets very warm?
---
That's everything you need to know about turbo training. Head over to Halfords.com where you'll find a wide selection of turbo trainers and essential accessories.
If you need more help finding the perfect turbo trainer, check out our turbo trainer buyer's guide.