As we enter the colder months, our attention is turning to motoring safety. From rain to ice and everything in-between, our vehicles will be put through their paces, so you want to know yours is ready for the challenge. That's why we've launched Halfords Car Safety Month to help you prepare, and as a part of this, we've pulled together this guide to preparing and maintaining your bulbs, batteries and blades.
From top tips to essential services, here's everything you need to know.
Car batteries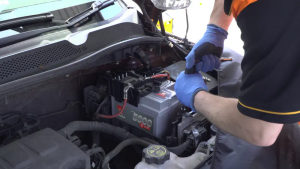 Colder weather can affect car batteries and many of us have faced a stuttering engine at some point – or even worse, one that completely refuses to start.
Why does this happen? Cold weather affects the chemical process within batteries that produces and stores electricity. This can reduce a battery's capacity to hold charge and slow it down. While this can happen to any battery, you're more likely to have issues if your battery isn't in a good condition.
So, how can you prepare yours for the months ahead and prevent any future issues? Don't worry, as we have all the checks, services and products you need.
Free Battery Health Check
First things first, you can pre-empt any potential problems with our Free Battery Health Check. In this, one of our expert technicians will assess key performance indicators including charging and cranking capabilities. It's the best way to get that peace of mind that your battery is in good working order, and if you need a replacement, we'll advise you of the cost of a new battery with no obligation to buy.
You can also find compatible batteries for your vehicle online using our Vehicle Registration Number tool.
WeFit batteries
Through our handy WeFit service, one of our trained technicians can professionally fit a new battery for you. It's the easiest way to guarantee that your new battery is attached safely and correctly. You can book the service for any of our Autocentres or we can come to your home or workplace through our Mobile Experts (see below!).
Halfords Mobile Expert
If you don't have time to get to a garage or store or your battery is completely dead so you can't drive it to one of our Autocentres, we've got you covered! Through our Mobile Expert service, we can come to you. Covering over 80% of households in the UK, we'll help get you back on the move!
We recycle batteries
Unless they've been through an extensive clean-up process, batteries can't be sent to landfill. So, how do you safely dispose of them? We can help!
Whether we've changed your battery or you've completed the job yourself, we can safely dispose of and recycle your old battery for you.
It's a convenient option for you, and great for the environment too!
CTEK battery chargers
Fully charged batteries are much less susceptible to problems. That's why, if you don't drive regularly or leave your car idle for extended periods, it's best to regularly top it up with a charger.
Here at Halfords, we have a wide range of chargers available from CTEK, and you can find the full range here.
Wiper blades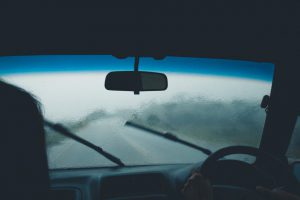 You won't need reminding, but during autumn and winter it rains – a lot! Key to having a clear view during any downpours is your wiper blades. They're often overlooked by many motorists, but the condition of your wiper blades has a big impact on your safety. If they're not up to the job, your visibility will be greatly reduced.
Here are some top tips to help you prepare your blades.
Check your blades for signs of wear and tear
Few parts of a car are more exposed to weather conditions than a windscreen. It collects everything from salt to dirt which will damage wiper blades over time.
That's why we recommend replacing your blades every 12 months. Even if you already do this, you should still regularly check your blades for any damage.
Halfords wiper blades and fitting service
When the time comes to replace your blades, you can easily find the perfect replacement in our range, and our Vehicle Registration Number Tool will find compatible blades for your vehicle.
And that's not all! Through our WeFit service, one of our experts can fit your new blades for you. You can learn more here.
Ensure screen wash is topped up
Screen wash is specially designed for vehicles and without it your windscreen would quickly become smeared. However, finding the right screen wash isn't simply a matter of using the first one you find. Instead, you need to consider its freezing temperature.
Different screen washes freeze at different temperatures, and you'll need to find one that can withstand the temperatures you regularly encounter where you live. These freezing temperatures vary but common ones include -5, -10 and -20 degrees Celsius.
And if you need any help topping up your screen wash, our in-store experts can take care of it for you – simply ask in-store.
Duxback windscreen treatment
It's not only a matter of preparing your blades, but also your windscreen.
Duxback is a professional-quality treatment that adds a hydrophobic coating to your windscreen. This causes water to bead on glass which can improve visibility by as much as 35% in pouring rain.
The treatment is available in our Autocentres or via our Mobile Experts.
Car bulbs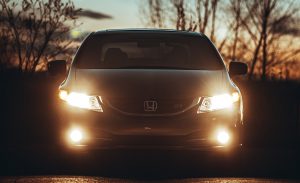 With the days drawing in and the nights getting darker, visibility out on the road becomes more important than ever. Not only do you need clear visibility, but other motorists need to easily see you too. That's why your car's bulbs are so important.
If your bulbs fail or noticeably become dimmer, they'll need to be replaced.
Finding new car bulbs
Finding compatible bulbs for your vehicle is easy with our Vehicle Registration Number Tool. Simply enter your registration number and we'll let you know which bulbs are compatible.
Replace bulbs in pairs
When one bulb fails, it can be tempting to just get that single bulb replaced. However, there are several reasons why you should change your bulbs in pairs:
It saves time
Consistent light quality – Having bulbs with differing brightness or light quality can be disorientating and affect other drivers too. Changing bulbs in pairs can prevent this and make driving at night safer.
With Halfords, it's quick and easy as we can replace the bulbs for you…
WeFit bulbs
Which leads us neatly onto our WeFit service. If your bulbs need replacing, why not let our experts take care of it for you? Available from only £5 for interior and exterior lights and £8 for headlights, you can book this convenient service online when you purchase your new bulbs or by popping into your local Halfords store or Autocentre.
Introducing the Halfords Motoring Club
Don't miss out! Join the Halfords Motoring Club today to access a range of amazing benefits and discounts that are designed to keep you moving, keep you safe and keep you saving.
It's free to join and you'll receive money off your MOT, a free car health check and a welcome voucher that can be spent on any Halfords product or service.
Or choose our Premium membership for a small monthly fee (or a one-off payment) to unlock exclusive member pricing on all motoring products and services online and across our stores, garages and Halfords Mobile Experts, as well as a variety of other benefits that will help you to keep moving for less.
With so much to enjoy, this is too good an opportunity to miss!
Join the Halfords Motoring Club today at www.halfords.com/motoring-club.
---
That completes our guide to preparing and maintaining your bulbs, batteries and blades during the months ahead. You can find all the services and products mentioned over at Halfords.com.
Remember, it's important to stay safe on the road throughout autumn and winter, and we've also pulled together a handy guide to our other essential services here.